Katy Perry opens up about fiance Orlando Bloom post engagement: I'm very happy
The couple had previously unofficially announced their engagement by posting an image of the two, where Katy Perry shows off her flower-shaped engagement ring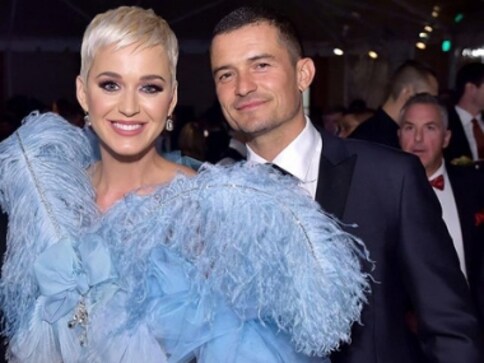 Singer Katy Perry confirmed her engagement to actor Orlando Bloom at her first public appearance since the news broke, on Jimmy Kimmel's talk-show. Perry confirmed the development saying, "I'm very happy."
She revealed to the Jimmy Kimmel Live! host that it was an In-N-Out Burger outlet that brought her and Bloom together approximately three years ago at the Golden Globe Awards.
"He stole one off of my table. I was sitting with Denzel Washington and he took it and I was like, 'Who...oh, you're so hot. Fine, take it,'" she recalled. "Then I saw him at a party and I was like, 'How are those onions resting on your molars?' He was like, 'I like you.' Then, you know, cut to!" the publication quoted the singer as saying.
Perry added that she had given her inputs on the engagement ring and the proposal took place after a special date on Valentine's Day.
Perry stated that after their dinner on Valentine's day, she thought they would go see some art but soon after, she found their car pulling up to a helicopter. Orlando then proposed to Perry in the helicopter, said the singer. The helicopter had then landed on a roof-top with Perry's family and friends awaited their good news.
The couple had previously unofficially announced their engagement by posting an image of the two, where Perry shows off her flower-shaped engagement ring.
Find latest and upcoming tech gadgets online on Tech2 Gadgets. Get technology news, gadgets reviews & ratings. Popular gadgets including laptop, tablet and mobile specifications, features, prices, comparison.
Entertainment
Simon Pegg and Nick Frost discuss shooting in spooky locations, deadpan humour of Truth Seekers and what it was like to reunite seven years after 2013's The World's End.
Entertainment
I think it's easy to get wrapped up in conspiracies, because there is sort of an interesting intellectual factor where doubting makes you feel cynical. It's easier to cross your arms, and go, "Oh, but there's more to this."
Entertainment
Billie Joe Shaver, who wrote songs like 'Honky Tonk Heroes,' 'I Been to Georgia on a Fast Train' and 'Old Five and Dimers Like Me,' passed away following a stroke, his friend Connie Nelson confirmed.