Kathua rape case: Kalki Koechlin, Swara Bhaskar, Richa Chadha campaign for #JusticeFor*****
I am Hindustan. I am Ashamed. #JusticeFor*****
As the horrors of the Kathua rape case are being reported, a number of film personalities are among those who've joined the campaign to get justice for *****, the slain eight-year-old victim.
Holding up placards that read out messages expressing their deep sorrow over the Kathua case, celebrities like Kalki Koechlin, Huma Qureshi, Swara Bhaskar among others, pleaded for #JusticeForOurChild.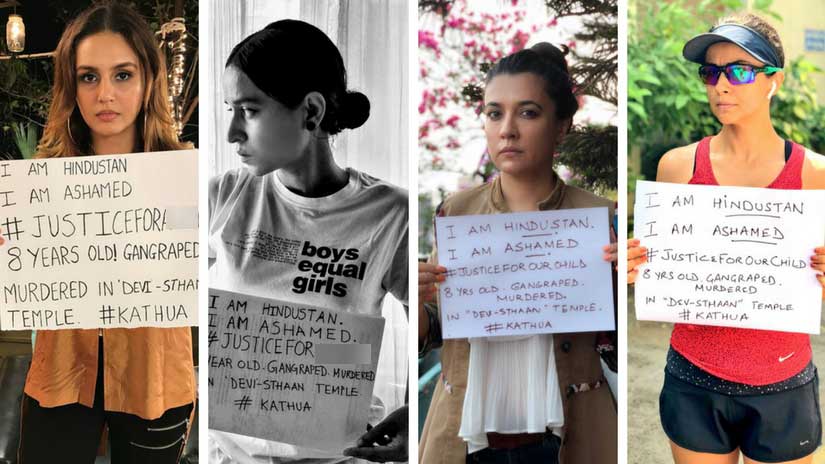 Bollywood stars such as Hrithik Roshan, Priyanka Chopra Sanjay Dutt are among the celebrities who made a rallying call for swift action and deliverance of justice in the Kathua rape and murder case.
Prominent B-Town artistes Alia Bhatt, Anushka Sharma, Kalki Koechlin and Ayushmann Khurrana also took to Twitter to express their disgust over the brutal crime.
In Jammu and Kashmir's Kathua area, an eight-year-old girl from a minority nomadic community disappeared near her house on 10 January. A week later, her body was found in the same area.
Taking to Twitter, Hrithik Roshan wondered about the human capability to commit heinous crimes.  "This really the work of human beings? Breaks my heart to know we are capable of such atrocities. We need even more activism, courage, outspokenness, communication, awareness and aggression. Whatever we need to make sure this doesn't happen again. Lets do it! Punishment? Education? Whatever it takes!" the actor wrote.
Priyanka Chopra, who is currently shooting for her show "Quantico" in Ireland, tweeted, "How many more children... Will be sacrificed at the intersect of religion & politics? How many more children will have to suffer unimaginable crimes before we wake up? I'm disgusted. It's time for swift action."
Alia Bhatt also expressed shock over the incident and demanded justice for the victim. "Can't believe this is happening! Shocked and appalled at what this has come to... Really hope justice is served! Really really really hope," Alia tweeted.
Sanjay Dutt said he is "filled with anger" and called the incident the failure of the "society". "We have failed as a society! Being a father, I am shaken and filled with anger reading about what happened to an 8-year-old kid. I refuse to accept we really let this happen. Justice has to be served now (sic)," he tweeted.
Anushka Sharma tweeted, "The cruellest form of evil is harming an innocent child. What is happening to the world we live in? These people should be given the most severe punishment there is! Where are we heading as humanity? Shaken to my core."
Parineeti Chopra also expressed shock over the "evil acts on another human" and wrote, "How do human beings go through evil acts on another human? During an act, how do they not stop? Is there no conscience? No guilt? No regret? No humanity? How do you allow yourself to go through raping and killing a child? Cannot understand it."
Actor Sidharth Malhotra said such crimes must be not go unpunished. "Filled with so much anger and disgust over what has happened... Only demons would inflict cruelty like this on an 8 year old. Pray for her soul... These atrocities need to end and it needs to end now," he tweeted.
Aditi Rao Hydari wrote, "They are monsters, they drugged, raped and murdered a little girl. They are monsters, they defended the crime in the name of religion. We are monsters if we don't raise our voices and make sure they are punished..."
Director Karan Johar called the incident "inhuman" and "appalling" and pleaded for justice.
Ayushmann wrote, "A child deserves only love irrespective of caste, colour, religion. And a rapist deserves only punishment irrespective of caste, colour and religion." Jaaved Jaaferi said, "Kids are being indoctrinated with hate and encouraged to indulge in heinous crimes... Accused/ perpetrators having support in rallies chanting 'Bharat Mata ki Jai', religious slogans and waving the tricolour. Seriously need wake-upup call."
Earlier, the Supreme Court agreed to take suo motu cognisance of the case after several lawyers who had mentioned the matter before it came out with materials about the incident. It directed members of the Jammu and Kashmir bar associations not to obstruct judicial proceedings in the case as it took note of lawyers obstructing the victim's counsel from appearing in court.
With inputs from agencies
Updated Date: Apr 15, 2018 22:16:35 IST
Your guide to the latest election news, analysis, commentary, live updates and schedule for Lok Sabha Elections 2019 on firstpost.com/elections. Follow us on Twitter and Instagram or like our Facebook page for updates from all 543 constituencies for the upcoming general elections.