Kashish Film Festival Day 3 and 4: Of spirited discussions and 'cause' cinema
What's in a queer film festival, besides the films?
This year's Kashish is much more than films. I really appreciate Sridhar Rangayan's decision to bring forward the discussions that used to happen at the auditorium's foyer area. It was a way to reinstate the view that cinema is a reflection of society and society is a reflection of cinema.
On the films on day 3: Well, it was fantastic to watch a group of parents that I truly admire in Sopan Muller's documentary called My Child Is Gay, I Am Happy. The title is borrowed from Sushant Divgikar's father's statement; a statement he makes at every parents' meet (parents and friends of LGBTIQ children meet at least twice a year).
There was also a Tamil film called Magizhvan, about a gay couple. The couple in the film belonged to two different religions, Hindu and Islam. The fact that the parents eventually accept the children's sexuality, albeit after turmoil, spoke volumes about not just sexuality, but also on the lines of religion. I thought there were a lot of films that spoke about the intersectionality of issues which is a great thing. I believe in the cinema of subtlety where things intermingle seamlessly without an issue being made of the character's every aspect. That said, I would love to watch a film about two men in love, but the issue is that one is Hindu and the other Muslim, or one is Brahmin and the other, Dalit. Being gay should become a non-issue when compared to the other things that happen in our nation. Let me also break a myth — just because we are homosexuals we are not suddenly sensitised about all issues. We are just as abnormal and stupid as everyone else in the world — that's how I define being normal.
On panel discussions: We had a fantastic panel of filmmakers discussing 'Freedom of expression and censorship in Indian cinema'. I found it a little difficult to believe Nandita Das, when she said that Fire was released two decades ago. I wonder how difficult it would have been then when the word 'lesbian' was as alien as aliens. I don't however think that Fire is the right example of homosexuality. Though it was bold and revolutionary, it showed two women falling in love when they were dissatisfied by their husbands. It was almost like homosexuality was an escape or a means to meet sexual needs and not an orientation. It was and is a classic, but I don't see it as a queer rights film.
We had Apurva Asrani, who has written and edited Aligarh and the only openly gay editor I know, who had objected to the word 'queer' being used. He wanted to have a more desi name christened for gays. Well, that's something to think about. Samlaingik sounds more like some exotic Ayurvedic dawaai. Thinking about it, we have the word g*ndu, which like the English word queer is offensive. I wonder though, if anyone would like to be told "we welcome openly g*ndu shri xyz on stage".
Onir, who had made a film called I Am inspired by my life and Ganesh Nallari's, spoke about the issues involving censorship. Onir spoke about how he never really "came out". He just didn't make an "issue" of his sexuality or "come out" to people he met. Sridhar Rangayan, the festival director of Kashish spoke about his challenges with the censor board when he was making his film Gulabi Aaina. If I was on the panel, I would have shared that Indian films thrive either on sensationalism or on mediocrity. I'm not referring to any one film festival, but it's sometimes a pattern that anything is being doled out in the name of "cause" cinema. I am happy that films such as Aligarh and even Dear Dad are a welcome change. Meenakshi Shedde had moderated the discussion with absolute ease.
I have an issue with "gay" films. And the issue is just that — that they end up being "gay" films, but not films that are about two people who happen to be of the same gender. I was on a panel on fundraising on day 4 where Sakshi of Gaysi Family presented a different point of view. She had the audience concurring with her when she said that it was okay to stand out as a queer film festival. I also mentioned that I carry my queer identity along with me in every movement I am a part of. Really, being gay is a part of being me. I can't really be different. The discussion was moderated by Priyanka from Wishberry, a crowd funding platform and the sponsor for Kashish 2016.
Yes, I wish more films were being made. And all films find funds and support from people. If you believe in a cause give your time, if not, give your money, as I said on stage.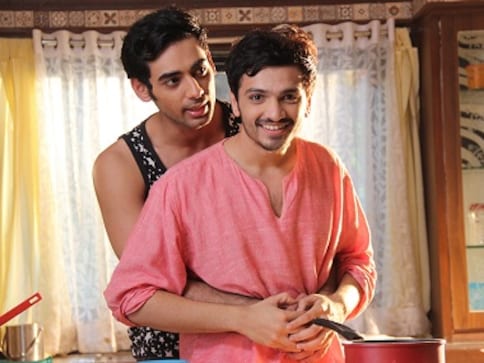 Entertainment
Evening Shadows depicts the severe challenges LGBTQ persons face in India and other parts of the world
Entertainment
This year's Kashish Queer Film Festival featured a discussion where parents spoke about the need for families to support their LGBTIQ children.
Entertainment
Reviews of three of the six Indian Narrative Shorts at Kashish Film Festival 2019 - Mud Mud Ke Na Dekh, U Ushacha, and The Booth.