Karan Johar's conversation with Sadhguru Jaggi Vasudev was a spiritual spin on Koffee With Karan
On Sunday, 4 June 2017, the NSCI dome in Worli, Mumbai had been booked for a special event.
Two important men from industries at different ends of the spectrum had gathered to have a conversation with each other. Karan Johar, 'the delightfully frothy filmmaker' (the emcee's words, not mine) was going to interview the motorbike riding, shades wearing (and shade throwing, as I found out during the event) mystic Sadhguru Jaggi Vasudev.
Sadhguru and Isha foundation's In Conversation With A Mystic has hosted the likes of Barkha Dutt, Anupum Kher, 'a very subdued Arnab Goswami' (according to Karan Johar) and Javed Akhtar to converse with Sadhguru. The topic was 'Five Star Fixes: Ancient Technologies for the Modern Mind' but what it came down to is that primeval battle between faith and rationality. Javed Akhtar's scowls and grimaces were proof that he didn't quite believe what the mystic was saying.
Because Javed Akhtar is an outspoken atheist, the slight animosity between two was very evident at the end of one-hour-long exchange. The two just couldn't seem to find the same page on a variety of topics starting from love to finding reason in religion.
This time Isha Foundation lucked out with Karan Johar.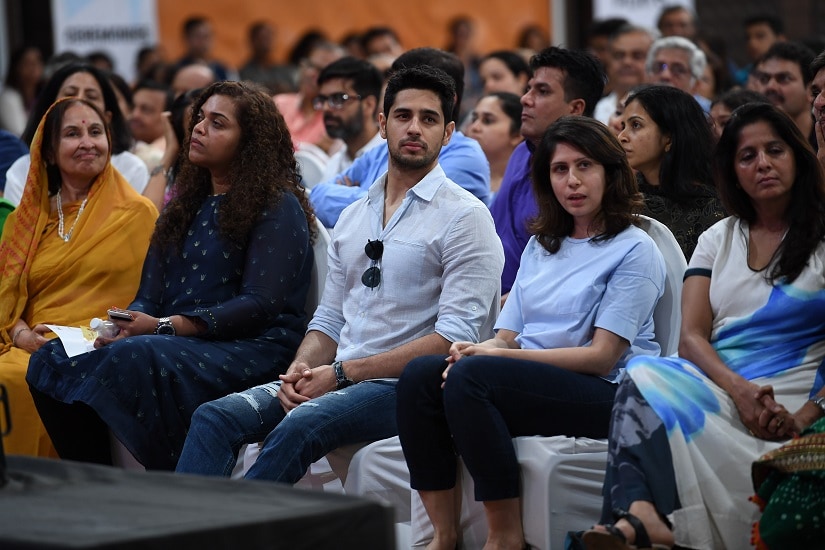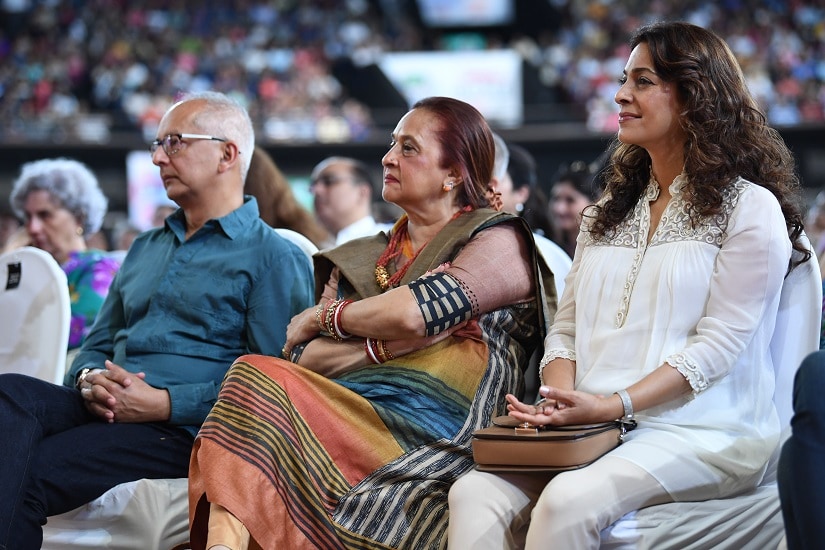 When asked what inspired him to seek a conversation with Sadhguru, Karan Johar said, "There are many questions that I constantly seek answers for. I find myself in a dilemma between my emotions, between my fears and my anxieties. My tussle internally between my letting go of religion and holding on to what I understand as spirituality. I haven't been able to seek too many answers through the books I have read or the people I have heard. To me, Sadhguru has been a revelation in more ways than one because he made many of my answers that I was looking for, resonate with my life. That's why I was very interested and excited to be part of this conversation."
As I made my way to the event arena on foot, a few Mercedes and Audis zoomed past me. A very chic couple alighted from one (the driver opened the door) and made their way to the hall.
Over 7,000 people were present in the hall, and it was definitely jam-packed. But I wondered: Are these Koffee With Karan fans who finally have a chance to witness their favourite host converse with a spiritual celebrity, or are these believers of Sadhguru who want to see their guru in person?
Among the people present in the hall, Sidharth Malhotra's attendance seemed courtesy Johar. Other notable audience members were Hiroo Johar, Kajal Aggarwal, Sumona Chakravarti, choreographer Terence Lewis, chef Sanjeev Kapoor, Prahlad Kakkar, Lali Dhawan, additional director general of Police Vinay Kargaonkar, VV Laxminarayan and special inspector general Anup Kumar Singh.
As Karan Johar came on the stage dressed in a well cut black suit, it almost looked like he was preparing for another Koffee episode, with the only difference being that he looked decidedly nervous.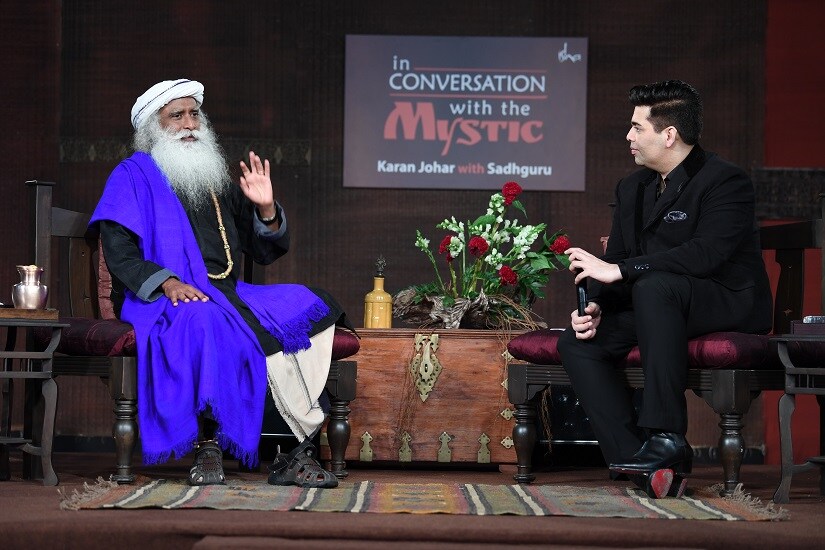 Sadhguru took the stage wearing a bright blue silk shawl, and the word 'rock star' mystic suddenly made sense. It seemed like he had taken it upon himself to compete with the celebrities Karan shares the couch with.
Johar, who confessed to not being religious and spiritual, started by talking about the difference between the two. The deference in his voice perceptible, Johar  talked about how he was a bit nervous about the whole interview. But as time went on, the two developed a sense of comfort that made the 100-minute conversation one of the best In Conversation With A Mystic episodes I'd ever seen.
While Barkha Dutt's interview in the same series made it clear that she was not ready to accept what her interviewee wanted to say, and Arnab Goswami seemed to sycophantic (unlike his usual self) and didn't shout, Karan Johar seemed to have the right amount of probing and reverence to listen to his guest, which is what makes Koffee With Karan a hit in the first place.
Among applause and laughter, Johar explored a wide range of subjects including a rapid fire session with Sadhguru. Johar probed if there should be a limit to one's love and emotions to which Sadhguru said, "In your life, there should be only throttle, because brakes will happen when you die. At least in love, you must have some abandon that is without brakes. Love is a certain quality not quantity. Love is not something that will get over. The more you experience it, the more it's available to you (sic)."
Among the more awkward moments, Sadhguru looked to the table on his right and remarked, "Why did they put a cow here on the table? Because of all the talk about Gau Rakshakshs?"
Johar, who seems to be weary of controversy now (after Ae Dil Hai Mushkil), said, "Oh well I was not planning to go down that route."
The highlight of the show was when Sadhguru pointed to the screen and turned to Johar and said, "They are making you look so pretty onscreen! But they aren't doing the same for me."
This might be one of the rare moments when Karan Johar was caught off guard. He looked genuinely perplexed as he looked up and repeated, "They are making me look..pretty.. Well.. you look STUNNING!"
Sadhguru retorted by saying "Well that's just another word for shocking."
I also figured out, the turn out and fans where Sadhgurus who delightfully cackled at the guru's wonderfully witty answers to Johar's serious questions.
As the conversation drew to an end, I realised there was not one dull moment in the 100-minute long conversation. Though the important probing questions such as 'Why are your courses so expensive?' which Shoma Choudhary had asked, or Barkha Dutt's 'Is there a basis for the beef ban?' were not answered, the conversation answered many questions about internal turmoil, and on how to help yourself when depression and anxiety descend. To sum it up, it had Johar's flavour to it, which was what made the conversation entertaining.
(Images courtesy Isha Foundation)
Updated Date: Jun 06, 2017 16:46 PM