Karan Johar, Kangana Ranaut's feud teaches us a lesson on how to tackle bullies
Karan Johar picked the wrong woman to bully.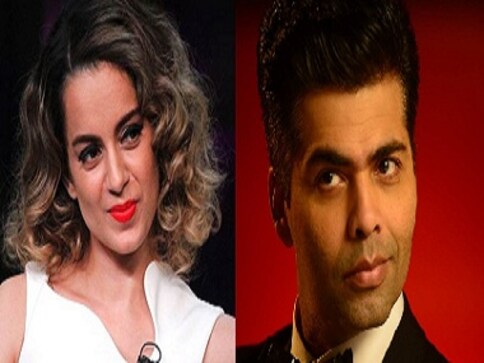 Karan Johar picked the wrong woman to bully.
If there's one thing we learnt about Kangana Ranaut last year during the Hrithik Roshan scandal, it was that she doesn't back down. Just days after Karan Johar accused Kangana of playing the "woman" and "victim card" too often and suggested that she leave the industry, the actress has replied. And, how!
The prevailing sentiment among most people that I spoke with, after the video of Karan's dissing Kangana at London School Of Economics surfaced, was that 'she shouldn't bother saying anything anymore. What's the point of escalating things?' After all, we were taught by our parents to take the high road in an altercation.
But when you are being bullied, ignoring it reinforces a sense of powerlessness in the target. Karan belittled, humiliated and insulted Kangana on a public platform. Addressing that bullying on an equally public medium was the only option for the actress to push back.
In the Mumbai Mirror interview, Kangana says:
"Why is Karan Johar trying to shame a woman for being a woman? What is this about the 'woman card' and the 'victim card'? This kind of talk is demeaning to all women, particularly the vulnerable because they are the ones who really need to use them. The 'woman card' might not help you become a Wimbledon champ, or win you Olympic medals, or bag National awards. It might not even land you a job, but it can get a pregnant woman who feels her water is about to break a 'ladies' seat on a crowded bus. It can be used as a cry for help when you sense a threat. The same goes for the 'victim card', which women like my sister, Rangoli, who is a victim of an acid attack, can use while fighting for justice in court"
For someone who has been ridiculed for her fluency with English, Kangana's reply is very articulate. More articulate than say the man who wondered if she knows what nepotism means. In her reply, Kangana talks about choice and power. It's important to remember that a woman's right to choose what she does with her body, her mind and her life is what equality is all about.
Kangana has the choice to play whatever card she chooses. Whatever weapon she has choice to use available in her arsenal to take down the bullies whose place of privilege accords them more protection than she has ever had.
Karan took potshots at Kangana when she wasn't around to defend herself; her reply makes it very clear that her fight is not against an individual.
"I am not fighting Karan Johar, I am fighting male chauvinism," she says. One of the most effective ways to stand up to a bully is to fight back with logic and clarity. Her response makes it clear that she didn't need his platform to air her opinions; that they have in fact worked together in a film (Ungli) that his production house produced; that airing their exchange from Koffee with Karan was not a sign of his magnanimity but was done for TRP and, most importantly, that she is a self-made woman who is 'definitely not going anywhere'.
Time and again, Kangana has proven that she is exactly the kind of badass that Bollywood needs.
It takes a lot to stand up to bullies who are more influential, but Kangana has never cowed down. Who would have thought that Koffee With Karan, a show that its host described as 'frivolous', would result in lessons on feminism, nepotism, grace and bullying? Definitely not Karan.
Entertainment
Twitter users were furious at Jimmy Kimmel's error in calling RRR a "Bollywood" movie and immediately expressed their displeasure at the matter.
Entertainment
Rani Mukerji starrer Mrs Chatterjee vs Norway released on 17 March 2023.
Entertainment
Ram Gopal Varma did his graduation from Acharya Nagarjuna University in Andhra Pradesh.