Karan Johar apologises for hurting Northeast sentiments; Prince Charles turns 70: Social Media Stalkers' Guide
Karan Johar tweeted an apology for hurting the cultural sentiments of people from the Northeast while Prince Charles birthday was marked with the release of a family photo.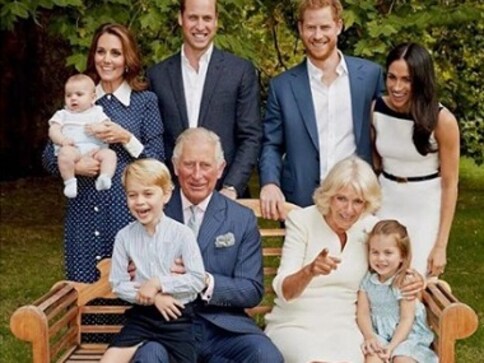 What's more fun than passing off stalking celebrities on social media as work?
Very little, right?
And so, we scanned the Instagram and Twitter accounts of celebs from India and abroad, to bring to you weekly updates from the interwebz. Who tweeted to whom? Who re-posted last night's party pics? Who went on a rant about what. Whatever it is, don't worry, we've got you covered.
We stalk, you read. Deal?
Teejay Sidhu pens open letter to Bigg Boss
Karanvir Bohra's wife Teejay Sidhu wrote an open letter addressed to the Bigg Boss team for being biased towards her husband and making him the target of hurtful jokes. Kiku Sharda shared Teejay's post and tweeted in support of Bohra.
With u on this Teejay ,,,,, he is the most respectful man in the house, wonder why is he being targeted like this. Stay strong, stay blessed. https://t.co/GjNkN4UgQ9 — kiku sharda (@kikusharda) November 13, 2018
Simple Kaul, who has worked with Bohra in Shararat also tweeted along the same lines.
Sara Ali Khan, Sushant Singh Rajput promote Kedarnath
View this post on Instagram
And the fairytale feels continue ‍♀️
Sara Ali Khan shared photographs with her co-star Sushant Singh Rajput from their promotional tour of Kedarnath. The film, set in the backdrop of the 2013 Uttarakhand floods, tells the love story of Mansoor and Mukku. Abhishek Kapoor has directed the feature, which hit cinemas on 7 December.
Prince Charles birthday celebrated with release of family photo

The occasion of Prince Charles 70th birthday was marked with the release of a family photograph via the Kensington Palace's official social media handles. In the photo pose Prince William, Kate Middleton along with their children Prince George, Prince Louis and Princess Charlotte as well as Prince Harry, Meghan Markle and Camilla Parker Bowles.
Rajasthan police references Thugs of Hindostan for social media campaign
After Mumbai police, the Rajasthan police force referenced a dialogue from Aamir Khan-Amitabh Bachchan starrer Thugs of Hindostan to create cyber security awareness.
Karan Johar apologises for hurting Northeast sentiments
You are absolutely right and I would like to apologise if I have hurt any sentiments.....it was purely unintentional and came from a place of no knowledge which is absolutely no excuse....am extremely sensitive to the different cultures of our land and I am very sorry.... https://t.co/7dgzreI90L — Karan Johar (@karanjohar) November 14, 2018
Karan Johar has apologised after he "unintentionally" hurt the sentiments of the people from Northeast and said it had "come from a place of no knowledge". In a video he shared on 13 November from the sets of reality show India's Got Talent, Karan was seen pulling Kirron's leg, for wearing a traditional headgear, which was gifted to her by a contestant from Arunachal Pradesh. Karan, too, was given one. But he had not put it on. In the video, Kirron asks why he did not, to which, the filmamaker, goofing around, said: "Because you have guts, I don't.
(With inputs from agencies)
Entertainment
Talking about the show, the filmmaker also said, "When I started, I thought I was doing something just for fun, I was doing something for my own amusement, I can't believe it became such a thing."
Entertainment
Sara Ali Khan pursued her studies at Columbia University and came back to India in 2016. Since her debut film, she has constantly worked on honing her skills as an actor and continues to impress fans with her dance moves as well.
Entertainment
Born in Mumbai to actors Saif Ali Khan and Amrita Singh, Sara Ali Khan made her acting debut in the film industry with Abhishek Kapoor's directorial Kedarnath.