Kapil Sharma case: One tweet could cost the comedian a whole lot of trouble
A possible FIR, demolition, police action, political protests: Kapil Sharma could be facing all this and more as a consequence of his tweet alleging corruption
When Kapil Sharma sent out his now infamous 'Ye hain aapke acche din?' tweet to Prime minister Narendra Modi, he may not have known the extent of the controversy it would trigger.
From being hailed as a crusader against corruption (his tweet to Modi was prefaced with one where Sharma alleged that he had been asked for a Rs 5 lakh bribe by BMC officials in order to construct his office space in Mumbai) the popular comedian found himself on the other side of the dock — where he now stands accused of illegal constructions at his properties, flouting environmental norms and facing a prospective FIR.
Just how did Kapil Sharma's tweet boomerang so spectacularly? How did he go from hero targeting corruption to becoming a target of accusations of wrongdoing?
Kapil's tweet on 9 September had caused an immediate storm:
Kapil Sharma asked for bribe, tweets to PM Narendra Modi: 'Ye hain aapke acche din?'
His allegations initially caught the Brihanmumbai Municipal Corporation on the backfoot, and although some mention was made of Sharma's office structure being an unauthorised construction, officials said it would take them some time to respond in detail.
In the meantime, political parties also got into the act, claiming that Sharma's allegations were politically motivated.
Kapil Sharma tweet: Civic body says his construction was illegal; BJP claims AAP influence
Over the weekend, however, the BMC was firmly in control and several news reports emerged, with details about Sharma's illegal constructions.
Activists who apparently have been tracking the issue of unauthorised building in Mumbai (and also Sharma's alleged infractions) also spoke to the press.
Here's a look at all the trouble Kapil Sharma may now have to contend with:
1. The Oshiwara high rise in which he owns an apartment could be demolished, according to The Hindustan Times
The 18-storey structure (DLH Enclave) is at the centre of an investigation by the BMC, which has said that there are irregularities in its construction. An FIR could be filed against the developer and the flat-owners in this regard, after which the civic body may demolish the building altogether. Sharma is also in trouble specifically for making illegal alterations to his flat — Sharma, along with either other residents (including actor Irrfan Khan) — were apparently sent notices for incorporating the parking lot area into their apartments.
The HT report states: "Sharma, who owns a flat on the ninth floor of the high-rise, was served a notice under section 53 (1) of the Mumbai Regional Town Planning Act in April for unauthorised work and second inspection of his flat was carried out in June. The letter, dated 9 September, stated, 'Mr Kapil Sharma had failed to comply with the notice requisitions'. A complaint was then lodged by the ward in the Oshiwara police station under Section 53 (7) of the MRTP Act."
2. Kapil may have to pay for the cost of demolishing the illegal portions of his office space in Andheri, reports The Indian Express
As per the rules, the cost of demolishing an illegal structure must be borne by the party responsible for the construction in the first place. So no only were sections of Sharma's bungalow in Andheri razed, the comedian will now have to foot the bill for the same.
Sharma was sent notices about the illegal additions to his bungalow in July, and when the BMC did not receive a reply, went ahead with the demolition in August.
"We have recorded the number of machinery and manpower used for the demolition. We are in the process of calculating the exact demolition cost. Since all of us are busy with the Ganesh festival, a demand letter for recovery of the demolition cost will be issued only after the festival is over," said Parag Masurkar, assistant municipal commissioner of K (West) ward, to IE.
3. An investigation into whether or not Kapil Sharma flouted Coastal Regulatory Zone (CRZ) norms is being demanded by environmental activists: The Hindu
The Hindu reported that officials of Maharashtra's Mangroves Cell will carry out a detailed investigation into allegations that Sharma cut down mangroves to construct his illegal office space at his bungalow. N Vasudevan, chief conservator of Forests, Mangroves Cell, said, "As of now, we don't have complete information on whether mangroves were cut by him. Our preliminary report suggests that there is a distance of 50 feet between the structure constructed by him and the reserved forest area."
If the investigation reveals that mangroves were indeed destroyed by Sharma during the construction process, he will face legal proceedings.
4. Political parties are now threatening to protest against his show.
While Maharashtra chief minister Devendra Fadnavis had assured Sharma that action would be taken against the officials who demanded a bribe from him, other politicians have not been as benevolent.
In fact, after the initial backlash that said Kapil's tweet was politically motivated, the issue has only become more serious.
The Shiv Sena dared Sharma to name the people who had approached him for a bribe. "This is not a comedy show where he can tweet what is going on in his life. He needs to immediately name the person publicly who asked for a bribe or people would watch the whole episode like a comedy drama, laugh over it and forget about it," Sena spokesperson Manisha Kayande said, in this PTI report.
The Maharashtra Navnirman Sena on the other hand, threatened that they would "shut down" Sharma's show unless he apologised. MNS leader shalini Thackeray further told NDTV that Sharma's show was illegally employing foreigners who were in India on tourist visas, and wondered why the state authorities hadn't been as prompt in acting on the MNS' complaints about this.
Faced with a battle on several fronts — and calls for his arrest — Kapil Sharma has not made any comments regarding the controversy since 9 September. His last tweet stated: "I just voiced my concern on the corruption I faced with certain individuals..It's no blame on any political party — be it BJP, MNS or Shiv Sena."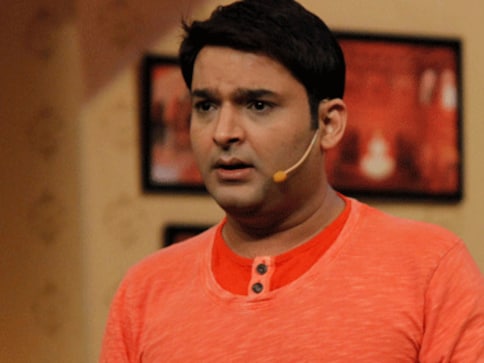 Entertainment
Comedian Kapil Sharma, who has been away from the spotlight for some months following allegations of unprofessional behaviour, on 7 October confirmed that he is returning to television with The Kapil Sharma Show.
Entertainment
Kapil Sharma was not happy with the way the new show was progressing and felt it didn't have the spark that his earlier show Comedy Nights With Kapil did.
Entertainment
Kapil Sharma had tweeted earlier this year complaining to Narendra Modi why he is being asked to pay a bribe of Rs 5 lakh for carrying out construction.