Kangana Ranaut praises Narendra Modi: There shouldn't be any doubts about his credibility as PM
Kangana Ranaut showered praise on Narendra Modi calling him the 'rightful leader of our democracy' at the screening of Chalo Jeete Hain.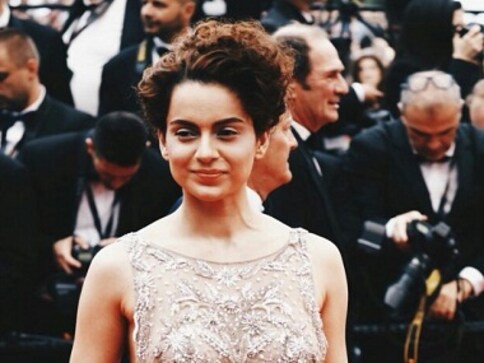 Kangana Ranaut has made her admiration for Prime Minister Narendra Modi publicly known on several occasions. Once again, the Simran actor showered praise on the Bhartiya Janata Party (BJP) leader calling him the 'rightful leader of our democracy' at the screening of Chalo Jeete Hain, a short film inspired by Modi's early life.
National Award-winning actress Kangana Ranaut hailed Prime Minister Narendra Modi and said he deserves to come in power again in the upcoming 2019 Lok Sabha elections as he is the "rightful leader of the democracy"

Read @ANI story | https://t.co/CrPperOUHR pic.twitter.com/TUIlpXQxED

— ANI Digital (@ani_digital) July 28, 2018
When asked about her thoughts on the last four years of the Modi government, Ranaut said, "We have voted him as our Prime Minister. This cannot be taken away from him. This is his well deserved place which he has earned after sheer hard work. So, there shouldn't be any doubt about his credibility as a Prime Minister (sic)."
Narendra Modi is the most deserving candidate & rightful leader of a democracy. He is not in this position because of his parents, he has worked hard to be here. Yes, he should come to power next year as 5 years are not enough to pull a country out of pit: Kangana Ranaut in Mumbai pic.twitter.com/fTG0lT4Zg9 — ANI (@ANI) July 28, 2018
Ranaut, who is gearing up for the release of Manikarnika: The Queen of Jhansi, said that four years is not enough to pull the country out of the pit that it currently finds itself in. She said the Modi government should be voted back to power in the 2019 general elections to bring about noticeable change.
India
The event will also include an address by Minister of State for Ayush Kiren Rijiju and a live yoga demonstration by the Morarji Desai National Institute of Yoga
Entertainment
Vidya Balan opens up about the film's treatment of wildlife conservation, and why she may not have agreed to do it a few years ago.
Entertainment
"You look back at Iron Man 2 and while it was really fun and had a lot of great moments in it, the character is so sexualised," Scarlett Johansson reminisces on the development of Black Widow's character ever since her introduction in the MCU.