Kangana Ranaut injured on the sets of her upcoming film Manikarnika
Kangana Ranaut starrer Manikarnika is helmed by National Award winning director Krish. The film is scheduled for release on 27 April next year.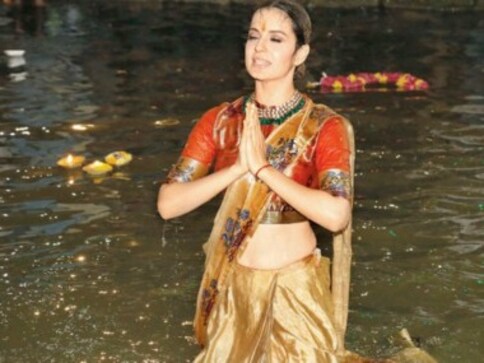 Jodhpur: Actress Kangana Ranaut, who has been shooting for the biopic on Rani Laxmibai Manikarnika, has had her ligament torn while pulling a stunt.
"The accident took place when Kangana was performing the iconic scene in fort Mehrangarh, Jodhpur where Laxmi Bai jumps off a 40 feet wall with Damodar her child tied to her back on to a horse back," Kangana's spokesperson told IANS.
"Kangana didn't land properly and in an attempt to save the kid from any injury, she ended up hurting her ankle. She was taken to a hospital immediately in the early morning hours as the crew was filming nights. The X ray was done and it turned out to be a ligament tear," the spokesperson added.
With the rest of the filming stalled till Kangana gets well, the stunt that injured Kangana, "was the last dangerous stunt" left to film.
"Kangana has been advised rest for one week till she has to keep the cast on. The crew will resume filming as soon as the cast comes off. She is almost done with her shoot, only had one more day to shoot there. Iconic war scene was being shot. Therefore the shoot has not been halted because of the injury," said the spokesperson.
Directed by National Award winning director Krish, the film is scheduled for release on 27 April next year.
It also features Sonu Sood, Suresh Oberoi, Atul Kulkarni and Ankita Lokhande.
Entertainment
Shilpa Shetty says she refused offers of scripts about hard-hitting subjects and heroine-centric plots, as they lacked commercial value.
Entertainment
"Venturing into an uncharted territory that is both exciting and intriguing," says Kartik Aaryan.
Entertainment
Love Hostel, directed by Shanker Raman, traces the volatile journey of a young couple being hunted by a ruthless mercenary.