Kangana Ranaut embodies her role in Manikarnika: She's just as feisty as the Queen of Jhansi
It's difficult for Kangana Ranaut to be politically correct. Though industry insiders might attack her for her nepotism comments but she remains largely a hit on social media and among cine-goers.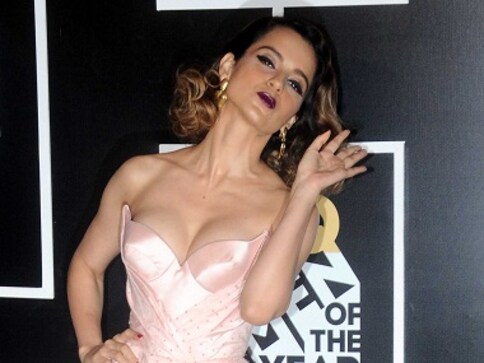 Patience has never been a virtue for Kangana Ranaut, the enfant terrible of the Indian film industry.
After Kangana made her views on nepotism public during Karan Johar's chat show Koffee With Karan, things have not been the same for her. Though the constant barrage of attacks from the fraternity has hardly affected her box office stature, she surely is being filtered by a section of the industry through a different lens.
Kangana's next magnum opus is Manikarnika: The Queen of Jhansi, a biopic on queen of Jhansi. The events associated with the film also give a feeling that the actress is on some sort of mission. She is in haste and wants to do too many things too soon.
Just think of the chronological events associated with the film. While this film was initially to be helmed by director Ketan Mehta (the man associated with films like Mirch Masala, Sardar and the more commercial Mangal Pandey), later Kangana severed ties with the veteran director and took the mantle on herself to produce the film.
Next in queue was to anoint south-based Krish as director of the film. So consumed is the actress with her current labour of love that she took a full contingent of media recently to Varanasi for the unveiling of the mere poster of the film. It was writ large that she was interested in giving some sort of statement and the statement that came out reeked of power display and stardom, few things Kangana was not associated earlier with. It showed us a new version of Kangana Ranaut, the producer and not Kangana Ranaut, the actress.
Though the discussion here is not about Kangana's Manikarnika, her upcoming film surely gives a reference point to dissect things and bring them to perspective.
Kangana was a transformed woman and an actress the day she made a no holds barred comment on working with the Khans of the industry. In an interview to India Today channel through a quote she made her stance on the Khans very clear. "When I wanted to work with them, no one was ready to work with me. Now that I'm the hero on my set why should I work with them?" Post then, every action of the Queen actress has been louder than the previous one.
Her appearance on 'Koffee with Karan', her comment on nepotism and labeling Karan Johar as the 'torchbearer of nepotism and a movie mafia' was discussed by all and sundry. The comment was especially was not taken in its spirit by the second and third generation actors of the industry. But even before the coffee turned cold, there was Hrithik Roshan.
When her affair with Hrithik Roshan was out in open, thanks to the barrage of intimate messages accessed through e-mails, she took Hrithik head on and behaved like someone scorned, who was not ready to bow down.
More recently, she's been embroiled in a controversy surrounding Apurva Asrani and Hansal Mehta. She allegedly forced makers of her next release Simran to ensure that the co-writer, Apurva Asrani, is the not only one credited with writing credits. To the uninitiated Kangana is the other co-writer, and Mehta made an announcement about the same on Twitter, much to Asrani's surprise.
Apurva Asrani and Mehta share a long standing relationship. Though Kangana is yet to react on the incident, damage has already been done, as there are stories galore from Apurva's angle across the web world.
So what is it that has brought about such a transformation in the actress who has won the National Award thrice?
For some one who has successfully bracketed herself in the A-list category without the support of Khans of the industry, this surely is an achievement. Her very first film labeled her as an actress, a big achievement considering the dearth of real actors in Bollywood. This was only broken many years later when Queen and Tanu Weds Manu hit the marquee. The films showed an aspect of Kangana, which was hitherto unknown to viewers and to the industry at large.
She has always spoken her mind right from the disagreements she had with her parents, her career choices, voicing her opinion on the pay discrepancy and rejecting endorsements by fairness cream brands. She has an opinion on everything.
In an interview to Mumbai Mirror during the release of Rangoon, her statement made things very clear when she was asked to react on Karan Johar. "I use every card possible. At the workplace, it's the badass card to fight cutthroat competition. With my family and loved ones, it's the love card. When fighting the world, it's the dignity card, and for a seat in a bus, it's the woman card. What is important to understand is that we are not fighting people, we are fighting a mentality."
It's difficult for Kangana to be politically correct. Though industry insiders might attack her for her nepotism comments but she remains largely a hit on social media and among cine-goers. But her motor mouth attitude seems to fail her. Her recent spat with Apurva Asrani makes us wonder if Kangana's popularity will faulter.
The actress was lauded when she made her stance public during the Hrithik Roshan and Karan Johar saga. But in an unforgiving industry where fortunes change every Friday and where acquaintances outnumber friends, it's important for Kangana to slow down and take things with a pinch with of salt.
Bollywood
From Shreya in SOTY 2 to Tia in Gehraiyaan, Ananya Panday completes three years in Bollywood.
Bollywood
Swastika's hold on her craft motivated me to perform better, says Plabita who plays the role of Fetish Girl in Escaype Live
Opinion
Snarky remarks about Narendra Modi's cutlery skills show how it is time to stop mindlessly lionising Western eating protocols and propagate our own thali-katori-spoon alternative instead