Kamal Haasan an atheist? His works suggest otherwise
Forget 'anti-islam', but is the 'Ulaga Nayagan' really a non-believer as he'd like us to believe? Evidence from his enviable body of work is to the contrary.
by Anantha Narayan
The patently political Vishwaroopam ruckus has pitch-forked Kamal Haasan again into the national limelight. For a country used to seeing Tamil Nadu as Rajinikanth country, this was a rude reminder that there are other superstars in the Southern sky with the mystic power to dodge bullets, defy bans and part the sea of tranquility in our humdrum lives.
The controversy took Kamal Haasan totally by surprise as he's always presented himself as a dyed-in-the-wool rationalist with a high level of tolerance for religious plurality. The last thing he was expecting was the ungainly taint of 'anti-islam' on his radiant secular persona.
Atheists like Christopher Hitchens and Sam Harris would have proudly worn this badge. But in politically correct India, it never pays to tread on other people's toes. And for a box-office dependent icon like Kamal with 100-crores at stake, image is everything.
Forget 'anti-islam', but is the 'Ulaga Nayagan' really a non-believer as he'd like us to believe? Evidence from his enviable body of work is to the contrary.
Ever since he's donned the hats of producer, writer and director, Kamal has dropped cryptic clues on where his faith lies. The Hindu trinity of Brahma, Vishnu and Shiva keep recurring in the character names — he so carefully crafts — in all his recent productions.
Take Virumandi. Kamal could have easily given it a rustic irreligious name like 'Veeramani' and it would have still worked. But he chose Virumandi. Is it because of his penchant to opt for god names? For the uninitiated, Virumandi is worshipped in Theni district as 'Viruman' or 'Brahman'.
If one peels the many subtle layers in his films, one can spot a Saivite streak. Sample the names 'Viswanath' in Vishwaroopam,'Nallasivam' in Anbe Sivam, 'Avinash' in Mumbai Express and 'Ramalingam' in Kaadhala Kaadhala. Innocuous as they may seem, all are synonyms for Lord Shiva. You'll be surprised to know that Kamal has used the 'Shaktivel' name in 3 movies: Nayakan, Sathi Leelavathi and Thevar Magan!
Add Adinarayan (Kurudhipunaal), Saket Ram (Hey Ram) , Krishnaswamy (Mahanadhi), Raghavan (Vettaiyaadu Vilaiyaadu) and the Dasavatharam imagery, to discover his Vaishnavite streak. So, is the atheist role, another stellar performance from the actor we all love?
Extracted from Indulge, the Friday Magazine from The New Indian Express.
Entertainment
Kamal Haasan knows that Vishwaroopam 2 has to work big time at the box-office, so that his charisma as a future politician remains fresh in the minds of his potential vote bank
Entertainment
On the cusp of a political career, Kamal Haasan is acting in films where he portrays someone who will free the common man from all troubles and save not only the day but also India and even the world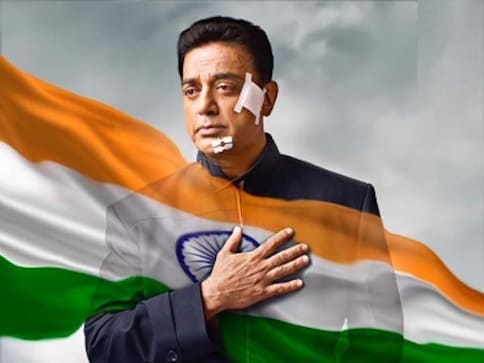 Entertainment
For a Kamal Haasan fan, the release of Vishwaroopam 2 is a big deal — here's why.