Kalyani Priyadarshan on why Hello is the best film that has happened to her career
In an exclusive interview to Firstpost, Kalyani Priyadarshan spills the beans about her life off-screen and working with Akhil Akkineni.
Kalyani Priyadarshan is the new talk of the town in the Telugu film industry, thanks to her acting debut in Vikram Kumar's latest romantic film Hello, which had Akhil Akkineni in the lead role. Prior to the film's release, there was a lot of mystery around the actress. Everyone knew that she was the daughter of acclaimed director Priyadarshan and Lissy. However, beyond that, not many knew about her. "There's an element of mystery about my character in the film and it was a conscious effort to not be in the news prior to the release to keep the freshness intact. I just hope people liked my work," she told Firstpost.
Now that her performance in the film has been widely appreciated, along with hundreds of 'I hate you' messages flooding her timeline, the actress is on cloud nine. In the film, 'I hate you' is used as an euphemism to loving someone so much that it breaks your heart. Like every other Vikram Kumar's film in recent times, Kalyani too is named Priya in the film and she plays the role of a youngster, who is desperately looking for her childhood sweetheart, played by Akhil. "I know that they kept looking for someone to play this role forever. I don't know what Vikram saw in me but I'm very lucky to have bagged the role. My character Priya is so sweet that you would believe that a girl like this can't possibly exist," Kalyani smiles.
The offer, Kalyani says, was too good to let go and it was an instant 'yes' from her. "I wanted to work with a good director for my debut film, and when I knew that it was a Vikram Kumar's film, I didn't have to think twice. My dad strongly believes that a good director will know how to extract the right performance from an actor and it's something that he imparted in my mind as well. This is the reason I wanted to be very choosy about my debut. The only thing I really cared about for my debut film was a great director. A great producer and a great story came as a bonus for me with Hello! Although I never went to an acting school, I did a bit of theatre in Singapore and later, I interned in theatre while I was studying in the US. When you are surrounded by actors all your life, you sort of imbibe a lot of things unknowingly. I did attend an acting workshop in Adishakti Theatre, Pondicherry. I learnt a lot more while acting in this film and I've become more comfortable now. I am a good learner," she adds.
But one thing she admits that she had to struggle with in the initial days was the language itself. "I'm more comfortable in Tamil and Malayalam. When I started shooting for Hello, I just didn't know a word in Telugu. It's really difficult to emote well and react when you don't quite understand what the other person is saying. That was a steep learning curve for me. And that's the beauty of working with Vikram Kumar. He knows what he wants but he'll give you a leeway to do your own thing," Kalyani avers, adding, "I would have loved to start my career in Malayalam or Tamil because that's where my roots are. But I couldn't let go off Hello. For an actor, a lot of things depends on what God gives you. A lot of people struggle to make it big so you have to just grab a chance when you get one. I do believe in destiny but I also think that you need to work to make your luck last long. Luck might be in your favour, but you should know how to utilise it."
The actress is all praise for her co-star Akhil, who, in her own words, almost made her cry with his performance in one of the key scenes in the film. "He's very quiet during the shoot and quite frankly, I was surprised. But I must say that he works really hard. I almost cried watching him perform in the climax. This movie will make everyone, who cares about Akhil, proud of what he has done. He's a really sweet guy."
Interestingly, Kalyani has no qualms admitting that, although her parents are quite popular in their own right, at one point of time, they even tried to dissuade her from taking a plunge into acting. After studying in Chennai for a few years, she went on to do her schooling in Singapore and then study design for her bachelor's degree in the US. But her heart was always in the movies. "I always wanted to act but I'm not a very strong person. I take criticism very personally. I get very upset. I care about what people have to say about me and it matters whether people like me or not. So my parents thought that I might not be able to handle the criticism but when they let me do a lot of things on my own, they realised that I was a lot stronger than they thought I was," she says.
The more she opens up about her own life, it becomes clear to you that her interest in cinema, which was ignited by her father Priyadarshan, turned irresistible at a young age. He introduced her to classics at a young age and she reveals that when he is not on the set for a shoot or any other meeting, he would be at home where he would end up watching four films in a row. "He's really good at picking good films for us to watch," Kalyani chuckles, adding, "And he makes it a point to share some trivia with us while watching a film. We would be watching Lord of The Rings and in the middle of the film, he would pause the video and explain how a certain scene would have been shot. Of late, I don't really watch as many films, but I do peep into the entertainment room to make a note of what all films my father is watching."
Despite her upbringing, where she was surrounded by superstars and acclaimed technicians, Kalyani confesses she has grown up admiring the personal lives of her parents' friends than the hullabaloo about their stardom. "We rarely speak about work when we meet. My dad's best friend is Mohanlal. I'm very close to him and his family. His son Pranav is a close friend of mine. In fact, we treat each other as cousins because that's how close we are. I ended up becoming friends with kids of my parents' friends." Having spent plenty of time with Mohanlal's family, Kalyani has nothing but blind admiration for the Malayalam superstar. "He's more like a fun uncle whom you would like to hang out with all the time. He loves magic and at times, he loves performing few tricks for us. Their family loves food, so whenever I felt like having a proper meal on any given day, I would end up going to their house (laughs). And I must say, he cooks really well," she adds.
Now that she had made her debut and made everyone sit upright and take notice of her, Kalyani is surprisingly candid about all the advice she has been getting even before she made her debut. "It's really weird because the moment people come to know that you're making their debut, everyone has an opinion to share with you (laughs). But I think I have already gotten the best advice I could have hoped for, that too from my parents. They told me, 'You don't have listen to anyone. This needs to be a journey for you. As long as you work with the right people, you'll be able to make good decisions. We won't give you any advice, but we'll always be there to support you. In the end, you need to learn all this as you progress in life.' And now, my journey has already begun," Kalyani signs off.
Find latest and upcoming tech gadgets online on Tech2 Gadgets. Get technology news, gadgets reviews & ratings. Popular gadgets including laptop, tablet and mobile specifications, features, prices, comparison.
Entertainment
In a 5 January social media post, Dr Dre said he was "doing great and getting excellent care from my medical team."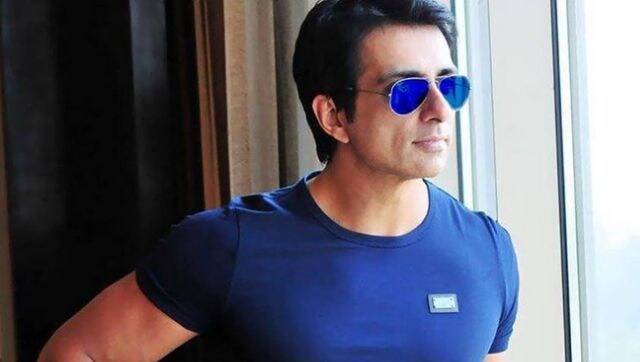 Entertainment
Bombay High Court has granted three weeks' time to Sonu Sood to file an appeal and stayed the order for coercive action by the BMC against the actor.
Entertainment
Spike Lee's son Jackson is the first Black male ambassador of Golden Globes.