Kajol in VIP 2, Aishwarya keen to do Marathi film: What attracts Bollywood stars to regional films?
Kajol's 'comeback' Tamil film, VIP 2 opposite Dhanush features her as a character with grey shades; something that she hasn't had a chance in Hindi films since Gupt
Aishwarya Rai Bachchan's recent statement that she would be interested in doing a Marathi film can be interpreted differently by different people.
For the unaware, her presence at a Marathi film event prompting her to say this would be the most obvious interpretation, but considering that Marathi cinema today is the most vibrant of Indian cinema, there is much more to Ms. Rai Bachchan's statement than political correctness.
Bilingualism in terms of acting is nothing new for many actors including Aishwarya Rai Bachchan, who started her career with a Tamil film, Mani Ratnam's Iruvar (1997), and later did films in Bengali - Chokher Bali (Rituparno Ghosh, 2003) and English - Bride and Prejudice (Gurinder Chadha, 2004), Provoked (Jag Mundhra, 2006).
For actors in India, acting in films made in different languages is nothing new. Some of the biggest names in Hindi cinema right from the 1960s onwards gravitated towards the Hindi film industry after making a mark in Bengali, Tamil and Telugu films.
The list of all-time great Hindi films would be incomplete with the 'outsiders' such as Suchitra Sen, Waheeda Rehman, Vjayanthimala, Padmini, Hema Malini, Kamal Haasan, or Sridevi — all of whom began their careers in regional films. Even after enjoying success at the national level, as Hindi films had wider audiences when compared with Bengali or South Indian films, some of them chose to not 'shift' in the truest sense of the word.
Perhaps it was only Suchitra Sen who never took Hindi films seriously enough to settle in Bombay or maintain a base there but a Kamal Haasan and a Sridevi, despite being immensely popular in Hindi cinema, continued to do Tamil and Telugu films. Some actor such as Dara Singh, Rajesh Khanna, Dharmendra and Mithun Chakraborty featured in films in their mother tongue (Punjabi, Bengali, Tamil, etc.) in order to help boost the local industry.
The bigger any star became in non-Hindi films, Bombay or Bollywood became the next logical step.
Perhaps this is the reason why Sivaji Ganesan or Uttam Kumar tried their hand at Hindi and later a Prosenjit, a Nagarjuna, a Ventakesh and a Chiranjeevi or a Mammooty and Mohanlal too followed suit. Not all of them were keen to make the shift like Hema Malini or Sridevi or even give it a serious shot a la Kamal Haasan.
Irrespective some of these stars even inspired Hindi stars to dabble in regional language cinema - Dimple Kapadia featured opposite Haasan in the Tamil film Vikram (1986). Later she did a Bengali film with Mrinal Sen, Antareen (1993). Haasan himself did a Bengali film, Kabita (1977), which was a remake of his own Tamil film, Aval Oru Thodar Kathai (1974).
One of the big attractions for Hindi film actors to experiment with films in other languages is the lure of digging into something that Hindi cinema wouldn't offer.
Performing in an alien language can constitute a challenge of a different magnitude, like Kajol mentioned while talking about her first foray into Tamil cinema with Rajiv Menon's Minsara Kanavu (1997), which was dubbed in Hindi as Sapnay (1997).
Even though the film did well Kajol never took up a film in any other language besides Hindi because of a sense of inadequacy when it came to acting in another language. Kajol's 'comeback' Tamil film, VIP 2 opposite Dhanush features her as a character with grey shades; something that she hasn't had a chance in Hindi films since Gupt (1997).
Acting in another language can be a liberating experience such as the one Jackie Shroff underwent in the Tamil film Aaranya Kaandam (2010). The sheer audacity with which Shroff's character Singam Perumal was written - an old don who is impotent in more ways than one - wouldn't have been possible in Hindi and even if it ever happened, Shroff would have been the last person on any director's mind.
Shroff's portrayal of Singam Perumal is one of the boldest and the bravest ever seen in Indian films. The actor even credits the role for reviving his career where he got to work in films like Aurangzeb (2013), another late career author-backed role only because of Aaranya Kaandam. In an interview, Shroff revealed, "when I met Aditya Chopra for the first time he told me, 'It was my director [Atul Sabharwal] who forced me to watch Aaranya Kaandam' and then he cast me."
But can such outings go beyond experimenting and become a parallel career of sorts for Hindi film actors?
The one strong reason for this becoming a possibility is the fact that some of the best films in India are not being made in Hindi and moreover, it's not that only those handful of non-Hindi filmmakers known to Bollywood are making these films.
Perhaps this is what might just convince Bollywood stars to literally start speaking a new language.
Entertainment
Dilip Kumar was initially supposed to be discharged on Thursday but the family and the doctors decided to let him rest in the medical facility for another day.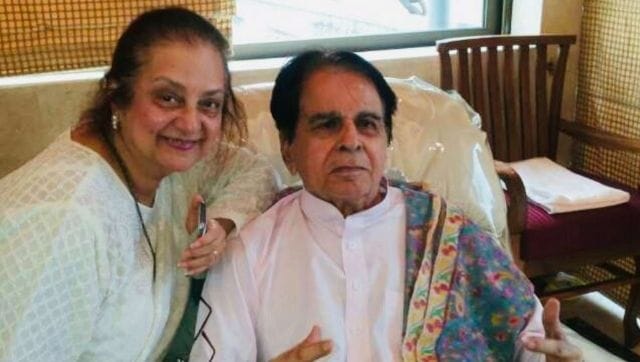 Entertainment
Earlier this year, Kumar was hospitalised for a routine health check-up.
Entertainment
Juhi Chawla's plea claimed that 5G wireless technology plans threaten to provoke serious, irreversible effects on humans and permanent damage to the earth's ecosystems.