Jyothika on why she chose to return with Magalir Mattum: 'For two years, no scripts excited me'
Jyothika — Jo to friends — sat down with Firstpost for an exclusive interview before her film Magalir Mattum's release: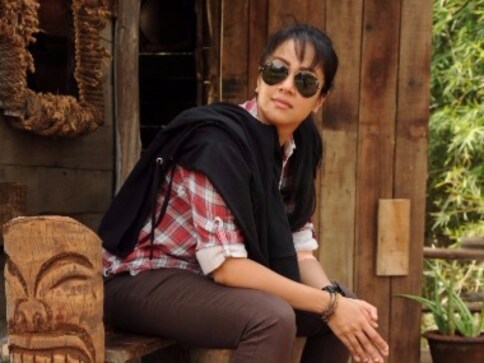 In the early 2000s, Jyothika ruled the roost in Tamil cinema, until she fell in love with and married Suriya in 2006. In 2015, the actress — who had been happy being a homemaker and mother-of-two during her sabbatical — had a fantastic comeback with an author-backed part in 36 Vayadhinile, produced by Suriya's 2D Entertainment. Now, she is back with her second film post-marriage — the Bramma-directed Magalir Mattum, which releases on Friday, and is once again, produced by her home banner. Jyothika — Jo to friends — sat down with Firstpost for an exclusive interview before her film's release:
You are back with your second release post-marriage. Why did you choose Magalir Mattum? 
It had been nearly two years since I did a film. While I heard a lot of scripts, they didn't excite me. Today, I want to do only meaningful cinema within certain commercial parameters and convey a nice message. When director Bramma (a National Award winner) narrated the script for Magalir Mattum, I fell for it and decided to produce it under our banner. Magalir Mattum has three other fantastic actors in Urvashi, Saranya and Bhanupriya and the film revolves around all of us.
Tell us about Magalir Mattum and your role in the film.
It is a feel-good film. Traditionally women-oriented films are loaded with pathos and heavy sentiments. Here all of us are actually having a fun time. The script revolves around seven characters and has a neat message that irrespective of age, a woman can come out of her shell and blossom. I play Prabhavathi, a modern-day fiercely independent documentary filmmaker, who is on a road trip.
You look quite the tomboy, riding a Bullet!
[Laughs] Yes, my character demanded that I ride a motorbike and Bramma said it should be a heavy and tough one, like a Bullet. Suriya taught me to ride a Bullet and in the film there is even a scene where Urvashi ma'am is riding pillion and we shot it amidst heavy traffic. Later I even picked up my daughter from school on it!
I believe you have dubbed for the film in your own voice for the first time.
In a way, it is a dream come true. When I did 36 Vayadhinile, the director of the film — Roshan Andrews, a good friend — wanted me to dub for it, but I was not confident, as I have a Mumbai Hindi accent. Now after living in Chennai for the last so many years I speak fluently in Tamil. And Bramma helped me with the right pronunciations. Today, I understand the importance of dubbing in one's own voice as it elevates the performance.
Why are you doing only select films?
All these years I've been bringing up my two children and (was) tied to my house. My family takes priority over everything else. Suriya is a very loving, supportive husband and he has given me the freedom and space to choose the films I really want to work on.
But so far you have done only two films for your home banner and have refused outside films...
My next film Naachiyaar is with Bala sir for his production (house). You will find a different me in that film. I have a very, very good role.
What about the Mani Ratnam film you're doing?
Yes I have signed Mani sir's next film which will start rolling soon. I don't know anything about the star cast or other details. I have worked in Dum, Dum, Dum for Mani sir's production house, though it will be the first time I'm doing a film under his direction.
Find latest and upcoming tech gadgets online on Tech2 Gadgets. Get technology news, gadgets reviews & ratings. Popular gadgets including laptop, tablet and mobile specifications, features, prices, comparison.
Entertainment
Suriya had said last week that the courts were ordering students to sit for National Eligibility Entrance Test, when the judges were themselves holding only virtual courts amid the coronavirus pandemic.
Entertainment
Suriya's note in Tamil stated that the government should create equal opportunities for everyone.
Entertainment
Singaravelan was released in 1992, a time when in our little corner of the world, the only options for entertainment were the non-AC cinema theatres and hanging out at the railway station. If you were a dude, I mean. If you were not a dude, lol.