Justin Bieber's India concert: The good, bad and ugly of his Purpose Tour gig in Mumbai
It was pitched as possibly the biggest live performance ever by an international artiste in India.
So did Justin Bieber's concert at the DY Patil Stadium in Mumbai on 10 May 2017, part of the Indian leg his Purpose World Tour, live up to the hype?
Well, let's just say the night had its hits and misses.
In case you want to read a first-person account of what it was like to be a few feet away from the stage as Bieber pranced around on it (or walked around on it, made a little listless by the heat), you can click here.
In case you're more an I-need-to-know-what-went-down-every-minute-of-the-day-leading-to-Biebs-being-on-stage, well, you'll find that we had this super-informative live blog running all day on 10 May, that'll give you just that.
But if you want a more concise rendering of the night — warts, high points and all — then this is the place to be.
We've put together the good, bad and the ugly of attending Justin Bieber's Mumbai gig, along with 44,999 other screaming fans (one of whom knocked me over in her quest to get closer to the stage, and her idol).
The good
We're going to give you the good stuff first.
1. Bieber's performance of the acoustic versions of 'Cold Water' and 'Love Yourself'. Since Bieber thought the first bars of 'Cold Water' sounded off, he  proceeded to tune his guitar with an apology to the audience (the humidity had affected his guitar, he explained) and started the song over.
2. The way Bieber reached out to his Beliebers in the audience. He did make it a point to keep his gig as interactive as possible, and one lucky female fan even managed to get hold of his scarf.
3. Bieber's crew unfurled the Indian flag on stage without having an FIR filed against them, unlike poor Coldplay. Of course, it's early days yet, and there's no telling when someone will get it into their heads to "rectify" this oversight.
The bad:
1. The stage area at the DY Patil Stadium was packed with hysterical teenagers, who had been waiting for their idol since 3 pm that afternoon (Justin was supposed to be on stage at 8 pm). The melee reminded me of nothing more than a Virar local — or the way it looks after it's crossed the Andheri station. But at least the train offers shelter from the sun; here there was no respite from the scorching May heat.
2. Bieber lip-synced his way through most of performance (about eight tracks out of 12), and didn't even show off his dance moves. Diehard Beliebers were all too forgiving, however. "It's too hot for him, he must be tired! He has been standing for two hours and is not used to this weather," one fan told me, in her most understanding tone.
3. I'm sure a lot of parents had a "Why did I decide to have kids" moment, as they stood there dispiritedly in the background. This, while their children screamed their lungs out for the barely-adult-himself pop sensation, and demanded overpriced ice cream (Rs 100 for a Cornetto).
4. The constant social media sharing! At least the journalists there had their reasons (editors! reader! competition!) to obsessively post updates about the concert — but the concert-goers, you'd think they'd be more interested in following what was happening on stage than curating their social media feeds.
"Oh my god, I need this for my Snap Story!" yelled one teen, before she rushed towards where I was standing (Bieber had moved to the side of the stage that was facing our area of the stadium), whipped out her cellphone, and knocked me over flat — all in the pursuit of the perfect Bieb-shot.
The ugly
1. DJs Sartek and Zaeden — the opening acts for Justin Bieber — sure must have felt demoralised, with the insipid crowd reaction to their sets. Heck, the Sonakshi Sinha-Armaan Malik feud in the run-up to the Bieber gig had got more people talking than DJs Sartek and Zaeden were collectively able to on 10 May. All the crowd seemed interested in was. 'How much longer?"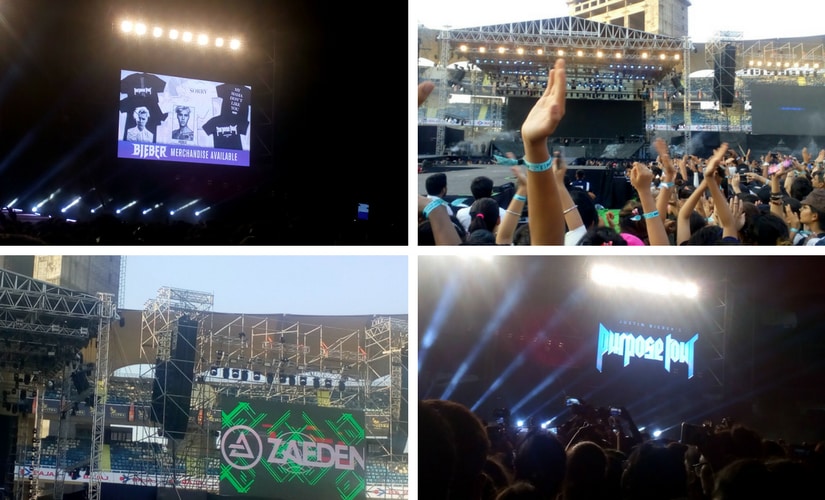 2. The heat. The humidity. Bieber dealing with the heat and the humidity.
3. The bad organisation. Beliebers and non-Beliebers looking for refreshments had to trek outside the stadium, queue up at the stalls, and shell out a minimum of Rs 100 for a litre-bottle of water (the price was later hiked to Rs 200). Then, you had to chug it all right there because water wasn't allowed inside the stadium. In May!
4. Really dirty bathrooms. No trash bins. All of which meant, the floor was littered with bottles and other refuse by the time Bieber had sung 'Sorry' for his fans.
5. The long trek home. Overpriced cabs, blocked roads were our fate as the crowd — sated on Bieber — made its way out of the stadium. The Uber booths promised by the organisers weren't functioning. As for our cellphones, the network jammers ensured we couldn't use them to call/book other cabs.
Updated Date: May 12, 2017 19:16 PM