Justice League: If Ragnarok and Wonder Woman are great movies, this DC film is also good
It's unfair to call Justice League a disaster while films like Thor: Ragnarok and Wonder Woman are hailed as great films.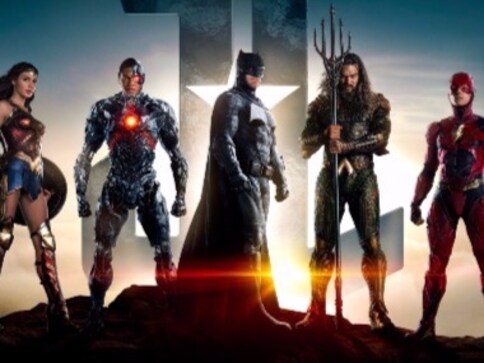 Zack Snyder's Justice League is definitely not a great superhero movie. There are better superhero films out there and Justice League does have a considerable number of flaws.
It has one of the worst villains ever created, with a joke of a backstory. It has a cliched and predictable plot, some absurd shifts in characters' allegiances, some badly executed action scenes and could have looked a lot better.
But most film critics have pummelled the movie in their reviews and portrayed it as yet another hopeless disaster in the DC Extended Universe (DCEU).
The truth is, though, that this just shows we — as viewers — have become utterly confused about what we want from a superhero film because of an explosion of superhero-fuelled entertainment both on the silver and small screen.
Justice League is far from perfect but it is definitely not a disaster. In fact, when compared to some of the other superhero movies which have been hailed as legendary films, Justice League is a good movie.
First off, let's observe that even some of the reviews which have trashed Justice League admit that it is better than most of the movies made in the DCEU so far.
But that is really not much of an achievement (Yes, Suicide Squad really was that bad).
Let's take a look at the superhero films released since November 2016 which got phenomenal reviews.
To think that Thor: Ragnarok, which was praised by most critics as some sort of funny and colourful roller coaster ride, has any depth in its plot or characters is laughable. Most people noticed the great humour and stunning visual effects in the movie but ignored the fact that Ragnarok basically threw plot and character development out the window. In fact, this is exactly the sort of film-making which 'masala' films in Bollywood are rightfully criticised for.
The sudden, inexplicable bonhomie between Tom Hiddleston's Loki and Chris Hemsworth's Thor, as good as it was for gags and jokes, completely ignored the severe bitterness caused by events in the previous films. Tessa Thompson's Valkyrie, who — in the first half — is adamant about not supporting Thor, suddenly shifts allegiance in the second half for a vague reason. And The Hulk, frankly, looks like a brutish buffoon in the movie.
And let's not pretend like Ragnarok was supposed to ignore plot and characters. While Thor's character was laughed at, the film itself was not meant to be a parody. Those lectures given by Anthony Hopkins' Odin in the movie would not have been serious if the entire film was meant to be frivolous.
As far as the villain is concerned, to illustrate how cliched and poorly written the antagonists in these critically acclaimed films are, every time the motive for a movie villain is to conquer/destroy the world, this article will use a GIF of Dr Evil instead. Guess what the motive for the villain in Ragnarok was:
Wonder Woman is the only film in the DCEU so far which received widespread critical acclaim. Nothing portrays the sad state of affairs in the world, though, better than the fact that viewers mainly loved Wonder Woman because the superhero was a woman.
Unfortunately, most superhero movies since the beginning of the Marvel Cinematic Universe (MCU) and DCEU have depicted women in poor light. Because of this, Wonder Woman seemed like a breath of fresh air.
Take away this fact and you realise that Wonder Woman uses the oldest trick in the book as an excuse for a plot: A superhero with Messiah complex wants to save the world from an evil villain who wants to (drum roll):
It is frustrating that all it takes for us to hail a movie as some champion of feminism is a female superhero performing stunts and leading the way for men in a war when there were better shows made earlier like Marvel's Jessica Jones, taking on much, much deeper and more complex feminist issues like dealing with sexual assault and abusive male ego.
Other movies like Doctor Strange were also highly praised, despite some glaring loopholes and absurd plot twists.
So, the key question is this:
Why call Justice League a disaster when its plot and characters are only as weak or cliched as critically acclaimed films like Thor: Ragnarok or Wonder Woman?
Even if we assume that Justice League's plot was slightly worse, at least the film tries to add some variation in its sub-plots. Ben Affleck's Batman offers a surprisingly candid explanation in one scene on why Superman should lead the League. Ray Fisher's Cyborg has to struggle with the computer intelligence of the machine keeping him alive, creating an interesting identity struggle. And Jason Momoa's Aquaman, in a scene with Gal Gadot's Wonder Woman's lasso of truth which pleasantly reminds one of the 'bunch of jackasses standing in a circle' sequence from Guardians of the Galaxy, opens up about his aggression in a hilarious way.
Even some of the action scenes in Justice League are well-executed, though they are few in number. A lot of scenes involving an often-asked question about Superman and The Flash are truly spectacular.
But the main reason why Justice League is a good movie is its sense of humour. This is where Ezra Miller's The Flash steals the show. Miller's goofy, awkward yet witty Flash comes up with most of the funny lines in the movie and is an example of how Joss Whedon has influenced the film.
DCEU films were earlier criticised for being too dull and grim. Adding a sense of humour to the film is exactly what was needed to make characters like Batman, who is also funnier than before, a lot more human.
Moreover, the humour, though sometimes stale, is still definitely smarter than that in critically acclaimed films like Guardians of the Galaxy Vol. 2.
After all, would you rather appreciate The Flash cracking dark jokes about desperately wanting to join the League because of his loneliness or Drax the Destroyer (in GotG Vol. 2) laughing about how his 'turds are famously large'?
By the way, did we mention what the motive for the villain in GotG Vol. 2 was?
So, what is going on here?
We earlier criticised DC films for bad plots and lame jokes. Then, we praised Thor: Ragnarok for funny jokes despite a weak plot. And now, we are trashing Justice League for exactly the same reason: Funny jokes despite a weak plot.
Are we overrating films like Ragnarok or underrating films like Justice League?
Well, a bit of both. And the reason may be a blind love for Marvel and a bias against DC. Marvel, after all, has given us some of the best superhero movies made like Iron Man, The Avengers and Captain America: Civil War. And DC, before Wonder Woman, has not had good luck with superhero films. It's easy to get biased.
After all, even some of the weakest movies in the MCU like Iron Man 3, Thor: The Dark World, and The Incredible Hulk have a relatively high score on Rotten Tomatoes.
Therefore, if you watch Justice League, try watching it without memories of earlier films in mind. You may just like it.
India
For a state to be renamed, its legislature needs to pass a resolution which is then forwarded Union Cabinet. If the proposal is accepted after receiving NOCs from various ministries, the resolution needs to be introduced as a bill in Parliament which both Houses need to pass by special majority
India
Developed and designed by DRDO, ABHYAS is a 75-kg drone that will be used as a target for various missile systems. Capable of attaining an altitude of more than five kilometres at half the speed of sound, it can also be used as a decoy aircraft
Politics
The Election Commission will determine who gets the symbol based on the support for each faction by party lawmakers and office-bearers. The poll body can rule in favour of either faction or neither of them