Judwaa 2: Is Varun Dhawan becoming the Salman Khan of his generation?
The Judwaa reboot might just be just what the doctor ordered for Varun Dhawan.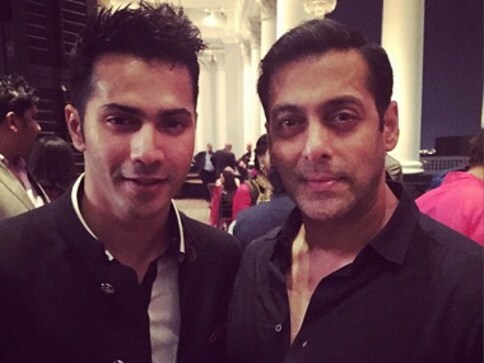 At the expense of cracking an utterly poor, pun-driven joke, the chances of the classic Beatles track Yesterday being a favorite of every single contemporary male actor in Bollywood would be very high. After all, at no other time, perhaps, would the fascination for recreating iconic songs of the past been as high as today, with Tamma Tammai and Laila Main Laila dominating music charts.
In the past, Varun Dhawan has tried to be an upmarket Govinda in Main Tera Hero (2014), rekindling a younger Saif Ali Khan from Main Khiladi Tu Anari (1994) in Dishoom (2016), an early Shah Rukh Khan in Badlapur (2015) and post-reminiscing Sanjay Dutt in 'Tamma Tamma loge' song in the upcoming Badrinath Ki Dulhaniya (2017).
Now, Varun's finally seems to be venturing into the territory of the star that he would love to fashion his career on — Salman Khan. The news of the Judwaa (1997) remake officially taking off has now truly made him the poster boy for reliving yesterday once more.
Among the others from his generation (which include Siddharth Malhotra, Aditya Roy Kapur, Arjun Kapoor and Tiger Shroff) Dhawan would perhaps be the only one comfortable across various genres. The ease with which Dhawan switches into a familiar mode to rekindle the memories of not just Salman Khan but also Anil Kapoor, Salman Khan, and Govinda, while attempting something like a Badlapur (2015) — a film that stands apart from the combined body of work of all his contemporaries — puts him in a different league.
The combination of Varun Dhawan being able to revive the 1990s, and Bollywood's obsession with remaking/ rehashing films from that period, only strengthens his chances of being 'the Salman Khan' of the current lot. Dhawan was around 10-years old when his father, David Dhawan, directed Judwaa and the importance of the film was not lost on the young boy. It was an important film for David Dhawan as up until Judwaa he had barely managed one successful film without Govinda in the form of Bol Radha Bol (1992) that featured Rishi Kapoor and Juhi Chawla.
For Salman as well, Judwaa was a much-needed solo hit after a two-year lull post-Karan Arjun (1995).
The success of Judwaa changed the way David Dhawan functioned and although the film was designed to cater to the standard David Dhawan audience (read the front-benchers), the presence of Salman Khan induced a new segment of viewers.
Post-Judwaa you can see how even Dhawan's films with Govinda – Hero No. 1 (1997) and Deewana Mastana (1997) became, for the want of a better word, up-market. Moreover, Dhawan didn't need to rely on Govinda. Dhawan made 26 films after Judwaa and only 3 of them feature Govinda in the solo lead.
Could Varun's desire to be like Salman also have to do something with the famous souring of David Dhawan-Govinda relationship?
Dhawan's recent retort to Govinda's statement that the younger Dhawan could never be like him, also somewhere suggests that he would want to erase any comparisons with Govinda. Many had commented that Dhawan could be the new-age Govinda after Main Tera Hero where his delivery of dialogues like 'Main tum logo ka touchscreen phone hoon kya ki bar bar touch kiye jaa rahe ho?' or 'Mein dikhta hoon swami type ka par hoon ekdum harami type ka' reminded people of the halcyon days of Govinda-David Dhawan collaborations.
Much like his father needing Judwaa two decades ago to change the course of his career, the Judwaa reboot might be just the thing that the doctor ordered for Varun Dhawan.
Irrespective of the choices that the present lot of Varun Dhawans, Siddharth Malhotras and Arjun Kapoors seem to be making, most of the films where they are trying to break away from the so-called Bollywood shackles don't seem to be doing well. One can attribute the failure of a Baar Baar Dekho, or a Fitoor to many factors, chief among them to the lack of good writing.
Like the trade that loves to re-experience a success, the viewer, too, somewhere is a creature of habit. Regardless of how it is nearly impossible for Bollywood to look beyond remaking older films, the truth is that the audience is paying them enough for this process to continue. Perhaps the success of a familiar Ram Lakhan or Judwaa remake might just be effective enough to allow these young actors to attempt a few more Badlapurs and Aurangzebs.
It is not like old habits don't die... so what if they take time.
Entertainment
Kamaal Khan in his plea said a film viewer cannot be prohibited from making comments about a film or its characters.
Entertainment
The incident occurred on Monday evening near a temple in Andheri, according to police
Entertainment
Gehana Vasisth is accused of threatening, coercing and luring women with money to act in pornographic films