JRR Tolkien's letters to children as Father Christmas to get exhibited in Oxford from 1 June, 2018
JRR Tolkien wrote a series of letters to his four children, signed as Father Christmas, and dedicated to the 'creator of middle-Earth'.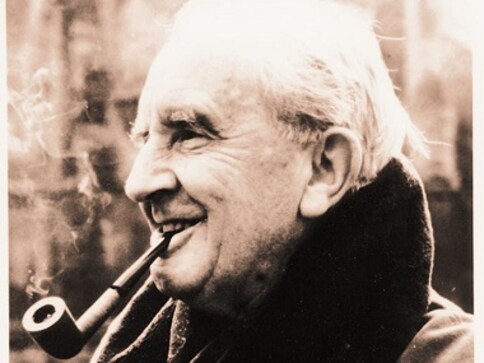 A series of letters that JRR Tolkien wrote on behalf of Father Christmas for his four young children are set to go on display next year in Oxford as part of a major exhibition dedicated to the creator of Middle-earth.
The Bodleian Libraries in Oxford revealed that it will feature the letters in its show Tolkien: Maker of Middle-earth which opens on 1 June and sets out to explore the full scope of the author's literary imagination.
The newly-announced Father Christmas letters began as Tolkien's response to a question from his three-year-old son John about who Father Christmas was and where he lived. The author decided to write a reply to John from Father Christmas himself, sparking a tradition that continued for 23 years: every Christmas Eve from 1920 to 1943, when his youngest child, Priscilla, was 14, he would write an intricately illustrated letter to his children, signed Father Christmas.
"The letters were delivered by the postman, who'd been persuaded by Tolkien to deliver them with the rest of the post, or arrived on the hearth with specially made stamps from the North Pole, marked with the cost of postage '2 kisses'. They contained news from the North Pole where Father Christmas lived with his 'helper' the North Polar Bear, who often got into trouble and caused twice as much work for Father Christmas. As the Tolkien children grew older, the letters from Father Christmas grew longer and the tales became darker and more thrilling," details Catherine McIlwaine, Tolkien archivist at the Bodleian Libraries and the exhibition's curator.
Those darker elements include present-stealing goblins who live in caves under the North Pole as well as wargs (a spillover from Tolkien's Hobbit world) and elves called Red Gnomes who aid Father Christmas in his battles with the goblins.
The letters will be part of a show that is said to be the largest display of Tolkien materials in the United Kingdom or United States since the 1950s, including manuscripts, artwork, maps, letters and artifacts.
Tolkien: Maker of Middle-earth runs from 1 June through 28 October, 2018.
Find latest and upcoming tech gadgets online on Tech2 Gadgets. Get technology news, gadgets reviews & ratings. Popular gadgets including laptop, tablet and mobile specifications, features, prices, comparison.
Entertainment
Robert Redford's publicist said in a statement Monday that the 84-year-old father is mourning the death of James Redford with his family during this "difficult time."
Entertainment
Channeling his The Dude character from The Big Lebowski, Jeff Bridges says "new s**t has come to light" and he will start his treatment for the same.
Entertainment
Doctors say the condition of Soumitra Chatterjee, who was admitted to a Kolkata hospital on 6 October, has improved and is responsive to the treatment