Josh Brolin takes the #10YearChallenge, hints at Thanos' younger avatar being inspired from Dwayne Johnson
The photo-shopped image that Josh Brolin posted of Thanos, is in fact an old photograph of actor Dwayne 'The Rock' Johnson during his young days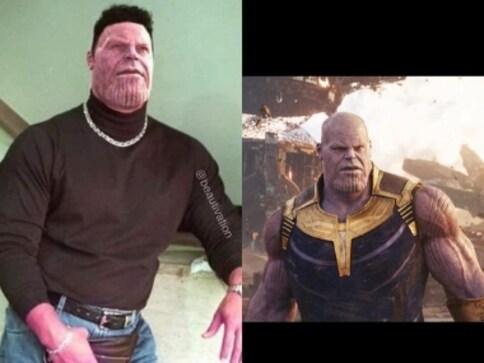 While the #10YearChallenge is internet's new fad, many are getting quite fed up of witnessing how people around them looked a decade ago. Celebrities have also taken a shot at this challenge, but it looks like Josh Brolin (infamously known as the ultimate destroyer Thanos) took to his social media handle recently and posted an image of what his Marvel Cinematic Universe (MCU) character looked like 10 years ago.
The actor posted a Photoshopped image and quipped that he had no discipline back then, especially with the hair and necklace. Concluding the hilarious post with the perfect one-liner, Brolin said he only liked "about half of the people" he met nowadays.
The photo-shopped image is in fact an old photograph of actor Dwayne 'The Rock' Johnson during his young days. the image itself provoked a series of memes when released online.
Entertainment
Aayush Sharma on Antim: "The first time that I looked into Salman Bhai's eyes in front of the camera, I froze. He is the star I have grown up watching and now I was in the same frame as him"
Entertainment
Energy is all Steven Spielberg's West Side Story has to offer. Not feeling. Rarely meaning.
Entertainment
Scottish actor Gerard Butler, known for Zack Snyder's historical epic film 300 and Has Fallen series, leads the cast as an undercover CIA agent called Tom Harris.