Johnny Depp trolled for appearing in Fantastic Beasts trailer, performing at San Diego Comic Con
In an awkward line-up, Johnny Depp and his ex-wife Amber Heard attended promo events for their films within an hour of each other at the San Diego Comic Con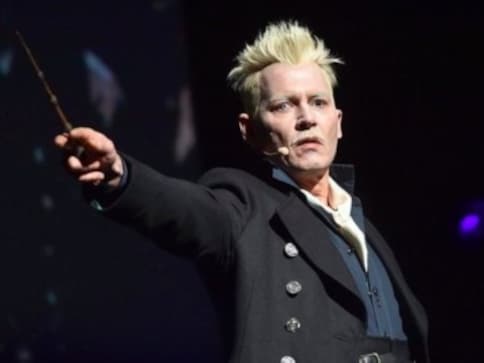 Hollywood actor Johnny Depp will soon be seen in the next film in the Fantastic Beasts franchise, the Crimes of Grindelwald.
The trailer for the pre-Potter Hogwarts of the Wizard world was presented along with a panel discussion at Hall H at the San Diego Comic-Con, The Hollywood Reporter said.
While Depp was not present at the discussion, he made an appearance towards the end, dressed in his Gellert Grindelwald character to give a creepy speech, the report said.
Around an hour after Depp's appearance was the panel discussion of Aquaman, which released its first trailer at the event, reported Variety.
Aquaman stars Depp's ex-wife Amber Heard, who was also present at the convention and who, in a highly publicised divorce had accused Depp of physical abuse during their marriage.
Twitterati were not happy that production houses like Disney have continued to cast Depp in its movies and they did not hide their disappointment. They took digs at Disney for firing an apologetic James Gunn on the one hand and continuing to work with Depp, on the other.
Y'all are mad James Gunn made some distasteful jokes on the internet but Johnny Depp is allowed to roll on up to the club where the woman he physically assaulted is at and that's cool? pic.twitter.com/AIwd5qvQ3F

— Lisa Marie 🏳️‍🌈 (@xLiserx) July 21, 2018
So let me get this straight, Disney continues to employ johnny depp, a drunk who verbally and physically abused his ex wife but fires a man who's been very apologetic about the things he said in the past, yeah fuck that #rehirejamesgunn

— Justin Casey (@JustinC85364253) July 20, 2018
While some criticised the organisation of the Comic-Con ...
WB brought Johnny Depp out for the Fantastic Beasts panel (as a surprise!!!) immediately proceeding their Aquaman panel, featuring Amber Heard. That makes me nauseous.

— Dana Schwartz (@DanaSchwartzzz) July 21, 2018
... others compared Depp to The Picture of Dorian Grey
I'm glad Johnny Depp's film characters keep getting less and less interesting with progressively uglier designs like his career is his portrait of Dorian Gray

— Jenny Nicholson (@JennyENicholson) July 22, 2018
However, some rushed to the defence of their favourite actor.
Johnny Depp is a legend.

He may not have won any of his 3 Oscar nominations, but the 18 People's Choice Awards he's won says it all.#JohnnyDepp

— George Kiernan (@GeorgeKiernan) July 22, 2018
"We who live for freedom, for truth, the moment has come to rise up and take our rightful place in the world," Depp intoned in his appearance at the Comic-Con, the Variety report said.
Fantastic Beasts has ran into controversy following Heard's allegation. In a statement in 2017, screenwriter J. K. Rowling had said, "Based on our understanding of the circumstances, the filmmakers and I are not only comfortable sticking with our original casting, but genuinely happy to have Johnny playing a major character in the movies."
also read
Entertainment
Harry's representative has dismissed all such claims by saying all these reports doing the reports are not true
Entertainment
From classy to massy, the Cannes Film Festival or Festival de Cannes is no longer a place for directors, actors and film critics, but influencers take it all.
Entertainment
According to reports Prince Harry and Meghan Markle's 'very strange' decision to not celebrate five-year wedding anniversary.