John Oliver to Trevor Noah, Jimmy Kimmel, Samantha Bee: Late-night comedy is new face of conscientious journalism
In 2017, late night talk/comedy shows are the new face of journalism and the voice of resistance — against the Trump administration specifically and against prejudice in general
I have developed a pretty well thought out manner in which I consume world news nowadays, especially news pertaining to the US. I read the news online in the morning, watch CNN in the afternoon, and then for the really nuanced, non-partisan, and empowering take of all that's happening, I watch what really matters: the late-night talk/comedy shows.
It wasn't always like that; 10 years ago, I would watch The Colbert Report or The Daily Show with Jon Stewart for the laughs — their observations and political satire, although very incisive and so darn hilarious, were not my biggest sources of thought-provoking journalism. But over the past couple of years (and especially the past few months), while I do watch Anderson Cooper, Don Lemon and Christiane Amanpour's take on current events and the world at large, I find myself coming back to the handful of late-night hosts who have, perhaps unwittingly, become the watchdogs of democracy and social awareness.
Anyone who watched Jimmy Kimmel's three-day evisceration of the Republican administration's Graham-Cassidy repeal of Obamacare last month, or watched his teary-eyed opening monologue after this week's utterly senseless shooting in Las Vegas (which happens to be Kimmel's hometown), knows that this isn't just late-night comedy anymore. For that matter, for anyone who watched any of the late shows this week and the earnest urgency with which Trevor Noah, Seth Meyers, Stephen Colbert, and even Jimmy Fallon talked about an issue as important as gun control (when every politician in the White House was, expectedly, shying away from calling it out), it's clearly not about just comedy any longer. In 2017, late night talk/comedy shows are the new face of journalism and the voice of resistance — against the Trump administration specifically and against prejudice in general. Someone once said, "all that is necessary for evil to triumph is for good men to do nothing", and each of these good men (and some women) have decided to step up!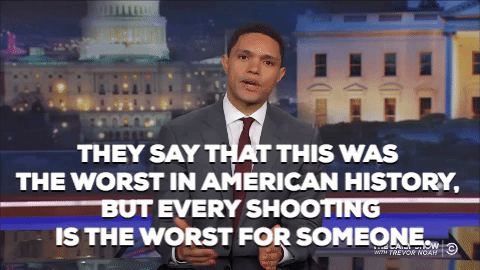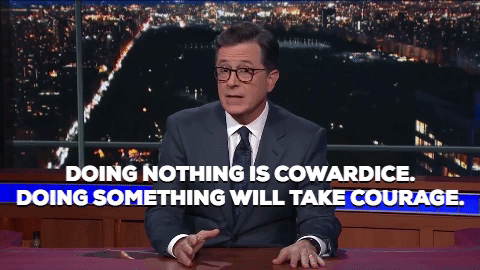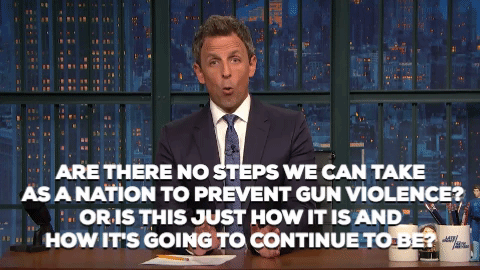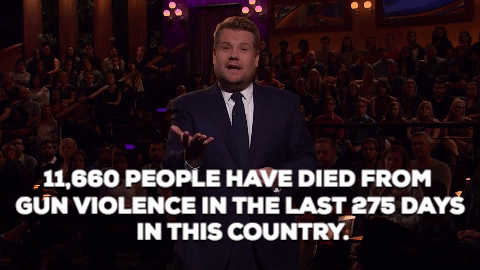 There was a time when the job of a late-night talk show host and comedian was simple: make sure that the American people had something funny and light-hearted to watch at the end of their workday. Of course politics and politicians were the easiest to make fun of, and presidents the obvious targets, but it was all done in good humour and no heavy debates. For years, Johnny Carson poked fun at sitting presidents, including Richard Nixon, Jimmy Carter, and Ronald Reagan; but he did it with an almost zen-like non-partisan approach. Carson's politics (he was liberal) stayed "in his living room", not on national media. A punchy one-liner about "Dubya" here, a harmless zinger there — that's how I remember David Letterman's years of hosting The Late Show during George W Bush's eight-year presidency. Or the way Jay Leno ridiculed Bill Clinton, whom he targeted more than any other politician during his two decade stint hosting The Tonight Show.
As Charles Bramesco wrote in The Guardian, "An average week's topical material would engage with important political developments, but in a harmlessly jocular capacity. Even when punchlines took aim at a specific figure, they were little more than wisecracks, a way for the viewer to vicariously blow off some steam by sharing frustration with this lawmaker or that. The lack of any impactful, dare we say radical ideology was a function of network-mandated nonpartisanship; while most late-night fixtures leaned to the left, they could always be relied on to mock with equal opportunity. The Republicans got painted as dim-witted bullies, but the Democrats were ineffective and ineffectual — you choose which one's more embarrassing." All that changed on 8 November 2016, and in a way, it had been brewing for a while already.
When then-candidate Donald Trump appeared on The Tonight Show with Jimmy Fallon in September last year, nobody was expecting a hard-hitting interview. Expectedly, they talked about bogus, inconsequential stuff (I think Trump's hypocrisy with the polls, and Fallon's observation that Trump's voice had become more bass-ish, were key topics), and then Fallon ventured where no man in his right mind would ever want to (for fear of finding out it's fake!): he asked to ruffle Trump's hair. Trump allowed him, and the next thing we know was a liberal tweetstorm denouncing Fallon and The Tonight Show for trying to normalise a vicious, privileged, racist, sexist, and xenophobic man. For trying to make him seem like just a harmless grandpa with funny hair.
What Trump (and the people who supported him) stood for when he ran for President and what he (and the people, including those in his administration, who support him) now stands for, as President, doesn't qualify as "normal" anymore. This is not the equivalent of George W Bush and joking about his lack of intellect or efficiency, and this isn't about Clinton and his sex scandal. This isn't even about Dick Cavett (who, early in his career, was a writer for The Tonight Show and wrote some really funny jokes for both Carson, and before him, Jack Parr) moderating a debate in 1971 between future senator and presidential candidate John Kerry (a decorated Vietnam War veteran turned war protester) and fellow veteran John O'Neill (who supported the US government's policies in Vietnam) over the Vietnam War, in a debate that went so horribly for the pro-war side and so infuriated President Nixon that he was heard (in the Watergate tapes) explicitly asking his staff if there was any way they could screw Cavett!
Ineptitude, sex scandals, and a Watergate-like fiasco are all up there in the list of things an American President shouldn't be accused of and can/ought to be made fun of for; but what Trump and his cronies have come to represent is a disheartening threat to the very idea of decency and common sense within humans. This is a President that thinks white supremacists are "good people", this is a conservative and male-heavy administration that's consistently anti-women and anti-minorities (see: Planned Parenthood funding, the repeal of Obamacare birth control mandate, the transgender ban in the military, DACA, the travel ban...the list is endless). This is also a government that's casually making the free media seem like their enemy, openly doubting the patriotism and integrity of media persons who disagree with their policies. When the President has a "you're fake news" rhetoric for anyone who looks remotely like they may not want to blindly agree with his every word, you know it isn't normal. You know something's horribly, terribly wrong.
Which is why Sean Spicer's brazen attempt at being "normalised" with his appearance on Jimmy Kimmel Live! and his awkward AF skit at the Emmy awards this month, saw the backlash it did. This is someone who lied to the American people about "alternative facts", was paid to spread the President's lies, was fired from his position as White House press secretary, and now seemed like he wanted to be accepted for "just being a normal guy." As if! The jokes about Spicer were plenty when he was in office (side note: Sean Spicer Facts is legit fun!), and of course his ineptitude was legitimately hilarious (as was Melissa Mccarthy's impression of him on SNL), and of course we'll still make memes about him and laugh out loud at the grand debacle that was his tenure at the White House, but Stephen Colbert inviting Spicer on stage at the Emmys was a step too far — it was as if, as Frank Bruni wrote in The New York Times, Colbert was abetting Spicer's image overhaul. And that just wasn't funny!
Which is how things stand right now:comedy and jokes are all fine, but audiences want more than just mind-numbing, background-noise fun in their late shows. And boy, are our good men (and women, hello Samantha Bee) delivering! There's Kimmel taking on the policy makers head on, calling them out by name and picture, urging the people to call their local Congress person. He's a reluctant, unwitting voice of conscience, but he probably helped kill the Graham-Cassidy repeal of Obamacare, more than anything else did!
There's Colbert (notwithstanding the Spicer-Emmy goof up), taking Trump head on in an incredibly acerbic-yet-hilarious manner:
There's Trevor Noah on The Daily Show, being funny yes, but addressing everything from racism and sexism to Donald Trump Jr.'s ridiculousness. He's helped, in part, by correspondents Roy Wood Jr., Michelle Wolf, and his deep sense of disbelief at the utter absurdity of everything that's going on in the US, which he turns into perfectly delivered jokes that are hard hitting as well:
Seth Meyers and Late Night with Seth Meyers are the dry, sardonic, and grown-up act that follows the childishness that is The Tonight Show with Jimmy Fallon. Meyers is consistently on point with his take on the politics, with wit yes, but with more humility and astute observations:
Nobody else does better outraged rants than Samantha Bee on Full Frontal with Samantha Bee. She's always been a sharp observer, but it's her mad outrage that's more fulfilling to watch as a viewer, and it's what makes her observations stick better as well:
Perhaps the best use of their "comedy" platform to dig deep into topics as varied as gun control and maternity care to student debt and the use of forensics in criminal investigations, is made by Last Week Tonight with John Oliver. That might explain Oliver's consecutive Emmy wins in this category, but with the extent of investigative journalism that goes into one episode of Last Week Tonight, that's hardly undeserved. In fact, it's the opposite of that — it's absolutely deserved, and much needed!
Liberal, yet continually nonpartisan, Last Week Tonight has managed to elevate itself by being almost scientific in its objectivity. Plain facts, delivered with a dash of humour — it's exactly what we need.
We all have our favourites, a host and their style that we specifically like. They're all different, and that's what makes it all even more enthralling. Being fun, wacky, witty is all fine, but comedy just isn't enough anymore. In 2017, being anti-political isn't an option for a late-show host. After all, if the best comedy writers are in the White House (I think Seth Meyers said that), then the comedians have to step up and do the serious business of keeping the country running!
World
Only four people will be able to sit together at a table on cafe terraces and group training sessions at gyms and sports venues remain banned.
World
Many of these formerly Orthodox Jews are contacting organisations that help "leavers" to adapt to life in wider society.
World
In Nigeria, there is an abundance of artists who criticise the political system, but many use only abstract images, few do so in such a confrontational way.