John Oliver to Stephen Colbert: I might get thrown out of America like a 'tea-bag'
John Oliver is 'slightly concerned' about being deported, but that isn't stopping him from speaking out against President Trump's controversial immigration order and is scared that he might be thrown out of the country like a 'tea-bag.'
When the British comedian joined Stephen Colbert on The Late Show to discuss his upcoming plans for his show Last Week Tonight and the political chaos of the last few months, Oliver joked that there hasn't been that much of a transition over the past few months, except for 'the flames and the fact that America is in it.'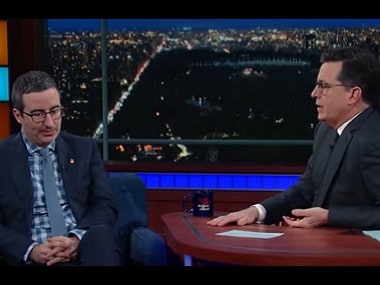 John Oliver, arguably one of the smartest people on television right now, admittedly has no idea what to expect from Trump.
Even though he's not from one of the seven Muslim majority countries affected from Trump's new immigration orders, Oliver even expressed concern for his own green card status. "The crazy thing is it's probably not gonna happen, but there is a non-zero chance of it happening now," Oliver said. "I have an American wife and American son now, but who knows what's enough? Having a green card used to be enough. But yet what we saw with that executive order on immigration, that debacle, things were not what they supposed to be."
"I think people are still feeling viscerally repelled by things. I think the problem really arises when you get punch drunk," Oliver said. "Where you hear about a Betsy DeVos confirmation and go, 'Well, that's just the way the world is now.'"
Colbert and Oliver also discussed whether the United States faces a 'retrenchment' from its status as the Number One world power, much like Great Britain did centuries ago, and whether Oliver would ever be cast as James Bond.
"If you want a Bond that's nervous around women, I got you here," Oliver said.
Watch the clip here:
Updated Date: Feb 09, 2017 11:11:59 IST