Jessica Chastain, Judd Apatow speak out against Quentin Tarantino over Uma Thurman car stunt accident
Thurman had said she did not want to do the stunt and asked for a stunt person but Tarantino assured her that it was okay for her to drive.
Los Angeles: Actor Uma Thurman is the latest celebrity to open up about Harvey Weinstein's alleged sexual assault but the actor has also revealed that her Kill Bill director Quentin Tarantino forced her to do a car stunt that resulted in injury.
Celebrities such as Jessica Chastain, Judd Apatow, Asia Argento and others have come out in the support of Thurman following her account in the New York Times.
Thurman, in the Times piece, says the accident took place just before the end of the shooting and after she had told Tarantino that Weinstein, who produced Kill Bill as well as their 1994 film Pulp Fiction, had assaulted her in London.
The actor said she did not want to do the stunt and asked for a stunt person but Tarantino assured her that it was okay for her to drive.
Thurman soon crashed the car and suffered a concussion and damaged knees, which continue to affect her even today. The actor also released the footage of the on-set incident.
In the interview, she also claims that Tarantino spat in her face and strangled her with a chain for other scenes and refused to give her the footage of the accident, purportedly to save himself and Miramax people.
Chastain was particularly angry with Tarantino's process of shooting a particular scene in the film, which has acquired a cult status now.
"I keep imagining Tarantino spitting in Uma's face and strangling her with a chain for KILL BILL. How many images of women in media do we celebrate that showcase abuse? When did this become normalised 'entertainment'?" Chastain tweeted.
Apatow also tweeted that Tarantino ignored Kill Bill: Volume 2 star Daryl Hannah's allegations of harassment at the hands of Weinstein.
"They kicked (Hannah) off the press tour. Nobody helped her.
And now Tarantino is going to make a movie about Polanski. Why is someone financing this? This is why Weinstein wasnt stopped," he wrote, in reference to Tarantino's forthcoming Charles Manson-based film.
Asia Argento, who was one of the first women to publicly speak out against Weinstein, also criticised the director.
"Weinstein and Tarantino, what a pair! A serial rapist and a near murderer. It's no f**king joke what these abhorrent criminals did to Uma Thurman, before and after #KillBill. They put her life, her dignity, her sanity in danger.
India
While the location of the building remains unknown, people have been criticising the society for such discrimination. A section of people also came out in support of the notice arguing that buildings usually have separate service lifts for outsiders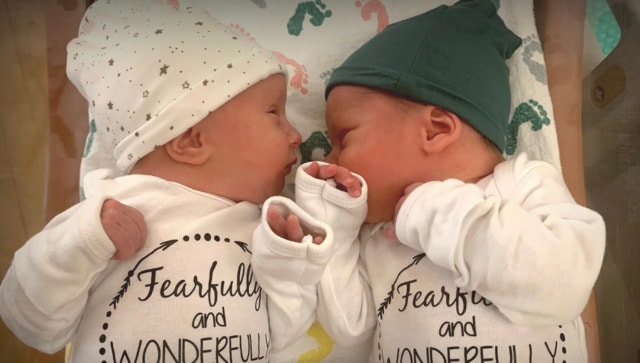 World
A couple in Oregon recently welcomed twin babies from embryos that were frozen around three decades back
Lifestyle
On the occasion of Thanksgiving, we have curated a few messages, wishes and greetings to share with loved ones