Jared Leto reportedly has this to say about The Joker contract with Warner Bros: F*ck 'em
Jared Leto opened up about his lack of screen-time in the new DC movie 'Suicide Squad' at a recent fan meet for his band.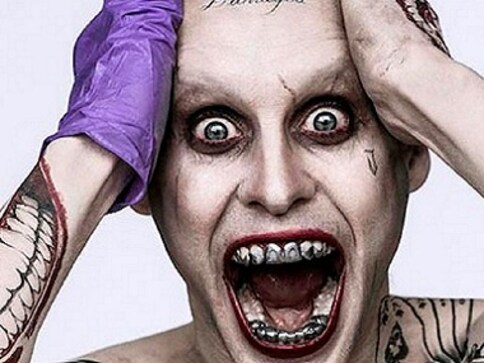 DC Comics' movie of the year Suicide Squad had a bittersweet reception at the box office. DC fans as well as critics panned the film, even as some felt it didn't deserve all the flak it was getting. One thing both groups did agree on? Surprise at the extremely short screen time for Jared Leto's Joker.
Leto, who is also the singer for the band 30 Seconds to Mars, spoke about his role as the DC comic supervillain at a recent fan meet for the band. On speaking about the stipulations in his Warner Bros. Joker contract, Leto reportedly had one thing to say — "F*ck 'em!"
A Jared Leto fansite on Tumblr published a summary about what he said:
He was very honest about the film this weekend; his disappointment in what he's learned of the theatrical cut (he's still not seen the film); feeling sort of tricked into being a part of something that had been pitched to him very differently; thinking it would've been more artistic than what it became; feeling overwhelmed by the hate regarding the look and choices…
Although the source didn't share a direct quote from the actor, the disappointment aspect is pretty evident. In an interview on BBC Radio 1 with host Edith Bowman, Leto said that certain scenes that he shot with Margot Robbie that ended up getting cut were some of his favourite work he's ever done in a movie. He then went on to say that he shot enough footage for them to make an entire Joker movie out of!
Also Read: From Suicide Squad's Jared Leto to Dark Knight's Heath Ledger: Who's the best Joker?
"I think that I brought so much to the table in every scene that it was probably more about filtering all of the insanity, because I wanted to give a lot of options, and I think there's probably enough footage in this film for a Joker movie," Leto explained. "If I were to die tomorrow maybe the studio would roll something out."
Leto seems disappointed, even heartbroken, about the short screen-time that he spent six intense months preparing for. With the given circumstances, we wonder if Leto would still consider returning for future films in the DC Comics universe?
Entertainment
Though Superman is not the first LGBTQ+ hero, and will not be the last, comics experts said that there was something particularly momentous about Superman coming out.
Entertainment
DC Comics described the new Superman as "bisexual" in its press release, which is headlined "Jon Kent finds his identity."
Entertainment
The Batman new trailer teases a face-off between Robert Pattinson's Dark Knight and The Riddler