Jai Ho: Salman's ham-fisted attempt at showing common man's hero
This is a list of recent Salman Khan movies that are universally considered as bad, horrible or Nazi torture: Marigold, Lucky No time for Love, God tussi great ho, Heroes, Yuvraj, Veer, Ready and Bodyguard. As difficult as it is to believe, Jai Ho is worse than all of those films.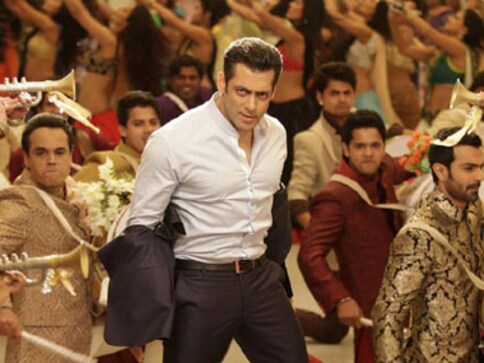 According to The Hitchhiker's Guide to the Galaxy, the Total Perspective Vortex is the most horrifying form of torture in the known universe. The Vortex is a small steel box in which its victims stand and are suddenly shown for a mere instant, something so mind bogglingly demoralizing that they fall out of the box dead. I can now disclose to you what that something is: footage from Salman Khan's latest release, Jai Ho.
This is a list of recent Salman Khan movies that are universally considered as bad, horrible or Nazi torture: Marigold, Lucky No time for Love, God tussi great ho, Heroes, Yuvraj, Veer, Ready and Bodyguard.
As difficult as it is to believe, Jai Ho is worse than all of those films. I can't look into the future, but I'm fairly certain the police could soon throw Jai Ho DVDs instead of tear gas to put a raging mob to sleep.
With Arbaaz Khan directing Dabangg 2 and Sohail Khan helming this film, the Khan siblings have formed a Shamanic Triangle of Terribleness. A remake of the Telugu film Stalin (which in turn was a remake of the Hollywood film Pay It Forward), Jai Ho time travels back to the '80s and delivers an outdated, clichéd and ham-fisted attempt at showing a hero fighting for the common man. Bhai plays Jai, a Hulk Hogan version of Arvind Kejriwal, who fights corrupt politicians, saves damsels in distress; helps injured beggars, amputees write exams; restores kidnapped children to their parents and beats up goons who dare to lay a hand on his sister (Tabu).
I wrote two paragraphs worth of plot synopsis and character descriptions and then deleted them because I realized they're pointless. Anyone reading this review falls into one of three categories:
1) Those who love Salman Khan so much they'll ask for an Ek Tha Tiger screening as their last wish on the electric chair.
2) Those who love Shahrukh Khan and want to gleefully place a dynamite under Bhai's movies.
3) Those who prefer more challenging and cerebral cinema than 'commercial masala', but want to know if Jai Ho is fun enough junk for a timepass viewing.
If you're in the third group, you'll find this movie as interesting as a game of Pin the Tail on a Donkey. If you're in the second  cluster, well, have fun. So the burning question is, does Jai Ho work as a 'commercial masala movie' for its target audience? The answer is a gigantic no. Jai Ho is a milestone in the marriage between boredom and nonsense. Those who watch Bhai's films turn off their brains to enjoy his masterpieces, but they don't deserve to be insulted or bored.
First, the songs are absolutely unbearable - they feel like the Khan siblings are punching our ears with cactus-embroidered gloves. Secondly, the film looks cheap, is atrociously written, lazily shot, clumsily edited and delivered with all the class of a mud wrestling match. Director Sohail Khan seems unsure of what his own target audience needs from their heroic and godly Bhai. Even die-hard Bhai fans will be bored to tears with the painfully drab romantic subplot between Jai and heroine Daisy Shah, who makes an entry with a classical Indian dance number to portray the purity of the bharatiya nari.
The lack of novelty, intelligence and cinematic artistry is not as much a criticism of Jai Ho as much as its lack of entertainment value. Most of the comedy of Jai Ho is a humour-impaired tragedy. Here we have jokes about women's underwear, horny neighbourhood MILFs and the usage of the Gujarati word 'Gando' because it sounds like a certain Hindi expletive.  Not to blame the audience, but if you find these 'jokes' hilarious, you should see a neurosurgeon and ask about getting a brain.
However, the worst thing about Jai Ho is neither the lousy jokes nor the turgid songs, it's the antiquated and aggressively stupid attempts at emotional wrangling. You get gaudy dramatic music when a woman receives an urgent kidney transplant from her son in law. You get a 30+ year old 'brilliant' college student who commits suicide because of a traffic jam. You get a set of goons who gel their hair, drive posh cars, wear gansta hoodies, play rap music and boast about raping women.
Heck, in one scene Tabu tells Bhai to not rise against a villainous politico because she is finally close to her estranged mother; she watches Bhai get beaten up and then looks at the camera and gives him the command to fight back. If all that weren't enough, there's the theme of "helping three people who in turn help three other people" that every character mentions at least twice in the film, rendering some unintentional hilarity in the process.
There's an unmistakable sense of desperation in Jai Ho, as if the nearly 50-year-old Salman is wary of his shelf life in the industry and must do everything possible to hold on to his star power. With an army costume, yellow rimmed dark glasses and jeans, Salman's Jai is a cousin of Chulbul Pandey injected with the nauseating germs found in Ready and Bodyguard. Daisy Shah can dance well but gives Sneha Ullal a run for her money with her lack of acting chops. The only little ray of sunlight in this black hole of boredom is the young Naman Jain who plays Jai's nephew with a lot of spunk.
The supporting cast is an amazing array of actors filed under Where Were They For All These Years': Genelia D'Souza, Ashmit Patel playing a living breathing side table, Yash Tonk in a hilariously fake wig, Mahesh Thakur who looks like he still hasn't recovered from the shock of Satya 2, Mahesh Manjrekar playing an autowala, Aditya Pancholi playing a corrupt cop and even Danny, Sharad Kapoor, Nauheed Cyrusi and Vatsal Seth. The great Mohnish Behl also makes an extended cameo, sharing screen space with Bhai, bringing back memories of Maine Pyaar Kiya. This could have been a solid nostalgia trip if all these actors didn't show up only to leave like robots.
The bloke who invented the Total Perspective Vortex did so basically to annoy his wife, and Sohail and Salman have basically made Jai Ho to annoy their audience. Like the vortex, Jai Ho gives you a glimpse of the vast infinity of art, filmmaking craft, humor and talent, and somewhere in the vastness is a tiny little mark, a microscopic dot on a microscopic dot which says "This is Jai Ho, you are here".
Entertainment
Keedam is, wisely, not prescriptive on the question of technology-driven vigilante justice, but it avoids addressing the complexities involved in the use of surveillance techniques including their misuse by the powers that be
Entertainment
Tang Wei and Park Hae-il starrer Decision to Leave is a dependably immersive piece of fine cinema from the Korean auteur's stable.
Entertainment
Though The Outfit, is cut from the same cloth as Reservoir Dogs, Graham Moore isn't as skilled as Quentin Tarantino at generating controlled chaos.