Jab Harry Met Sejal: Pritam's effervescent music reminds us that the composer rarely gets his due
'Safar' from Jab Harry Met Sejal is one of Pritam's most captivating songs yet. A look at some of Pritam's best work, and how he still hasn't gotten his due.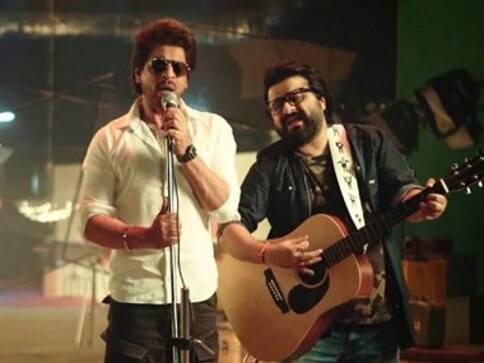 In 2016, just as the Ae Dil Hai Mushkil soundtrack was beginning to catch some (well-deserved) attention, there came a day that saw every news outlet carry a story proclaiming (I paraphrase), "Pritam is at it again. Bulleya plagiarised from Papa Roach's Last Resort." This, because a 10-second guitar progression from the two songs sounded vaguely similar.
The incident is just one example of how, despite his popular and critical success over a career that's late into its second decade now, Pritam never seems to be accorded the respect he deserves.
Because, the fact is that no matter how much originality, versatility, and ability to churn out frequent hits Pritam displays, plagiarism accusations levelled early on and subsequently since in his career – which the composer himself admitted were mistakes borne out of circumstances – have tainted him in a manner that do gross injustice to his talent.
So, even as the Pritam-Irshad Kamil-Arijit Singh-Imtiaz Ali-SRK collaboration in Jab Harry Met Sejal is making fans audiogasm over 'Safar' and 'Hawayein', barely a couple of months back, Pritam had to disassociate himself with the Raabta soundtrack, because the producers wanted to recreate an existing song with another composer.
No one would try such a move if AR Rahman, for instance, was the music composer of the film, so it seems truly unfair that Pritam is subjected to such lack of respect.
Revisiting Pritam's discography is, in many ways, like revisiting popular Hindi cinema of the new millennium; because you'll realize that since Dhoom in 2004, more often than not, Pritam has been the man behind some of the most popular songs of each year.
Set out on the dusty trails of India's hinterland, and you'll frequently come across a mobile phone on loudspeaker, playing an old Pritam number – be it the catchy title track of Priyadarshan's Bhool Bhulaiyaa; or the favourite English lyrics of small-town India – 'Shining in the setting sun like a pearl upon the ocean, come and feel me'. (And if you run into someone playing 'Sari Ke Fall Sa' out loud, then good luck getting that song out of your head the rest of day.)
Spend some more time reminiscing, and you might drift towards Raabta from Agent Vinod. A song that has aged as well as any other, it also happened to be one of Arijit Singh's first Hindi film songs. Arijit's success story since then is a tale for another day.
Gangster, Life in a… Metro, Jab We Met, Cocktail, Barfi! and Yeh Jawaani Hai Deewani are just some of his most popular and memorable albums prior to 2015, along with a plethora of hit songs from other albums; but clearly, Pritam is just getting better with age.
Think about it, and you'll see that since Bajrangi Bhaijaan in 2015, he has gone on to score soundtracks as diverse as Dilwale, Dishoom, Ae Dil Hai Mushkil, Dangal, Jagga Jasoos, Tubelight and now Jab Harry Met Sejal.
Jagga Jasoos, in particular, is an album where Pritam's class just shines through. Never before has music in a Hindi film been used the way it was in Anurag Basu's heartbreakingly-flawed film, and Pritam rose to the occasion with gusto. The music of the film is charming, earnest and wonderfully fresh to the ears, let down more by the scale of the ambition itself, rather than the actual achievement of the soundtrack.
It's no surprise, then, that 'Safar' from Jab Harry Met Sejal is one of Pritam's most captivating songs yet. Irshad Kamil's lyrics flow into and around Pritam's melody in a way that could make a tired, world-weary traveller want to set out on yet another journey.
Arijit Singh textures his voice in a way that brings alive the romance of a life spent in the quest of, not one particular destination, but the endless journey itself.
No wonder, then, that Shah Rukh Khan's presence as the face of the song is only the icing on the cake. If anything, 'Safar' is the kind of song that the ageing King of Romance deserved at this stage of his career.
Here's hoping that soon enough, Pritam gets the respect and admiration he deserves as well. Until then, he should just keep creating the kind of music that drowns out the noise.
Entertainment
Bollywood actor Salman Khan is all set to present Kichcha Sudeepa's 'Vikrant Rona' in the Northern part of India.
Bollywood
'Rarely do films take such monumental tasks'. Akshay Kumar is amazed that YRF created over fifty thousand costumes for Prithviraj.
Bollywood
Tejasswi Prakash, Urvashi Rautela, Avneet Kaur and Rashmi Desai among others set a trending summer anthem with the sensational song 'Cool for the Summer'.