Jab Harry Met Sejal, Dear Zindagi, Anand L Rai's next — Tracing Shah Rukh Khan's transformation
Imtiaz Ali's Jab Harry Met Sejal is a marked departure from Shah Rukh Khan's signature work. A look into SRK's slate of next few films.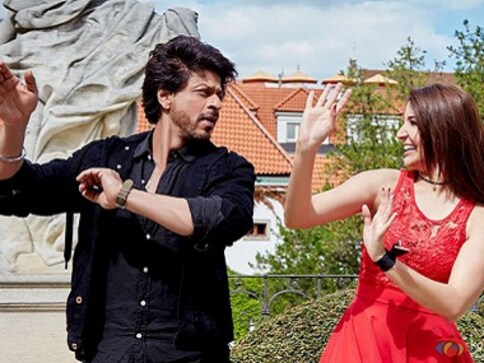 Imtiaz Ali's Jab Harry Met Sejal is a marked departure from Shah Rukh Khan's signature work.
It has no shots of Shah Rukh Khan spreading his arms, and neither does it have mushy dialogues with which ardent fans of Shah Rukh Khan can feel relieved. Instead, it has a Shah Rukh who prefers to call himself a 'cheap' and patiently listens to a conversation that is punctuated with the term 'intercourse'.
In other words, brace yourself for the reinvention from Shah Rukh Khan; the wheels are surely and steadily in motion.
It was the criticism of Dilwale that made him sit back, put on his thinking cap and take recourse of his career trajectory. Things which were once in demand, now had no takers. It was a battle between an excessive photo shopped Shah Rukh Khan on screen (in his previous films) versus the real him (in his current slot).
Now it seems that the superstar has reconciled and paid heed to his inner voice — one that has repeatedly been telling him that 50 surely calls for change.
The reinvention started with Gauri Shinde's Dear Zindagi, which had the superstar in the role of a bearded shrink who loves playing with gentle waves of ocean. Raees too was a step in changing his screen persona, showing us an angry and violent Shah Rukh Khan, reminiscent of his Baazigar and Don days. Which brings us to his Punjabi guide act in his upcoming film Jab Harry Met Sejal, a film that can only be dubbed as a truly hatke rom-com.
Aanand L Rai's film that also features his Jab Tak Hai Jaan co stars, Katrina and Anushka, will again be a marked departure, as playing a dwarf would be a true challenge to his histrionics.
In his 30s and 40s, while the juggernaut of his stardom rolled on in the form of love stories and commercial potboilers, he did nothing in the intermittent period that could give his craft an impetus. When people keep mentioning about his lover boy screen persona, it also is an indication that growth has stopped somewhere and change is required.
Dilwale acted as a speed breaker and gave Shah Rukh Khan a chance to take notice of the actor within.
The desire to do something different was always present — something which could be blamed on his theatre background. It takes courage for an actor who, after making waves with his first film, opts for Ketan Mehta's Maya Memsaab, Aziz Mirza's Raju Ban Gaya Gentleman, Kundan Shah's Kabhi Haan Kabhi Naa and even Chamatkar.
But Baazigar, Karan Arjun and Dilwale Dulhaniya Le Jayenge sealed his fate and his image. He became a slave to his own stardom.
It's astonishing to see that the opportunity came at the cost of his own pocket and filmmakers never deemed it fit to try his dormant abilities. Phir Bhi Dil Hai Hindustani, Asoka and Paheli were few films where the superstar had to shelve money from his own pocket to get them made. While Phir Bhi Dil Hai Hindustani was a great satire on the circus called the Indian media, Asoka was a brave attempt at a period drama. Paheli was a beautiful amalgamation of art and commerce.
Needless to say none of the films worked at the box office; there were just awards and no rewards. The domino effect also meant that the money for such ventures dried up. But surely, there was a small segment of filmmakers who could see through Shah Rukh's hidden potential. Ashutosh Gowariker was able to spot his Mohan Bhargava in Swades and Shimit Amin saw his Kabir Khan in SRK for Chak De India. Had he given his consent to play Bhuvan in Lagaan or Munna in Munnabhai MBBS, the course of Indian cinema would have altered.
Dilwale's criticism was more to do with the rejection of Shah Rukh Khan as the eternal lover boy. Yash Chopra, Aditya Chopra and Karan Johar in their films, made Shah Rukh do everything but never ventured beyond their safe heaven. The new breed of directors are now forcing him to do the same thing but in a realm which has no boundaries.
On production front too, the actor has picked an unconventional subject. His next production slated to hit theatres in November is Ittefaq, a remake of the song less cult thriller of the same name, which was directed by his favourite Yash Chopra in late 60s.
The choice to remake Ittefaq is definitely a bold decision, where the plot does not permit songs and item numbers. The metamorphosis process has just begun; the changes should soon be visible. 'Back to square one' only has a positive meaning for King Khan.
Entertainment
Phone Bhoot has been directed by Gurmeet Singh and produced by Farhan Akhtar and Ritesh Sidhwani's Excel Entertainment. This is the first time that Kaif, Khatter and Chaturvedi will share screen space together.
Entertainment
The biopic on S Nambi Narayanan's life, Rocketry: The Nambi Effect opens to the world, Firstpost speaks to the persecuted genius.
Entertainment
There is no Don 3 happening in the near future, and certainly not with Shah Rukh Khan and Amitabh Bachchan in the lead.