Island City review: These overlapping stories about Mumbai city display a variety of emotions
Ruchika Oberoi's feature film Island City is composed of three thinly overlapping stories, which share the commonality of location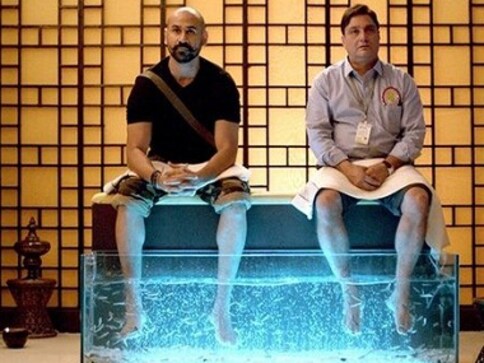 Ruchika Oberoi's feature film Island City is composed of three thinly overlapping stories, which share the commonality of location. Each one explores some aspect of Mumbai's ever metamorphosing or unraveling fabric. Oberoi quirkily tells these twisted tragicomic stories.
'Fun Committee' follows one Suyash Chaturvedi, a middle aged, single man who blends into the sea of cookie-cutter, robotic colleagues working at a sanitised and emotion-less tech company that thrives on authority.
But one day his anonymity is shattered when he wins a company sponsored fun day. He is forced to step out of his cubicle and follow the grating CEO's diktat: "I am warning you -- you better have fun!" he says, grimacing and smiling at the same time.
The day out is designed by the company's Fun Committee to motivate their employees. It takes a reluctant Chaturvedi out of his regimented comfort zone into a world where his path inadvertently crosses with a terrorist. The end of the tale is rather macabre while the comment on society, modern business and automated behaviour is sharp.
However the conclusion just stops short of an emotional breakthrough. As Chaturvedi, Vinay Pathak conveys much in spite of playing an impassive and taciturn character hypnotized by the hum of white strip lighting.
This leads to chapter two. 'The Ghost in The Machine' is the most poignant and complete of the three stories. It opens in a hospital room where one Mr Joshi is lying in a coma after suffering multiple bullet wounds. His wife watches him teetering between life and death. As his future remains unclear, the family finds the addition of a television set (thus far banned from the house) a welcome break from the shallow sympathy of neighbours and a distraction from the gloom.
The real life husband and wife story is juxtaposed with an over-the-top saas-bahu TV soap opera about an ideal son, husband and father called 'Purshottam' that is watched dedicatedly by the family. Amruta Subhash is fabulous as the wife who is torn between duty and her own guilty realization of a possible future liberated from a chauvinistic spouse.
Oberoi closes out with the weakest story of the trilogy. 'Contact' tracks factory work Aarti and her dead-end life. Her marriage has been arranged with a self-absorbed car mechanic (Chandan Roy Sanyal) who is rather vocal about his bride-to-be's reticence and boasts of her good luck at landing a catch like him.
With the arrival of an anonymous love letter, the charmless, unsmiling, festering Aarti sees a sliver of hope. Tannishtha Chatterjee plays the defeated Aarti with expected grace, especially with her subtle transformation from hapless to hopeful.
This chapter itself has an unsatisfactory and contrived dénouement, leaving you feeling a little disappointed that Oberoi waylaid the ironic, dark and satirical humour that underscored the earlier stories.
Sylvester Fonseca's cinematography and Krishnendu Chowdhury's production design bring mood and context to the explorations of themes such as loneliness, solitude and fatalism in Island City.
The three central characters come across as victims of circumstance — hapless and weak, rather than strong and optimistic. They'd easily be lost in a multitude.
Perhaps that is exactly how Oberoi sees this metropolis: as a place where you are surrounded by thousands, but can still feel completely lost and alone.