Is Baahubali 2 a Hindu film? Dissecting religion, folklore, mythology in Rajamouli's epic saga
Director SS Rajamouli is a self-confessed atheist so it is unlikely that he intended Baahubali to be a celebration of Hindu faith.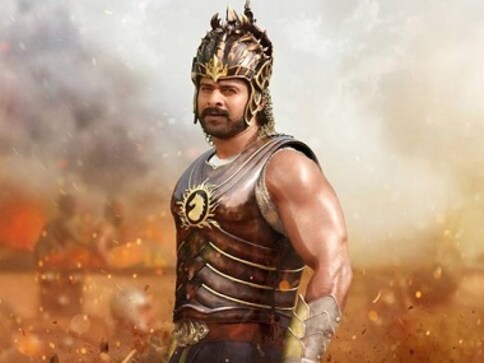 Since Saturday, a photo shopped image of Amarendra Baahubali and Devasena, the lead characters of Baahubali 2 in Muslim attire has been doing the rounds on different social media platforms. A twitter handle @Atheist_Krishna called it 'Babu-Ali'.
The suggestion is that only the Muslims will not like a movie like Baahubali because the film as they saw it, celebrates Hindu traditions and way of life. Another said the movie will "boost Hindu pride". One more tweep insinuated that the person who did not like it "will have great things to say about Lipstick Under My Burkha."
Director SS Rajamouli is a self-confessed atheist so it is unlikely that he even remotely intended Baahubali to be a celebration of Hindu faith.
But a movie seemingly set in a timeless era and inspired largely by Amar Chitra Kathas, has now strangely become the poster-boy of the Hindu right. So much so that reviewers or just about anyone, who has anything negative to say about Baahubali is attacked with venom, questioning the critic's religion. If he or she happens to be Hindu, they are dubbed as fake Hindus and spreading hatred against Hindus.
In this 'Baahubali for Hindus' chorus, some believers have even interpreted the movie as proof that the "Hindus are consolidating''. They see in Devasena and Sivagami, characteristics of what "Hindu women stand for''.
If in the reel world, Baahubali spilled blood in the kingdoms of Mahishmati and Kuntala, in the digital space, it has given trolls a weapon to beat the opponents with. No one has been banished to Pakistan yet but I guess the battle over Mahishmati will ensure, that happens soon.
Not that the Hindu character wasn't evident in Baahubali - The Beginning.
The image of the younger Prabhas as Sivudu lifting the massive Shiva linga to place under the waterfall for 'jal abhisekham' is perhaps the most striking image of the first part that stays with you. It reinforced the image of a religion, that is both grand and macho.
Admittedly, Baahubali - The Conclusion focused on the religiosity of the characters and the Hindutva setting far more through its optics.
If the Elephant God is clearly the presiding deity at the kingdom of Mahishmati, Devasena's kingdom prays to Lord Krishna. This is a break from the fictitious Goddess who makes an appearance at the battle with the Kalakeyas in Part One.
Anand Neelakantan, author of the book `The Rise of Sivagami', says the movie is set in the period before gunpowder was invented which roughly correlates to the Chola period around the 7th or 8th century. "It is set in a particular time and period so the writer had to show integrity and reflect the social values of that time. That period saw the revival of Hinduism through the construction of many grand temples. So in that sense, Baahubali is not strictly a fantasy fiction film,'' says Neelakantan.
There is even a sequence involving bull-taming by Amarendra Baahubali, with the hero riding on two bulls, perhaps inspired by Jallikattu and Kambala. On the big screen, it was traditional Indian culture going pop, aided with the best VFX.
"I am not surprised that it is being hijacked,'' says Carnatic vocalist TM Krishna. "The movie is politically contextual to our times. And the timing of the film in terms of its political consciousness is aiding and abetting a virulent engine in operation.''
Telugu filmmaker Mahesh Kathi says with the modules and imagery borrowed from epics like Mahabharata - he calls Prabhas' character a mix of the Pandavas put together - it is not surprising that Baahubali is being seen as a Hindu film.
"As far as the BJP is concerned, it is their film as well,'' says Mahesh. "Why else would you give half a film, as in just the first part of Baahubali, the National award for the best feature film? This is not to say that Rajamouli had a Hindutva agenda while doing the film.''
But should all of this become the defining motif of Baahubali so much so the Hindu extreme right on social media takes over the post-release marketing responsibility?
On the other hand, should it really matter to critics that "there is not a single non-Hindu culture" in Baahubali 2?
"To me, Baahubali is a movie not bound by either history or geography. It simply is a fantasy film that has explored the space for folklore that goes beyond the popular epics like Ramayana and Mahabharata,'' says L Ravichander, a connoisseur of cinema and writer.
Indeed, because if movies were to be branded as Hindu and Muslim, many of Amitabh Bachchan's movies in which he said, "jo kabhi bhi mandir ki seediyan nahi chada, wo aaj tere saamne haath phelaye khada hai'' should be considered 'Hindu' movies, to stretch the ridiculous argument. Mughal-e-Azam then would be a Muslim movie and let us not even get into which slot Amar Akbar Antony would fit into.
What seems to set Baahubali apart is the use of top-notch technology to tell a very Indian tale. Pride over Indian content presented with cutting edge world-class sophistication is justified.
"It is the victory of the Indian mind to be able to recreate this kind of a visual spectacle on a Hollywood scale,'' says Krishna.
What it has resulted in is a desire to go back to mythology and story telling to recapture a certain sense of religious superiority, that flows from the bombast and larger than life images of Baahubali. A case of cinematic myth powering the idea of a grand civilisation of a bygone era.