Irrfan's Indian cinema's most successful crossover star, and 2017 was a reminder why
In the last decade Irrfan has come to be seen as India's best crossover star | #YearInReview
This article is part of our 2017: A Year In Review series
Counted amongst the most talented actors in India ever since the audiences first set their eyes on him, Irrfan, in fact is the antithesis of a film star. He is unassuming, perhaps even as approachable as the next-door neighbour whom you have known all your life, up until the moment the camera is switched on. From that point onwards, he slips into being someone else to with such ease, you'd be convinced he isn't the person you believed him to be.
A familiar face since the late 1980s, Irrfan has been considered a great actor across continents and while there was never any doubt about his acting prowess, the actor has finally entered a league of his own with two films in 2017 — Hindi Medium and Qarib Qarib Singlle — that not only performed well at the box office but also garnered great critical acclaim.
While his aura as an actor remains the same, the definition of Irrfan's stardom has surely undergone a major transformation. With Hindi Medium breaching the fabled Rs 100 crore mark at the box office, a first for the actor, and the with interest that Qarib Qarib Singlle generated amongst both the audiences and the critics, Irrfan has not only metamorphosed into a solo-hero phenomenon on the lines of the middle cinema of the late 1970s, but also fits right in the middle of the older stars (the Khans, Ajay Devgn and Akshay Kumar) and the younger lot.
For a few years now, popular Hindi cinema has split right in the middle when it comes to defining a star. From the trade's perspective, a star is simply someone who can guarantee an opening and for everyone else, it's the person that the eye would follow. Stars also come in two varieties — the ones that we aspire to be and the ones that we could identify with. It is not like the twain never meet but more than that a star's job is primarily to facilitate most of the requirements of the trade. This includes getting the audiences to the cinema hall, make them stay, shine in set pieces that provide the 'moments' and manage to repeat this for a few weeks across different age groups.
Ideally speaking, Irrfan has all that it takes to be considered a star — but the Hindi film industry functions in strange ways.Till just a few years ago an Irrfan was perceived as a strong supporting actor, even paid as much as any leading man but not be seen as the 'hero' in the simplest sense of the word. That perception has changed but even though Irrfan commanded a higher billing, got solo-lead films more readily than earlier the tag of a 'star' eluded the likes of him.
In 2012, when the much-delayed Paan Singh Tomar finally released, the verdict was clear as far the general public went; the word of mouth saw a surge in the popularity as well as the box office collections of the film. Despite the increasing interest the producer, UTV, reportedly continued its step-brotherly treatment towards the film. It is said that UTV had little faith in the film even though both the film as well as Irrfan garnered great global praise. They finally released the film when director Tigmanshu Dhulia's other release, Saheb Biwi Aur Gangster generated a decent critical response. Even though the film was barley publicised or given a good number of screens, Irrfan's bravura performance was enough to turn its fortunes. Yet the perception of Paan Singh Tomar being an art-house-film-with-a-slightly-commercial-packaging saw that Irrfan did not get pushed to the next level. In spite of being commercially successful, Paan Singh Tomar, did not unleash a flurry of solo-leads for Irrfan. But what it couldn't stop was the change that came about in terms of roles that were offered to Irrfan post-Paan Singh Tomar.
By this time, Irrfan was a well established name in the global market and had featured in some big-ticket Hollywood films including Mira Nair's The Namesake (2006) along with Tabu, Michael Winterbottom's A Mighty Heart (2007) opposite Angelina Jolie, Wes Anderson's The Darjeeling Limited (2007), Danny Boyle's Slumdog Millionaire (2008) and Mira Nair's segment in New York, I Love You (2008). In India, up until Paan Singh Tomar Irrfan usually became the strong supporting types or the villain in films like Knock Out (2010), Right Yaaa Wrong (2010), Acid Factory (2009), New York (2009) and Billu (2009) but post-Paan Singh Tomar the change was perceptible. He was now almost the second or the parallel lead – D-Day (2013), Gunday (2014), Piku (2014), Talvar (2015) and Jazbaa (2015) – and finally got a second-shot at playing the solo lead in Maadari (2016). Directed by Nishikant Kamat (Dombivali Fast, Mumbai Meri Jaan, Force, Drishyam) the film fared below expectations even though Irrfan's portrayal was showered with great praise.
Maadari could have repeated the events that followed Paan Singh Tomar had it not been for two factors — firstly, unlike post-Paan Singh Tomar Irrfan did not have films releasing in quick succession where he could have been relegated to the same kind of 'supporting' roles and secondly, he featured in a mega Hollywood film, Ron Howard's Inferno (2016) with Tom Hanks and Felicity Jones. Irrfan's top-billing in Inferno maintained the stature created by his Hollywood outings — Life of Pi (2012), The Amazing Spider-Man (2012), Jurassic World (2015) – and with the release, and the runaway success of Hindi Medium his transition into a bona fide star came a full circle.
Producers or studios often try to create new stars that might not have the typical larger-than-life persona to aid business but it's the people who have the ultimate say. Irrfan has been a star in the making since he was a household name with TV shows such as Banegi Apni Baat, Chanakya and Chandrakanta. He became a global name with Asif Kapadia's The Warrior (2001) and with Tigmanshu Dhulia's Haasil (2003) he became an icon in India. In the last decade Irrfan has come to be seen as India's best crossover star with presence across both American television (In Treatment, Tokyo Trial) and Hollywood summer blockbusters (The Amazing Spider-Man, Inferno) and with The Lunchbox (2013) and Qissa: The Tale of a Lonely Ghost (2013) he is also the face of a new kind of storytelling emerging from India. He is also someone whom the younger generation can connect with great ease thanks to his being a part of an AIB video.
The electricity that Irrfan infuses in his characters is his own and this rubs off on the way he interprets them. Unlike other accomplished 'actors' or great 'stars' he never functions in a vacuum and puts in a little something by the way of a nuance (the look in his eyes when he meets his son in Paan Singh Tomar) or gesture or an unexpected stress on a particular word while rendering it that changes everything. While directing him in Piku Shoojit Sircar found that Irrfan constantly asked for information about his character and was pleasantly surprised later when Irrfan retrieved something from this 'database' to use it in an unpredictable manner. At 51, Irrfan has become the new box office phenomenon with Hindi Medium where his name is enough to not only warrant an 'opening' but also that the sub-par collections of Qarib Qarib Singlle has not impacted him in the manner of say, a Maadari, which is a testimony to true stardom.
Entertainment
Radhe: Your Most Wanted Bhai, releasing both in theatres and on Zee Plex on 13 May, features Khan as an encounter specialist who is tackling the drug menace in Mumbai.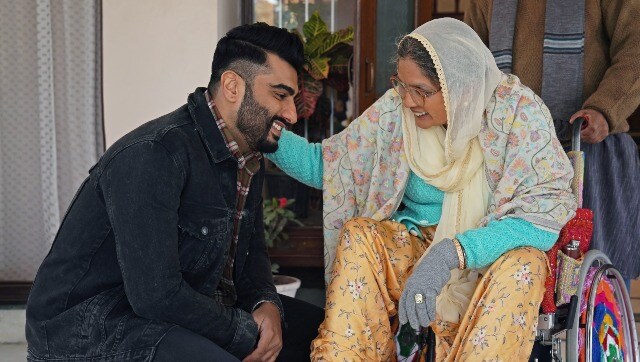 Entertainment
Kaashvi Nair speaks about anchoring the film around a grandparent-grandchild relationship, which she believes is the most "sacrosanct" of all bonds, and the importance of family in an ever-transient world.
Entertainment
Jackie Shroff discusses dabbling into comedy with Radhe and his upcoming movie Phone Booth, and why more filmmakers are opting to direct iight-hearted movies now.