International Jazz Festival 2017: American musician Greg Banaszak gives us the sax talk
In an exclusive interview, Greg Banaszak talks about falling in love with bebop, playing the music of Charlie Parker, suffering for his art and all that jazz.
Day 3 of NCPA International Jazz Festival will see the Greg Banaszak Quintet perform a tribute concert to some of the greatest jazz musicians — Duke Ellington, Charlie Parker, Miles Davis and our very own Benny Soans among others. One of the most renowned contemporary saxophonists, Banaszak has performed with numerous orchestras at concert halls around the world.
In an exclusive (and extensive) interview with Firstpost, the American saxophonist talks about studying in Soviet-controlled Poland, watching the Berlin Wall fall, falling in love with bebop, playing the music of Charlie Parker, suffering for his art and all that jazz.
When did you first realise you wanted to be a musician? A saxophonist at that.
I realized I first wanted to be a musician when I heard the saxophone being played so elegantly by the jazz icon, alto saxophonist Phil Woods in the popular Billy Joel song, Just the Way You Are, at the age of 10. I did not even know what the instrument was called at the time but I knew I wanted to play it. I'll never forget the day I first heard that gorgeous alto saxophone sound. My mother and father, Gene and Alice Banaszak, wanted me to play an instrument and I was not sure what to select until I heard the saxophone.
Who were your biggest influences growing up? How did each one shape your own musical sensibilities?
My biggest influence growing up was Dave Schiavone, who was a great saxophone teacher and human being. He taught me my very first saxophone lesson and he was a world class saxophonist himself, so my education from the time I first opened the case of my instrument was exceptional.
I also liked early smooth jazz groups because they originated from the neighbourhood I lived in as a child in the lower East Side of the city of Buffalo, NY. Artists like Spyro Gyra and Grover Washington Jr were only a few blocks away from my home before they gained international popularity. The saxophonists from the top big bands were also selected from the same area. Band leaders like Buddy Rich, Woody Herman and Maynard Ferguson would all go on to select their saxophonists from Buffalo, so it was really a very inspirational place to be living as a young saxophonist.
Charlie Parker took jazz improvisation to a whole other level. How did he inspire you to grow as a musician?
Charlie Parker became a major influence much later in my career, actually. I was more influenced by his ideology of always seeking new information and ideas. What many may not realise is Parker practiced numerous hours for many years before he gained fame. He was washing dishes for seven dollars a week when he arrived in NY from Kansas City so he could listen to Art Tatum play solo piano every evening.
How did you fall in love with bebop?
I have always liked bebop and knew it was a unique art form but it was a puzzle box to me when I was younger. Only after I studied with Jackie McLean, Charlie Parker's only student and protégé at the Hartt School of Music, was I able to understand not only how to try to create a melody, harmony and form but more importantly the social and political importance that jazz holds so dearly both in the United States and abroad. Bebop is a form of artistic freedom that embraces the individual and allows one's voice to be heard. Everyone is treated equally and fairly on the bandstand in the world of jazz.
After graduating cum laude from Connecticut's Hartt School of Music, you decided to go study at Warsaw's Fryderyk Chopin University of Music. Tell us about your experience living in Soviet-controlled Poland.
Well, that was a very interesting time for me and more so due to what was taking place in Europe. I had no idea what I would be exposed to, aside from a great musical education. At the time, the former Soviet Union was losing a war in Afghanistan which had been crippling and stretching their economy and resources for a decade. At the same time, Poland was always the first to rebel, riot and revolt throughout its Soviet occupation. The Soviet Union knew if their control on Poland collapsed, then all other Eastern European countries would soon follow and the Berlin Wall would fall, so their stranglehold and brutality was at an all-time high, as the people of Poland began to sense that their freedom was close at hand if they just persevered and resisted a little longer after being occupied for over 50 years by the Soviets.
Fifty years of Soviet oppression was collapsing and with that came brutality, carnage and the worst aspects of what human beings can do to each other in the name of a political ideology. The Communist system wanted to control what the people of Poland, could read, think, eat, sleep — every aspect of life that we may take for granted in a democratic society. As a citizen of the United States of America I never knew what true freedom was that I have until it was removed from me when I was in Poland. The atrocities I saw on almost a daily basis on behalf of the Soviet regime and Communist sympathisers are frankly unforgivable.
But then I witnessed something very rare as an American — the Berlin Wall falling from the perspective of being in the general population of Eastern Europe.
I have been offered book contracts and documentary films based on my experiences since it is such a unique perspective but I have chosen not to pursue this for now and allow my music to be a positive guiding force in my life. I may pursue at some point to write a book based on all of this in the near future, but finding the best journalist and publisher to collaborate with would be essential.
That must have affected you profoundly. Do you still have friends in Poland?
My lessons in Eastern Europe galvanized my philosophy simply to be the best person I can be on a daily basis, treating everyone with kindness, being helpful to any and all, and trying to assist the less fortunate which is a guiding force in my career as an educator.
The people of Poland are still well aware of my presence during the time. I have been to every major city in Poland and to this day, families pass on to their children the story about the American saxophonist that came to Warsaw during anarchy in their country in the late 1980s'.
You obviously then moved to more peaceful conditions in France to finish your studies. Did it feel like a welcome relief?
I must say to be studying in France after my life changing experiences in Poland was remarkable. My classical saxophone professor, legendary NYC clarinettist Vincent J Abato often used the quote "from the thorn, comes the rose." This quote is exactly how I feel in regard to my experiences in both Poland and France. For some reason, I had to suffer in order to appreciate the beauty of my art form: music.
I read that you love to blend old jazz sounds with some of your own original compositions. Explain to us your process.
Well I try to combine the best of both worlds. I feel that it is essential to constantly study the historical aspects of this we music we call Jazz. Many of today's young jazz musicians never really transcribe and study the music of Louis Armstrong or what took place prior to Mr Armstrong — like his trumpet teacher for example Joe "King" Oliver. Within Mr Armstrong's music is the essence of jazz which is freedom, strength and self-expression.
I was taught by Jackie Mclean to embrace both what has taken place in the musical evolution of jazz, as well as your own voice and ideas. I like to study and learn from gospel singers, pianists like James P Johnson, the harmony and originality of Thelonious Monk and each and every style of music I am exposed to.
You've travelled across the world - from Europe to the Middle East to Asia. Which has perhaps been your most memorable concert?
I really feel quite fortunate to have performed in so many countries across the world. One concert that stands out is my first of three performances in Cairo, Egypt. My very first performance there was in 1991 and it was so beautiful to be able to realize that my music took me all the way to the great Pyramids of Giza. To be able to play my saxophone by the Pyramids was an evening I'll never forget!
Having the responsibility to expose countries to their first experience of hearing classical saxophone in a concerto setting in Korea, Egypt and India has certainly also been a highlight of my career. I would like to continue to expose other countries to the romantic, traditional concerti written for saxophone throughout my career.
This is not your first concert in India of course. How was the reception to the music last time around?
My first performance was with the Symphony Orchestra of India a few years ago and we had a very special program that featured the saxophone in many different styles throughout the programme that evening – from a standard romantic Russian concerto for alto saxophone and string orchestra composed by Alexander Glazunouv to vocal works transcribed for saxophone and orchestra to the jazz style of the celebrated masterpiece of Charlie Parker "Bird with Strings," which was feature on the second half of the program after the intermission. The SOI are truly world class and have an exceptional sound, blend and positive energy throughout the ensemble. They are quite a talented and brilliant orchestra to say the least!
Coming to the concert in Mumbai, what will you be playing this year? Do you have more Charlie Parker in store for us?
We will be paying tribute to the jazz masters of (Cannonball) Adderley, (Duke) Ellington, Miles Davis, Jackie McLean and, of course, Charlie Parker. These great compositions are really timeless and audiences really going to enjoy hearing them.
I am very pleased to be premiering a new composition at this concert as a tribute to one of the finest drummers I have ever worked with, Mumbai's very own Mr Benny Soans. Although I only met Benny a few years ago, it really did not matter for we were brothers from the very first time we met and made music together. I was fortunate to perform with him, and more so, become acquainted with such a beautiful, caring person. It was difficult for me when I heard the news of his passing.
I placed an enormous amount of care, thought and my heart when I composed this work for Benny with the concept of what would make him smile if he was listening in the audience to this new work. I know he will be smiling indeed.
Tell us a little bit about your quintet.
My quintet consists of simply world class performers and individuals. Theron Brown is one of the most talented and creative jazz artists of his generation. Mr Brown combines so many styles and genres of music with grace, intelligence and the essence of jazz, which is swinging hard. Trombonist Chris Anderson is in a class by himself. Not many can match his clarity, soul and sheer velocity on the trombone. Chris and I have been making music together for over 25 years and he is such a very dear friend of mine. He is rightfully considered one the finest "Pillars of the Jazz Community" in Cleveland, teaching jazz to hundreds of young students — a proper education in both music and life. Much like Mr Soans, Chris is a big-hearted, caring individual that makes everyone around him a better musician, myself included.
Completing the quintet are two of Mumbai's top jazz talents including Gianluca Liberatore on bass and Aron Nyiro on drums. Their numerous successful concert collaborations throughout India make them a welcome addition to this concert.
Any future projects you're excited about?
There are always exciting projects in the works. In July 2018, I will be touring and recording a CD in Helsinki, Finland with a saxophone quartet comprised of four saxophonists from across the globe. A wonderful saxophonist, Olli-Pekka Tuomisalo, one of Finland's finest artists has been planning this project for over a year. I also plan to record a jazz quintet CD with Chris, Theron and a great bass player by the name of Dave Morgan who we often concertise with in the US. The compositions featured will be very similar to the NCPA International Jazz Festival program, with some works being jazz standards and others new compositions written by me and Morgan as well as a duo work featuring Chris and Theron.
You are now a faculty member of the Cleveland Institute of Music and Case Western Reserve University. What key lessons/advice do you usually give fledgling jazz musicians?
Well, all my students aspire to have a well-balanced musical diet of daily practice, listening studies, harmony, music theory and history. These subjects are the true keys to success. My students are a wonderful group of young artists to teach and work with.
Attending live concerts is paramount and validates the amount of practice needed for all music students. This also allows students to converse with successful musicians and groups so they realize that there are no short cuts, everyone has their own unique, personal path to growth and success. I strongly encourage all of my students to focus on their career goals and objectives which makes their musical journey much more enjoyable and successful.
The Greg Banaszak Quintet will perform at the Tata Theatre, NCPA on Sunday (26 November) at 7PM.
Lifestyle
He won the National Award for best animation film The Prince and the Crown of Stone in 2010.
Entertainment
At times, Schmigadoon! can feel like a Simpsons parody that outgrew its segment, or a classic movie butchered in order to insert commercial breaks. Luckily, it's also too fun for most of that to matter.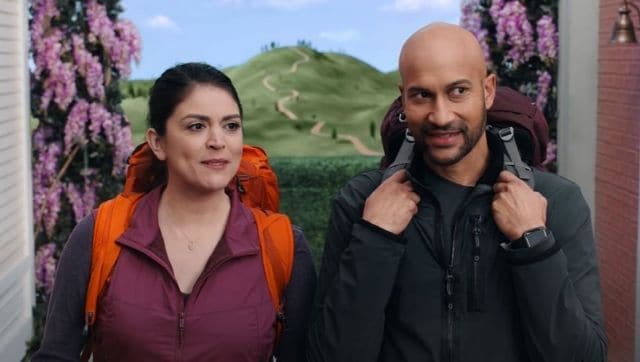 Entertainment
Though bumpy at times, Schmigadoon! is a feel-good comedy and a hat-tip to musicals, worth a slow-Sunday watch.