Incredibles 2 shows how superheroes don't need to choose between raising a family and saving the world
Incredibles 2, a superhero family drama, is a departure from most of the superhero storylines, where saving the world does not come at the cost of starting a family.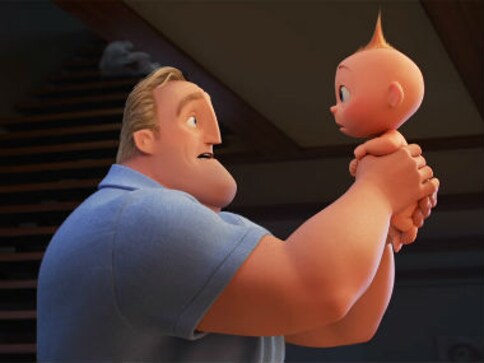 Alfred Pennyworth, Batman's Man Friday, knows a thing or two about family. From Jeremy Irons in Zack Snyder's 2016 film Batman Vs Superman to Michael Caine in Christopher Nolan's The Dark Knight franchise, Alfreds have come and gone but two character traits of the iconic butler have remained intact — his quick wit and determination to get Master Wayne to start a family.
"I had this fantasy that I would look across the tables and I'd see you there, with a wife and maybe a couple of kids," says Caine's Alfred in The Dark Knight Rises. Irons' rather slim Alfred agrees as well, "I hope the next generation of Waynes won't inherit an empty wine cellar. Not that there's likely to be a next generation." Little does he know that Bruce Wayne's belief in having a family died along his parents, who were shot dead in his childhood. Additionally, starting a family of any kind will amount to exposing his alter ego to a woman, a strict no-no in the superhero rule book.
But Alfred would have been more than happy to butler the la familia of Incredibles 2. Mr Incredible is not only married to Elastigirl but also has three kids to take care of in Violet, Dash and Jack-Jack. In the first installment of the franchise that released in 2004, the government bans superheroes in an attempt to contain the collateral damage of their (mis?)adventures. Elastigirl accepts this macro constraint as a blessing in disguise to lead a 'normal family life'. But it does not help that their kids also have superpowers, the baby Jack-Jack having at least seven of them as he baba-booboos his way to destruction in the second part.
What is also at play is the unspoken cosmic rule of trouble brewing only when a superhero has decided to quit saving the world. Right when Batman decides to leave Gotham, Superman's mom (her name is Martha, remember?) schools him that he does not owe anything to this world, Lex Luthor unleashes hell on Metropolis; or even when Tony Stark Jr tells Pepper that he wants a baby, super villains step in to play spoilsport. Incredibles 2 is no different as the gimmicky antagonist Screenslaver decides to disrupt the city right when Elastigirl and her family have hung up their suits.
Screenslaver — a villain for all ages
Screenslaver is an apt villain for the fam-bam storyline of Incredibles 2. It not only aims to eliminate all superheroes as they make people lazy and competent but also serves as a symbolic threat that addiction to technology is to family bonding. Smartphones are as common an object placed on the dinner table as salt and pepper. The most close-knit of families are enslaved by the screens in front of them. Screenslaver takes a page out of the book of Black Mirror to pose itself as a formidable evil pitted against a rare superhero family.
Stay-at-Home Superdad
Can you remember a superhero who has a kid, let alone three. Well, Hawkeye has three but they live a peaceful life in some remote corner of Earth. Ant-Man also has a daughter who goes on to become a superhero herself, in the capacity of a Little Avengers member. As per comic books, Spider-Man also has a daughter; Superman and Wonder Woman are parents too (yes, together). But from what we have seen in the Marvel Cinematic Universe and DC Extended Universe so far, families are usually considered weaknesses or distractions of superheroes most of the times, save the occasions when the superheroes draw emotional strength from them.
But in Incredibles 2, Mr Incredible takes a backseat, babysitting the three children as his wife goes out there to fight the bad guys. This role reversal and subversion of superhero patriarchy comes as a breath of fresh air, and also as a nod to the current climate of #MeToo movement and Time's Up. Elastigirl, rising above the trappings of working mothers, spends no time in feeling guilt for 'abandoning' her children either.
Superheroes go to school
Teenage superheroes have been relegated to the background ever since Batman, Superman and Iron Man started dominating the superhero narrative with their borderline mid-life crisis issues. Even X-Men, a franchise originally centered on young superheroes learning to control their 'gifts' in X-Mansion, became more about the ideological conflicts of Professor X aka Charles Xavier and Magneto. The only respite, with a youthful flavour, came from Spider-Man who has not aged in years (in more ways than one), thanks to the two Amazing reboots. Hence, to see Violet, the super-daughter from Incredibles 2, struggle with a 'normal' relationship at school during puberty is what gives an insight into the premature sense of responsibility that comes with all the superpowers. For example, Rogue from X-Men could not have physical relations with anyone because a contact invariably leads to her absorbing the other person's consciousness.
It's a (super)boy!
While Batman and Black Widow have 'acquired' superpowers, Superman and Wonder Woman were born superheroes. However, they discovered the optimum extent of their powers much later. But in case of Incredibles 2, li'll Jack-Jack is one sneeze away from putting a house on fire. He has around seven superpowers, most of which are out of his control. Given the large number of 'gifts' he has, he will sure be a favourite student of Professor X. But does X-Mansion admit babies? To see him unleash his potent superpowers, even on his family members, has an innocent air about it, unlike a Spider-Man who is seen Tarzaning his way across New York City, in full awareness of his abilities along with a hint of mischief. With Jack-Jack, the demonstration of superpowers, though more fatal, is blissfully unmindful.
The family that pummel together stick together
"There was an idea to bring together a group of remarkable people to be something more," says the opening line of the Avengers: Infinity War trailer. Well, it was the same set of remarkable people who locked horns with each other in Captain America: Civil War. Then there was Batman rounding up superheroes in Justice League, only to have his ass kicked by Superman. Every superhero ensemble, which has tried to stick together, has fallen prey to a split, thanks to ideological differences. But here are the Incredibles, always on the same page, though in different copies of the same book. They keep their inter-generational conflicts to the confines of their home and do not wash their dirty linen capes in public. Instead of asking each other 'if they bleed', they respect the same blood that flows in their veins and feed off each other's energies.
The Incredibles are the superheroes we need, deserve and want to click a cute, cozy family portrait of.
Entertainment
The author noted that living in the closet is often glorified in the film industry.
Entertainment
He said the ministry does receive complaints about content on over-the-top (OTT) platforms, but almost 95% grievances are settled at the level of producers