Soumitra Chatterjee: The man who redefined the Bengali hero
Soumitra Chatterjee might well be the king of contemplation in all of Indian cinema. In his debut performance in Apur Sansar, he re-calibrated the bar for making pensiveness attractive by giving it real depth and emotional heft.
by Beth Watkins
Film critic Jai Arjun Singh has a term for those who find the past uniformly and unquestioningly better than the present: "Golden Ageists". I wouldn't say I'm so extreme as to wax nostalgic about everything, but I will admit, there's just as much magic in the movies when you look backwards as there is in waiting for Ranveer Singh to finally make another film or suffering through models-turned-sort-of-actresses just for a glimpse of the sparkling charisma of Ranbir Kapoor.
Most of cinema's elder statesmen have a lower profile, leaving their work free to speak for itself. Their images are not necessarily fixed, but we see them through a happy haze of weathered, more consistent public personas. Besides, doesn't everybody look better in black and white?
Soumitra Chatterjee — recent Dadasaheb Phalke Award winner and star of Bengali mainstream and art films for decades, including over a dozen of Satyjajit Ray's most cherished films — is probably not at the top of anyone's list when thinking about what makes a filmi hero, perhaps unless they're Bengali and approximately 70 years old. Today, he's the venerable old man of Bengali cinema but do yourself a favour, put "Soumitra Chatterjee young" in Google's image search and then sit down.
In the wrong hands and on the wrong face, reflection can come off as solipsistic and whiny, but by the right actor, soulful eyes and dreaminess are heart-rending and swoon-worthy. Soumitra Chatterjee might well be the king of contemplation in all of Indian cinema. In his debut performance in Apur Sansar, he re-calibrated the bar for making pensiveness attractive by giving it real depth and emotional heft.
Some versions of the modern hero are easily found in the roles played by a younger Soumitra. His take on the educated, earnest young man worried about his future edgily inhabits stories of uncertainty such as Aranyer Din Ratri and Pratham Kadam Phool. The same character appeared recently in more blustering incarnations in films like Yeh Jawaani Hai Deewaani and Band Baaja Baaraat.  Then there's the aloof hero who's melted or improved, at least a little bit, by the love of a good woman in Teen Bhubaner Pare, Apur Sansar and Saat Pakhe Bandha (the last is a grittier version of Ek Main aur Ek Tu or Jab We Met, without their hopeful endings).
Me, I don't need a hero who stalks the girl or flattens a crowd of henchmen to prove his love. What vintage Bengali cinema lacks in dance moves (and that's quite a bit, as evidenced by Soumitra doing the twist in "Jibone Ki Pabo Na" from Teen Bhubaner Pare), it makes up for with meaningful stares, riverside strolls and dreamy sighing. Watch Khudito Pashan, in which Soumitra is so besotted with a ghost of a girl from a bygone era that he buys himself a Mughal outfit so he can fit into her world. Or as the flirtatious lead of Charulata, said to be based on Tagore himself. Charulata is the first film in which Ray cast Soumitra as a character so delectable that married women were (and continue to be) tempted by him. Ray and Soumitra  did it again when the latter played the firebrand in Ghare-Baire. My personal favorite is Barnali, a sweet love story full of longing and emotional exchanges on moonlit boat ride. As if that weren't enough, his character first falls for his heroine when he learns she's doing an honors degree in philosophy.
In Baksha Badal, Soumitra starred in a story that debated the connotations of having and not having, a moustache (very much in the tone of Hrishikesh Mukherjee's Golmaal, made nine years later). As the beloved detective Feluda, he is so intimidating with brilliant brains and pointed words that he barely needs to raise a hand. And his shirt flies open not by his own doing at the crux of a fight or a dance, but when he's driven a heroine so wild that she tears it in a frenzy (Suchitra Sen in Saat Pakhe Bandha). Now that's a man.
This era of Bengali films was not a cinematic culture of loudness. It presented men who were strong and took action without yelling and stomping. Like today's Abhay Deol, Soumitra was grown-up beyond his years from early in his career, standing in contrast to heroes so often written as overgrown boys. Even when his characters are young and boisterous, they are not macho. Think of the heroic entrance set to the rush of stormy winds in Charulata or of the fluffy spin on the classic "boys vs. girls" plot in Basanta Bilap and cheerfully tormenting the heroines in Agun.
Read almost any text on Bengali cinema from the 1950s to around 1980 and you'll run across a variation of the following description of Soumitra Chatterjee: tall, refined looks, enviable education, interested in language and theatre, swooped up by Ray, and over time an internationally known face of Indian cinema as well as Uttam Kumar's only rival for mainstream stardom in Bengal. These are traits you see on screen in his films even today, but what makes him an ideal hero to me is what he does with them. He is beautiful, but he transforms physically for roles, suggesting an utter lack of vanity or attachment to matinee idol props. His is a world of "show, don't tell"— and as the song goes, just one look is all it took.
Chatterjee is sometimes labeled as the snob's hero, and many of his famous roles are highly educated (though not necessarily wealthy) characters. But if you actually watch him, there is pure humanity in all his finest performances, whether the character is a psychiatrist or a taxi driver, a writer from the 1800s or an office clerk contemporary to the time the film was made. He is someone different in every film, sometimes remarkably subtle, and at others as broad or hammy as the film requires. And half a century after his debut, he's still thrilling to watch.
Beth Watkins blogs about Bollywood at Beth Loves Bollywood and her interest in Bengali cinema is amply evidenced by the entries she has contributed to Bong Along! She's on Twitter as @bethlovesbolly.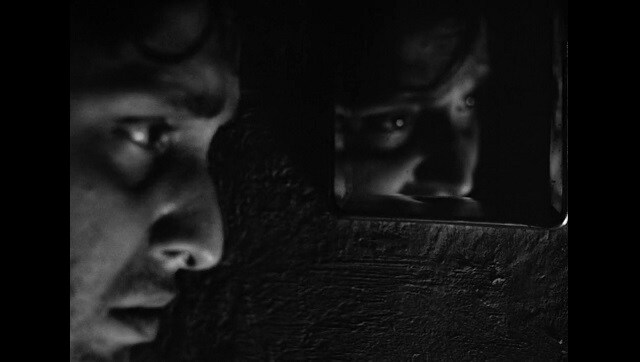 Lifestyle
Soumitra Chatterjee wrote in his memoir, 'Most people in the country are under the impression that Satyajit Ray was such a formidable film-director that he dominated everyone when a film was being shot. I can aver that in my case, at least, it was just the opposite.'
Entertainment
Filmmaker Satyajit Ray's vision of male characters in his movie stemmed from his own cinematic belief of creating realistic characters — in both his short stories, stacked to the brim with lonely men and his cinematic offerings.
Entertainment
Soumitra Chatterjee made his movie debut in Satyajit Ray's masterpiece Apur Sansar (the world of Apu) — the third part of the Apu Trilogy — in 1959. He has acted in over 90 films till date.