'In JU, there is everything except education': 'Buddha in a Traffic Jam' director Vivek Agnihotri
It's important that Buddha in a Traffic Jam should release peacefully, so that more people can make such films," said Vivek Agnihotri
Director Vivek Agnihotri, who was roughed up by Jadavpur University students in Kolkata, in his pursuit to screen Buddha in a Traffic Jam, on invitation, believes that the film must have touched the raw nerves of students who follow the Naxalite ideology.
"There was almost a riot. Governors, ministers everyone got involved; they attacked me, attacked my car because they don't agree what the film says. It exposes Naxalites and these students didn't like it because they are Naxalite students. I am saying this on record. In Jadavpur University, there is everything except education. I have been to 13 institutes across India, nobody even came one feet close to me, why should they attack my car and me?" Agnihotri told Firstpost.
However, Agnihotri is not at all affected by such protests and confident enough that he can handle them single-handedly as he is well aware of how politics is integral to educational institutes.
"I have seen these things myself so I can handle it. I move without any security or protection. This happened with me in places like IIT Madras and National Law University. Lots of people protest but I go there without any protection because I understand politics, and have been part of it. I was brainwashed, just as these students are brainwashed. Instead of becoming anti-state and anti-establishment, they have become anti-India," said Agnihotri.
Buddha in a Traffic Jam, an autobiographical political drama, has been doing the rounds of a number of Indian and international film festivals since 2014, and got been appreciated for the rare insight on how students get caught at the crossroads of two political ideologies—Socialism and Capitalism. However the makers had to struggle for almost two years to release it theatrically.
"This film was canned. Nobody supported it. Everyone had backed out and I was fighting this battle alone. The film was censored in 2014, and now suddenly, institutes started inviting us to screen the film. IITs and IIMs lapped up the film and they started showing it and slowly the word spread," said Agnihotri.
Agnihotri, who has made films like Hate Story, Chocolate and Dhan Dhana Dhan Goal, feels that he was getting stuck in mediocrity and wanted to speak his heart out through this film.
"This is my voice. I felt that India's biggest danger lies in intellectual terrorism and I must make film on that. Such films should be made more often. It's important that Buddha in a Traffic Jam should release peacefully, so that more people can make such films," he said.
He also claims that it was a once-in-a-lifetime film for actors like Anupam Kher and Arunoday Singh, so it wasn't hard enough to get any of the actors on board.
"They are professional actors. They don't bother about what your ideology is.  It was impossible for an actor to refuse this film," he said, adding, "The film got the CBFC certificate without a single cut. The censor board said that this film should be shown to youth and therefore they will extreme languages and extreme sex scenarios and bold theme of the film. That's the power of the film," said Agnihotri.
Entertainment
Vivek Agnihotri was forced to take down an abusive tweet against Swara Bhasker after Twitter locked the filmmaker's account for violating its rules.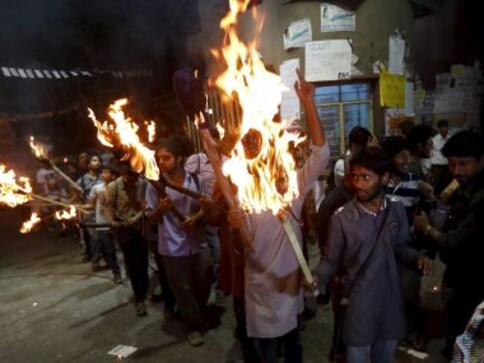 India
JU incident is also a manifestation of the turf war that is taking place right now between the Right, which has political power but lacks the intellectual heft and Left, which shall not cede an inch of space.
Bollywood
Jolly LLB 2, a courtroom drama, ironically finds itself embroiled in a legal controversy. However, this past year has been no different for Hindi films.