In Bhaag Milkha Bhaag, Art Malik finally gets his passage to India
At age 60, Art Malik, who became famous with Raj productions like The Jewel in the Crown and A Passage to India, is finally acting in a bona fide Indian film. But his role in Bhaag Milkha Bhaag almost didn't happen.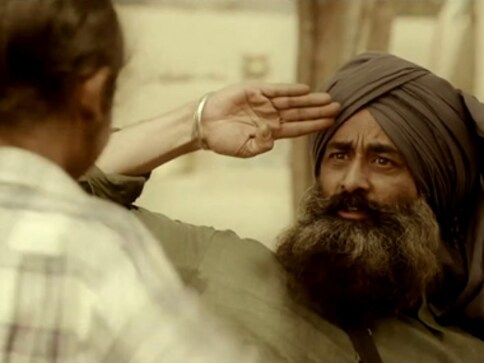 Actor Art Malik is no stranger to India. His best known role is as Hari Kumar in the ITV mini-series The Jewel in the Crown, adapted from Paul Scott's Raj Quartet novels. Everyone took notice, of both his acting skills and good looks in his vulnerable portrayal of Hari Kumar, the British-raised man unable to find his footing upon returning to the India he left as a child. Malik became quite the fixture in the Western fascination with the dwindling days of the British Raj – thanks to roles in films like David Lean's A Passage to India and The Far Pavilions.
While much of Malik's important work has dealt with India and been shot on location in the country, he's never joined the Bollywood bandwagon. That's changed now with Rakeysh Omprakash Mehra's Bhaag Milkha Bhaag, for which he grew a full beard and donned a turban to play Milkha's father, Sampuran Singh. At age 60, after a storied career in the West, Malik (born Athar Ul-Haque in Bahawalpur, Pakistan) returned to the Punjab for his launch into Hindi cinema.
Mehra said it was editor and producer PS Bharathi's idea to cast Malik. "She fought tooth and nail with his manager, who didn't understand, saying 'That's a Bollywood flick' and we kept telling her, 'It's not Bollywood, it's un-Bollywood'," said Mehra. Malik, in fact, has done everything but Bollywood as an actor: theater (in the UK and on Broadway), British television, the Euro-American collaboration Borgia as well as two big-budget action blockbusters, The Living Daylights (in which he was a foreign-educated mujahideen in Afghanistan) and True Lies (he played a terrorist who goes head-to-head with Arnold Schwarzenegger).
But Bharathi was adamant about casting Malik and eventually, Mehra and Malik met over coffee on Skype, sitting thousands of miles apart. Of their online encounter, Malik said, "This was a subject that meant a lot to him and that's very exciting when that passion's there."
However, despite overcoming initial resistance, the road ahead was not without potholes. Owing to Malik's birth in Pakistan, there was trouble securing a visa for the actor. Two days before the shoot was due to begin, Malik still had no visa. Mehra admits "We had a stand-by actor," said Mehra. A friend high-up in the Indian intelligence infrastructure told Mehra, "Take somebody else. Why are you getting in all these bureaucratic things?" But the director persisted and the visa was eventually granted.
Malik's last visit to India had been a decade earlier, when he travelled to Gujarat with the Red Cross for a short film as part of the relief appeal after the earthquake. This time around, he was whisked to rural Ferozpur for his week-long shoot. The cast and crew all endured four-degree temperatures in the mornings and being drenched by rain machines spouting river water ("Unfiltered water," Mehra pointed out). The British actor was unfazed. "There's no difference on Bhaag Milkha Bhaag than on True Lies," he said. "They had all the same toys, it's just a different person doing the (directing) job. I have no complaints and," he added with a laugh, "I had no idea it was unfiltered water."
Speaking about one his memorable roles and the reason he found Bhaag Milkha Bhaag compelling, Malik said, "Jewel in the Crown and Passage to India have very much a Western voice on how that [colonialism] has affected the West. So it was very interesting to be involved in a project which is the Indian voice of all that. And what a fantastic story – if out of all that horror of the Partition you get this wonderful spirit that is Milkha Singh, and he goes on to do something absolutely extraordinary with his life. It really is up to you what you do with your life, even if everything is stacked against you, you can come through."
On the set, the director credits Art Malik with having set the tone during that first week of shooting. "He ignited an acting style which was very natural and somewhere deep down I was yearning for it," said Mehra. "I started applying that with all the actors. The moment I felt it was not looking real enough, not feeling real, we would blow the whistle. He became the trigger point for a lot of things."
At the end of his last day on the set, Malik asked to be driven to Amritsar, and he made a visit to the Golden Temple at 4 am. "Extraordinary place, " he remarks, his hushed tone conveying an enduring sense of wonder.
Now that Bhaag Milkha Bhaag is in theatres, is Art Malik ready for another adventure in Hindi films? His response is quick. "If Rakeysh sends me that new script he keeps promising, my only response will be 'When do we start?' It's as simple as that."
Maria Giovanna also writes at Filmiholic.com
Entertainment
Rakeysh Omprakash Mehra believes that the warm reception to his latest film Bhaag Milkha Bhaag is a sign of evolving tastes of the audiences.
Entertainment
Farhan Akhtar, who built six-pack abs for his latest release Bhaag Milkha Bhaag, says he doesn't feel it is necessary to retain the physique as every film may not require him to look like a "body builder".
Entertainment
Bhaag Milkha Bhaag has won its race at the box office but director Rakeysh Omprakash Mehra says he struggled for three years to raise money for his unusual project.