IIFA 2017: Alia Bhatt, Katrina Kaif, Varun Dhawan, Karan Johar, Aditya Roy Kapur's 'Dream Team' reunion
Although IIFA 2017 is giving us a lot of amazing moments to remember, the Dream Team's reunion in the Big Apple remains on the top of our list. In 2016, Katrina Kaif, Alia Bhatt, Sidharth Malhotra, Aditya Roy Kapur, Parineeti Chopra, Varun Dhawan came together for Karan Johar's Dream Team tour.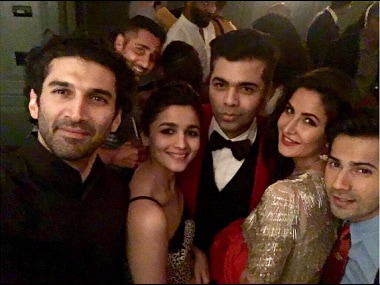 The stars went live across five cities, New York, San Jose, Chicago, Los Angeles and Houston in the US, performing to their greatest hits and mesmerising the audiences with their moves.
The Dream Team had reunion at IIFA, in New York and marked it with a selfie. Malhotra and Chopra are missing from the selfie, but seeing the rest of team, refreshes the Dream Team Tour memories.
Updated Date: Jul 16, 2017 07:48:28 IST