If Phillauri is a copy of Tim Burton's Corpse Bride, it's a copy of Imtiaz Ali's Love Aaj Kal too
Both Phillauri and Love Aaj Kal have a sepia-tinted flashback, with turbaned heroes (Saif and Diljit). Does that make it a copy of Imtiaz's film too?
On 6 February, during a Facebook live, Anushka Sharma released the trailer of her upcoming film Phillauri, which also stars Diljit Dosanjh and Suraj Sharma.
In the film, she plays a friendly ghost who gets stuck in a tree due to some unfinished business from a past life. Suraj Sharma, who is maanglik, gets married to the tree, and therefore Anushka, and we are then told about her past, as a village belle in Phillaur, Punjab, who has a lover in Diljit Dosanjh. Diljit is a singer, and vows to travel the world to find his voice and prove himself, before returning to his love. She waits for him endlessly, ever since.
Meanwhile, Tim Burton and Mike Johnson's animated film Corpse Bride is about a man who was due to get married to girl he had never met before, but ends up fleeing the wedding and marrying a corpse bride instead. Because it's animated, the film celebrates the bride's 'deathly' looks (pun intended), and like a typical Tim Burton film, the tone is dark and comical as the same time.
Since the trailer of Phillauri released, there has been some news of the two films being similar.
The only thing common between the two films is that there exists, in both, a dead bride. In fact in Corpse Bride, she's dead, therefore she's closer to a zombie. Whereas in Phillauri, Anushka Sharma plays a friendly ghost who can't pass on due to a remaining desire to meet her long lost lover.
If Phillauri is being accused of plagiarising from Corpse Bride, it should also be accused of copying from Imtiaz Ali's Love Aaj Kal. Both films have two time zones — one contemporary, one in yesteryear India. Both flashbacks are treated with a sepia-tint to give it an old-world charm. Both protagonists of the flashback are turbaned: Saif in Love Aaj Kal and Diljit in Phillauri.
Doesn't make sense, right? Neither does the comparison between Phillauri and Corpse Bride, based on the premise that both have dead female leads.
It's like saying Kaabil and Daredevil are the same story because both have visually impaired leading men. Or that Neal n Nikki and Befikre should be the same because they both deal with the concept of two supposedly "wild" people unwilling to "settle down".
Ever heard of something called a plot, guys? It's pretty crucial to a film.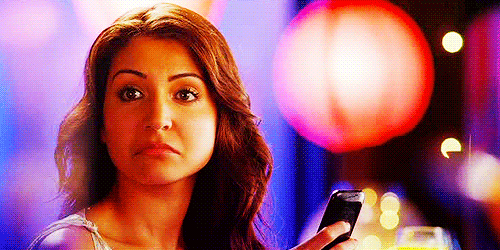 also read
Entertainment
For Fatima Sana Shaikh suffering from epilepsy was a struggle and it took her 5 years to accept it, but now she is okay and opens up on raising awareness about the same.
Entertainment
In Bloody Daddy trailer Shahid Kapoor is seen fighting drug lords and cops
Entertainment
Aryan Khan to set to make his directorial debut with Stardom