Humpty Sharma ki Dulhaniya review: A DDLJ remake that completely fails
Humpty Sharma ki Dulhania, to quote one of the film's better lines, is a '100% original fake' and you can't help wondering, for all its laughs, why anyone bothered to make this film when re-runs of DDLJ exist.
It's been almost 20 years since 
Dilwale Dulhaniya Le Jayenge
 was released. There is now literally a generation gap between one of Bollywood's most-loved romances and the present crop of romance-seeking young things. So yes, 
DDLJ
 could probably do with an update and Rakesh "Humpty" Sharma, Kavya Pratap Singh along with their friends and family are here to do just that.In the credits of 
Humpty Sharma ki Dulhania
, Humpty watches 
DDLJ
 with his friends. Everyone knows what's going to happen when Kajol is at the station and a bloodied Shah Rukh Khan stands at the door of a departing train. But there's our Humpty, watching the end of 
DDLJ
 with rapt attention and teary eyes. Not because he's had a sheltered upbringing but because he luuurves the film and because 
Humpty Sharma ki Dulhania figures
that it's best to clue the audience in early on to what it's trying to do: pay tribute to DDLJ.So what's different? Technically, quite a lot. Simran went to Europe because she wanted one last hurrah before submitting to the dungeon that is marriage. Kavya (Alia Bhatt) goes to Delhi. Why? Because she wants a designer 
lehenga
 (Manish Malhotra, to be precise).
Raj was a goofy, NRI kid who had a really rich and cool dad. Humpty (Varun Dhawan) is a goofy, middle-class Delhi boy, who has a really cool (but not rich) dad. Kavya's father is given a bit of a backstory and a little more to do than make the goggly eyes that Amrish Puri did.
While in DDLJ, the motto was "bade bade deshon mein chhoti chhoti baatein to hoti rehti hain", here in little Delhi apartments, some rather big things are revealed — like Humpty's pectoral muscles, which are so pumped and plump that you can't help feeling that he, rather than the slender Kavya, should be the one to cover his torso, to protect both his modesty and ours in the audience.
Leaving Dhawan's alarmingly over-developed muscles aside — his body is not ahead of the curve; it is the curve. In fact, it's every curve you can imagine. From back to bicep to nipple, everything in Dhawan's body that has a muscle attached to it, bulges — the reason we see Humpty's bare chest and Kavya's bare shoulders is that the two make love. Before she goes off to get married to another man. How's that for a last hurrah?
Following in Raj's footsteps, Humpty shows up in Ambala to steal his bride from her wedding. He tries to sneak his way into Kavya's home, but her father (Ashutosh Rana, doing his best impression of Amrish Puri) sees through Humpty's thoroughly stupid ruse. After some violence and lots of eyeballing, Kavya's daddy-ji makes Humpty an offer. Humpty has five days to hang around Kavya's husband to-be, Angad (Siddharth Shukla). If Humpty can find even one fault in Angad, daddy-ji will marry Humpty to Kavya instead. Otherwise, there's a train leaving from Ambala to Delhi, with a berth for Humpty.
And just like that, a house in Ambala becomes a bizarre mix of Bigg Brother and Splitsvilla.
Unfortunately for Humpty, Angad is pretty much perfect. The man can cook, he doesn't drink, he exercises and without his shirt, he looks like a Ken doll. What will poor Humpty do? How will this poor boy get his happy ending?
Shashank Khaitan's script has a lot of enjoyable little moments. It's a cheesy film, but one that delights in being cheesy. Humpty's two friends, Poplu and Shonty, are often adorable and very funny. Khaitan has introduced a divorcee sister whose failed marriage is the reason behind Kavya's acceptance of an arranged marriage. The relationship between Kavya's father and Humpty isn't based on fear, but a sense of kinship. Kavya, with her distinctly criminal streak, is much more fun than Simran was. Humpty as a character is an interesting idea: a young man who wants to live life according to DDLJ.
Unfortunately, the focus of Humpty Sharma ki Dulhania isn't upon the strengths in the script but upon following the formula by which Dharma Productions swears. The formula doesn't allow characters like Angad, Kavya's sister, Poplu and Shonty any development. So instead of spending time on the interesting relationships and characters, Humpty Sharma ki Dulhania is forced into the Dharma mould. This means there needs to be a wedding sequence, two fights (one in which the hero is beaten up, another in which hero does the beating up) and, of course, one running gay joke. There's a meta-black comedy in Dharma Productions delighting in caricaturish depictions of gay people.
It's also spectacularly unimaginative as far as the film's look goes. Bhatt as Kavya looks like an adopted child because she's got the good makeup and hair artists while the actors playing her family look like they did their own hair and make up. The cinematography and production design are painfully dull. The Ambala home could be a flat in Goregaon, for all anyone knew. In fact, at one point in the movie, we see Humpty take a train out of Ambala and then we see him sitting on a car, and for the life of me, I've no idea where that train took him. I thought he'd returned to Delhi, except two minutes later, Humpty leapt off the car and ran to Kavya's house. Which is in Ambala. Either Humpty is secretly Mister Incredible — they have the same body shape — or he took a train to nowhere.
There's not much that surprises you in Humpty Sharma ki Dulhania, except for when Humpty gets a Facebook alert on his phone that informs him Kavya has got married. He bursts into tears and it's a confusing moment because:
a) seeing Dhawan's face, you might for a second wonder if the projection room's messed something up and you're watching Dawn of the Planet of the Apes
b) who on earth updates their Facebook while doing their phera?
For most part, Humpty Sharma ki Dulhania is a fun, but bland and forgettable film. Its real failure is that this tribute to DDLJ doesn't have any characters or moments that stay with you. In its time, DDLJ was filled with clichés too, but it packaged them in situations that made them endearing, memorable and new. Humpty Sharma ki Dulhania, to quote one of the film's better lines, is a "100% original fake" and you can't help wondering, for all its laughs, why anyone bothered to make this film when re-runs of DDLJ exist.
Entertainment
Photo-Prem is a funny, quintessential take on what we leave behind for memories but quickly loses potential with half-baked writing and slow pace.
Entertainment
Time to Dance is pulled down by its unexceptional story, prosaic dialogues and colourless performances by the leads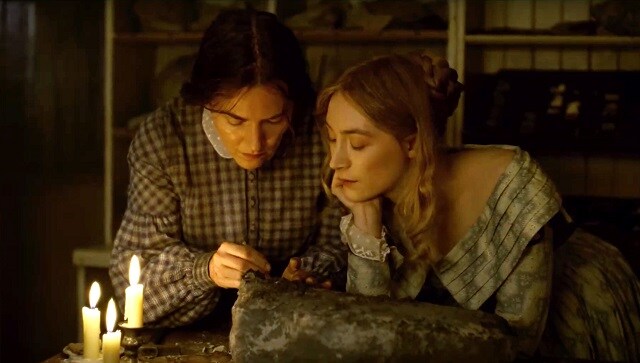 Entertainment
Ammonite suffers from a slowness, that intends to mimic the pace of life, but does not build or culminate into anything profound or satisfying.