How To Train Your Dragon: The Hidden World— GOT star Kit Harington auditions with Toothless in spoof video
In the video, Kit Harington is seen fake auditioning with Toothless for a part in Game of Thrones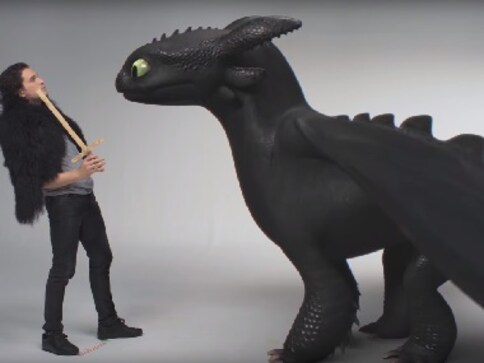 One may have thought that Kit Harington's ability to fraternise with dragons was only limited to the ones owned by Daenarys Targaryen's, but the Game of Thrones actor has now proven that he can act with any variant of the long-extinct creature.
As a part of a promotional campaign for his forthcoming film How To Train Your Dragon: The Hidden World, Harington who plays Eret in the film, is seen in a spoof video, auditioning for a part in an 'untitled fantasy TV drama' in 2010. Alongside Harington is Toothless, the beloved dragon from the How To Train Your Dragon franchise.
In the 'fake' audition tape, Harington is seen taking digs at this Game of Thrones character Jon Snow, reciting certain dialogues from the HBO fantasy show to elicit response from Toothless. As Harington wonders how he was brought back to life in GoT, the goofy dragon sits beside the confused actor to counsel him.
Aaprt from Harington, the film also voice stars Cate Blanchett, Jonah Hill, America Ferrera, Kristen Wiig, TJ Miller, Gerard Butler and Christopher Mintz-Plasse.
The highlight of this Dean DeBlois directorial seems to be a budding romance between Toothless and a never-seen-before, fire-spitting female dragon, Night Fury whose special powers include looking radiant and disappearing into thin air whenever she wants.
The How to Train Your Dragon film franchise is set to come to its end with its third installment, which hits the theatres on 1 March, 2019. On the other hand, the eighth and final season of Game of Thrones will be premiering in April.
Watch the video here:
Entertainment
'I made a lot of mistakes. But I've always told the truth," said Amber Heard in her first post-verdict interview about Johnny Depp.
Entertainment
Sony Pictures Entertainment India releases Bullet Train on August 5th in English, Hindi, Tamil and Telugu.
Entertainment
Watch superstars Ariana Grande and Jennifer Hudson bring the house down in Zee Theatre's Hairspray Live.