How KGF's success widened the market for crossover films, and put Kannada cinema on national pedestal
The success of Kannada film KGF, which was released in Hindi, Tamil, Telugu and Malayalam, has proved that audiences are keen to accept crossover content.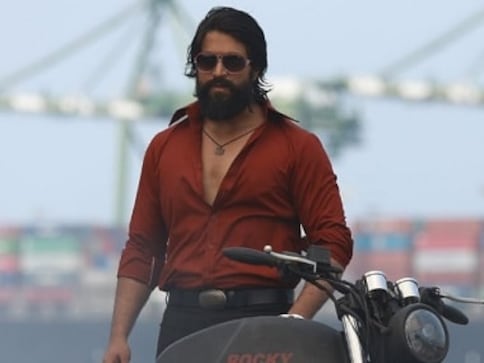 It all started with the pan-India acceptance of SS Rajamouli's Baahubali franchise in 2017. The success of superstar Rajinikanth's 2.0, which was also released in Hindi, paved the way. Now, the success of Kannada film KGF, which was released in Hindi, Tamil, Telugu and Malayalam, has proved that audiences are keen to accept crossover content and that going beyond your core audience is the way forward.
As Yash starrer KGF is inching close to joining the Rs 100 crore club, it's worth mentioning that the film stood its ground at the box-office despite the onslaught of Shah Rukh Khan's Zero and over half a dozen southern releases.
According to trade analyst Taran Adarsh, Hindi version of KGF has witnessed an upward trend with each day since its release. He wrote on his twitter page: "KGF continues its upward trend Day 5 is bigger than Day 1, Day 2, Day 3 and Day 4 which is a rarity." As of Monday, the Hindi version has netted Rs. 16.45 crore.
Yash told Firstpost that he believed KGF will be accepted despite competition. "The success of Baahubali gave us the confidence to go pursue the idea of releasing the film in multiple languages. Also, we believed we had a universal story with a very strong emotional core. Irrespective of the language, when you capture the emotions right, your film will work. When we decided to release the film in multiple languages, we invested more money and mounted it on a scale to match international standards."
Yash added that the response they received for the film's trailer across languages assured them that they were on the right track. "The response for the trailer came as a sigh of relief. We knew we didn't do anything wrong and that we were on the right track. Getting associated with Farhan Akhtar's Excel Entertainment meant we'd get a wide release. It was very important that we had the right presenter in each language to have a good release."
In its opening weekend, KGF minted around Rs 60 crore across languages worldwide. In the US, it has emerged as the highest grossing Kannada film with $400K in earnings and counting.
According to independent producer and film critic Harish Mallya, KGF has put Kannada cinema on national pedestal.
"It's a tried-and-tested tale of one man's rise against all odds. But what really differentiates KGF from other Kannada films is the scale on which it has been made and for that effort it needs to be appreciated. With KGF, a lot of people will now identify Kannada cinema and that's something to be really proud of," Mallya said.
In Tamil Nadu, despite the release of five latest Tamil films, KGF is holding a good number of screens. A leading distributor on the condition of anonymity said that KGF may not be able to repeat the success of Baahubali in TN, but it's sure to open the doors for Kannada cinema.
"Post KGF, the general perception about Kannada cinema in general will change. Tamil audiences will now be more open to Kannada content. The response has been very positive for KGF as it's still holding strongly in cinemas and this has a lot to do with its grand visuals and scale," he said.
The nation-wide recognition for KGF is sure to benefit the next big Kannada release Kurukshetra, which has already been planned to be released in Hindi, Tamil, Telugu and Malayalam.
A historical based on the epic Mahabharata, Kurukshetra stars Darshan, Ambareesh, Arjun Sarja, V Ravichandran, Nikhil Kumar, Bharathi Vishnuvardhan, Sneha, Hariprriya, Meghana Raj and P Ravi Shankar among others. It is rumoured to be made on a budget of Rs 75 crore and likely to be released in 3D.
"As an industry, we're now being embraced universally. Our films are no longer restricted to Kannada audiences. Kurukshetra is the reinterpretation of Mahabharat from Duryodhana's point of view. It's a story that'll appeal to all kinds of audiences and has elements that'll work internationally as well. That's why we are planning to release the film in multiple languages," Naganna, director of Kurukshetra, had told Firstpost.
Kannada superstar Sudeep's next big outing Pailwan is said to be released in seven languages as well.
Entertainment
This series will be a tribute to the unsung heroes of the Bhopal gas tragedy that took place in the year 1984.
Entertainment
Lamhe's lead women, both played by Sridevi in a double role, dared to desire at a time when females largely played objects of desire on screen. They did not wait to be chosen. They chose instead.
Entertainment
Saif Ali Khan on replacing Abhishek Bachchan in Bunty Aur Babli 2: "I was told it is a different movie and it is not the same character (that Bachchan played). Aditya Chopra obviously knows what he is doing, so my character has been tweaked because I was playing it."