How Dilip Kumar and Shah Rukh Khan's camaraderie goes way beyond photo opportunities
Shah Rukh Khan's recent visit to check on the health of the 94-year-old Dilip Kumar brings to mind the sweet bond that the two have shared over the years.
Shah Rukh Khan's recent visit to check on the health of the 94-year old Dilip Kumar, upon the latter's return after spending a few days in the hospital for some kidney related problem, brought to mind the sweet bond that the two have shared over the years.
The thespian and his wife, Saira Banu, have publicly expressed their love for Shah Rukh Khan on numerous occasions and in fact, have even said that SRK is the child that they would have loved to have.
Besides having a few things in common with the younger Khan — including the same number of Filmfare awards for the Best Actor, eight to be exact, and both playing Devdas at some point in their careers — Dilip sahab's fondness for Shah Rukh Khan also mirrors the manner in which he has interacted with some of the superstars who followed him.
Dilip Kumar's influence on Indian cinema is peerless and this influence extends beyond acting prowess. It was Dilip Kumar's persona that inspired more than a few generation of actors such as Manoj Kumar, Rajendra Kumar, Dharmendra and Amitabh Bachchan, and almost every single one of them famously modelled certain aspects of their craft on Dilip Kumar.
In Manoj Kumar's case, he even took his screen name 'Manoj' after a character that Dilip Kumar portrayed in one of his films, Shabnam (1949). Dharmendra often mentions that even though he came to (then) Bombay to try his hand at acting, meeting Dilip Kumar was perhaps a bigger draw for him. During the shooting of one of his initial films in the late 1950s, Dharmendra met Dilip Kumar's sister, and thanks to her ended up spending an evening at Dilip Kumar's residence. Late in the night when Dharam ji was leaving, Dilip Kumar gave him a sweater as it had been raining, and to this day, the sweater is a prized possession for the former.
Later the emergence of Rajesh Khanna as the new superstar coincided with the period where Dilip Kumar had considerably reduced his output, but even then the public interaction between Dilip Kumar and other leading men, such as Khanna and later Amitabh Bachchan, was the same. It's not just Hindi films where Dilip Kumar's impact, both as an actor and an elder, was felt. His friendship with the iconic Sivaji Ganesan, and later his influence on a Kamal Haasan, is also well documented.
Dilip Kumar once mentioned in an interview that whenever any new star emerged he would follow the choices they made vis-à-vis the roles that would have been offered to them and found that he could gauge the longevity of said actor based on this.
Besides Amitabh Bachchan, with whom he featured in Ramesh Sippy's Shakti (1982), Shah Rukh Khan is perhaps the only other actor from a later generation to have impressed Dilip Kumar immensely. Although Dilip sahab never worked with Shah Rukh Khan, the manner in which the thespian warmed up towards the Khan was more than apparent. They came close to being featured together in a project when Subhash Ghai had announced Motherland, but like Ghai's attempt to work with Bachchan (Devaa), this one also never materialised.
It would have been interesting to see the two Khans together and the prospect was almost as enticing as the chance of getting to see Kamal Haasan and Dilip Kumar share the screen; Haasan was the initial choice to portray Anil Kapoor's role in Yash Chopra's Mashaal (1984).
On the face of it one would hardly doubt that Shah Rukh Khan has fashioned his career on Amitabh Bachchan's, and the initial negative roles in Darr (1993) and Baazigar (1993) mirror Bachchan's breakthrough performances in Parwana (1971) and, to an extent, Namak Haraam (1973).
But there is a lot of Dilip Kumar also in Shah Rukh Khan's choices.
Of course, the comparison between the two in interpreting Devdas in Bimal Roy's 1955 version and the 2002 Sanjay Leela Bhansali adaptation is obvious and while on the subject, let it be known that there can never be a true juxtaposition of the two (for this writer Dilip sahab's version far outshines SRK's). The closest Shah Rukh Khan has come to openly attempting to rekindle Dilip Kumar is not in Devdas but Hum Tumhare Hai Sanam (2002).
Although it was a reinterpretation of Aap Ki Kasam (1974), Shah Rukh Khan tried to emulate Dilip Kumar from Andaz (1949) more than Rajesh Khanna from Aap Ki Kasam.
More than the past, is it the future where Shah Rukh Khan needs to model himself on Dilip Kumar?
Intriguingly at 52, Khan is just seven years younger than what Dilip Kumar was at the time of Shakti, the film which initiated a second innings of sort for the legendary actor. Beginning with Shakti, Dilip Kumar enjoyed few of his best later career roles in Mashaal, Duniya (1984) and Karma (1986) where he was the 'hero' but not the leading man. Following the abysmal box-office performance and the critical panning of Jab Harry Met Sejal (2017), Khan might be tempted to consider the third Don or the second Om Shanti Om, but probably a Dilip Kumar-esque foray into mid-career roles could be the  answer to many of Shah Rukh Khan's troubles.
Entertainment
Love Hostel, directed by Shanker Raman, traces the volatile journey of a young couple being hunted by a ruthless mercenary.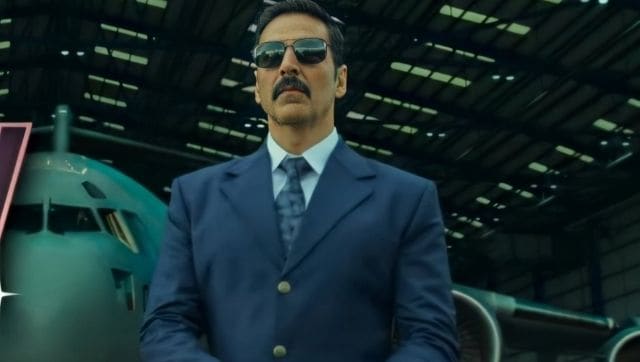 Entertainment
Other announcements include Jodie Whittaker leaving Doctor Who in 2022 and TV actor Drashti Dhami joining the ensemble cast of Nikkhil Advani's The Empire series.
Entertainment
On Tuesday, a magistrate's court in Mumbai had remanded Raj Kundra in judicial custody for 14 days.