Hotel Milan trailer: Kunal Roy Kapur's attempts to spread young love is met Jaideep Ahlawat's vigilantism
Hotel Milan is set to release on the 14 September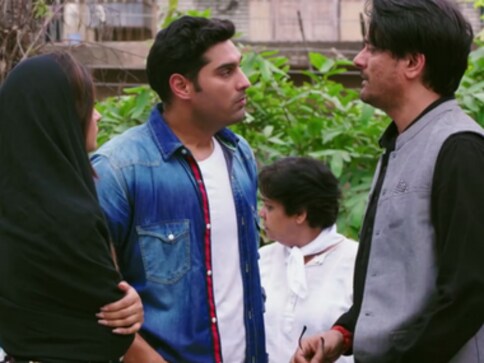 The upcoming Vishal Mishra directorial already created a buzz with its controversial premise of going up against the Anti-Romeo squads, popularised by the Uttar Pradesh Government.
Featuring Kunal Roy Kapur, Karishma Sharma, Jaideep Ahlawat, Zeishan Quadri, Rajesh Sharma and Zakir Hussain in pivotal roles, Hotel Milan promises an interesting plot-line.
Shot in Uttar Pradesh, the film takes a stand against anti-Romeo squad and political hooliganism in a northern state. Amidst the strict rules against hotels allowing unmarried couples to check into same hotel rooms, friends Vipul (Kapur) and Saurabh (Zeishan Quadri) have an idea of starting a venture that charges its guests on an hourly basis.
Sprinkled with a generous dose of humorous one-liners, the trailer touches upon the lives of feisty young couples, (primarily that of Vipul and Shaheen) and their hopelessness in trying to locate spaces which would allow them an opportunity of expressing the love that they feel for the other.
Just when things seem smooth, in walks, Ahlawat's Goldie Kaushik, member of the Aam bhakt party's Youth Wing and the Anti-Romeo Squad. He tries relentlessly to jeopardise the friends' 'enterprising' dreams of running the hotel successfully. Kaushik manages to instill angry, threatening glances which remain impactful within the otherwise light-hearted, satirical narrative. Kapur's Vipul is purposeful yet vulnerable, immediately connecting with the audiences.
Hotel Milan is set to release on the 14 September.
Entertainment
SIYA is the first directorial venture by Manish Mundra, the corporate leader turned film producer responsible for acclaimed films like Masaan, Ankhon Dekhi and Newton.
Entertainment
"His eyes are really expressive, deep & there is something very pure": Kriti Sanon on her Adipurush co-star, Prabhas
Entertainment
MiMi fame Kriti Sanon thanks her fans on Instagram after crossing 50 million followers on Instagram. Here's a look at some of her fitness videos.