Hook up already! Fans flood Marvel with requests for a Captain America, Bucky romance
#GIveCaptainAmericaABoyfriend is trending on Twitter, and fans want the superhero to hook up with best friend Bucky aka The Winter Soldier
It seems all of Twitterverse (and Facebook as well, for good measure) has just one thing on its mind — and that is to find Captain America a boyfriend.
After #GiveElsaAGirlfriend (a move to get Disney to take Frozen's lead character lesbian) trended on social media, it was time for #GiveCaptainAmericaABoyfriend to gain some traction.
Even as the hashtag that pleaded for the all-American superhero to find love did the rounds on Twitter, many used the occasion to further the popular theory that the good Captain already had a boyfriend — and that his name is Bucky.
#GiveCaptainAmericaABoyfriend and a kiss under the rain, and a wedding, and a millionaire who loves him no matter what because it's worth it

— латентный каратель (@antilashden) May 25, 2016
We saw that #GiveCaptainAmericaABoyfriend was trending on Twitter and thought... doesn't he already have one?https://t.co/ZxxrGXl4Os

— BBC Three (@bbcthree) May 24, 2016
Twitterati posted snapshots from the Captain America movies, of the superhero with his friend and rival Bucky aka the Winter Soldier. Some also shared snippets of actors Chris Evans and Sebastian Stan from press conferences, to prove that theirs was a love that was meant to be.
The wit flowed long on Twitter, and we were only too happy to keep scrolling through our feed for the funniest!
#GiveCaptainAmericaABoyfriend bc your "bro" doesn't look at you like he wants to kiss you and never let go pic.twitter.com/B0GUxB9pH2

— wiener soldier (@hannibaltrash) May 24, 2016
#givecaptainamericaaboyfriend
cAN WE JUST pic.twitter.com/1xJXmvVTIm

— civil war rekt cal (@irwinsxchuckles) May 24, 2016
If this isn't true love, Twitter seemed to say, we don't know what is:
HE WILL ALWAYS CHOOSE BUCKY pic.twitter.com/udFUpMyutD

— winter soilder (@stucky_shipper) May 24, 2016
Here's a Lego Captain America and Bucky pair we found particularly cute:
Good Captain, I have brought you a magnificent gift #GiveCaptainAmericaABoyfriend pic.twitter.com/OjgK8r0GZL

— Lego Loki (@Loki_Lego) May 24, 2016
And the definitive proof:
Now you see why fans don't believe Cappie when he says: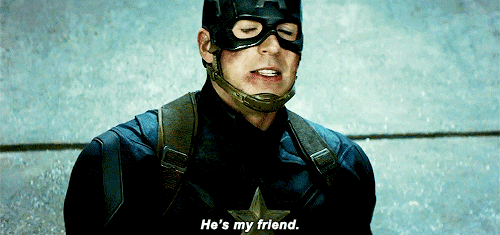 Of course, even if Marvel was to suddenly bestow couple status on Captain America and Bucky, they wouldn't be the first superheroes to come out as gay or bisexual. Northstar, Iceman are superheroes who've had highly publicised 'coming outs', while a hook-up between Wolverine and Hercules was hinted at in an alternative storyline last year.
If Bucky and Steve don't get the happy ending that Twitter wants and expects, they will join another popular superhero pair that was believed to be more than just good friends (or crime fighting partners). We're talking about Batman and Robin of course, to whose sexuality a tremendous amount of literature, both serious and lighthearted, has been devoted.
We'd like to believe that in a cave, far, far away, a caped crusader is looking at #GiveCaptainAmericaABoyfriend and doing this:
Entertainment
"Dylan is — and I can say this in equal parts for my feeling about her as a person and as an actress — as uncontrived as it gets," says Sean Penn.
Entertainment
The final episode of Marvel's Loki featured lots of twists and turns, and paved the way for Kang the Conqueror's initiation into the MCU.
Entertainment
The final chapter of Loki's solo adventure will premiere on Disney+ Hotstar Premium and Disney+ Hotstar VIP today.