Holi and harassment: Re-imagining popular Bollywood songs to be more consent-friendly
From Balam Pichkari to Badri Ku Dulhania, celebrated Holi songs in Bollywood have always ignored consent in their lyrics and depiction.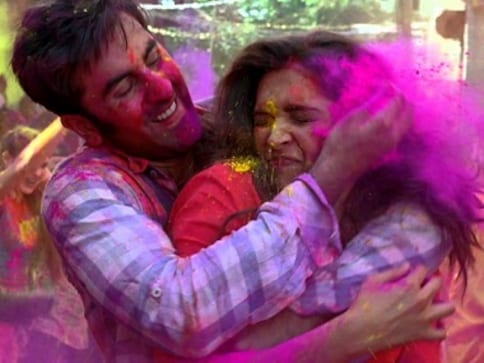 On Wednesday, 28 February, as the world was mourning the untimely death of Sridevi, multiple students from Lady Shri Ram college in Delhi University brought to light a series of balloon-flinging incidents, where semen-filled balloons were hurled at women around the college's area in South Delhi.
Several women took to social media to share their accounts, and the student's union of LSR also reached out to Delhi police to register a complaint.
"As incidents of throwing semen-filled balloons at LSR students was brought to the notice of the students' union, we have formally requested for increased police patrol in the college vicinity This will be in effect from February 27," the union said in a statement, as reported by Hindustan Times.
Since then several activist groups, and fellow colleges have stepped up in protest of the "normalisation of harassment" around the festival of Holi.
If you're a woman who grew up in Delhi in the 90s, this would hit home hard; because the phrase "bura na maano holi hai" has been extracted to its maximum potential in the city.
Being hurled with semen-filled balloons is not new for college-going and/or working women in Delhi. Along with eggs and old daal, being flung with balloons filled with curd/buttermilk is also a common sight around March. Even within your social circle, you'd notice the abandon with which some of your "acquaintances" would apply colour on your face, taking extra time to maintain contact.
But what do you do on the day of Holi? On a day when so many people claim to have the right to throw balloons and buckets of water (is it water though?), and grope and touch without consent? What do you do when you are asked to "have some fun and stop being uptight"?
Traditionally, Holi is a fun-filled festival, where teasing and playful banter is common. If you've celebrated Holi before, your memories of the day would include buckets of water being thrown at you when you are least ready; pichkaaris filled with coloured water being pumped at you; and sometimes being dunked into tanks of water — all in the name of fun.
I won't lie; some of it is fun. Not every act of playing Holi amounts to harassment, but the (thin) line between playful banter and harassment is becoming increasing confusing, especially given the depiction of the festival on the big screen. The most popular Holi songs from Bollywood are filled with lyrics that promote stalking, harassment and rape culture. Take one of the most famous songs on Holi, "Aaj na chodenge humjoli... khelenge hum holi" from Kati Patang; it has the inherent vibe of "no matter what happens today, I am going to douse you with colour."
As I went down a rabbit hole of Holi songs on Youtube, I realised that this was not limited to a few songs. Consent was an invisible concept in all of them.
From 'Balam Pichkari' to 'Badri Ki Dulhania', celebrated Holi songs in Bollywood have always ignored consent in their lyrics and depiction. As if to say no, or "I'm not in the mood" is just not an option. Taking it a step further, said harassment is glorified, danced to and promoted with pomp and splendour. But beyond the catchy beats and easy-to-sing-along-to lyrics, there is a need to look at the words being said, and what they promote.
As someone who loves Holi, how do you celebrate it while being respectful of consent and boundaries? Can you have fun without the inherent knok-jhok that is associated with the festival? These are questions that need to be discussed.
And so, in pursuit of respecting consent, we at Firstpost have listed down problematic Holi songs, with lyrics that could easily be classified as harassment. Can these popular songs be re-imagined as more respectful of the women being picturised? Yes they most certainly can. Here we pick four popular Holi songs, and deconstruct them to make it more consent-friendly.
Badri Ki Dulhania
A foot-tapping track that's more a declaration of love, and less a song about Holi, there is a sense of entitlement and ownership in the song that can make you queasy. It's not in the picturisation or performances (by the talented Varun Dhawan and Alia Bhatt). If you dissect the chorus lyrics carefully, this is what the title character is saying:
Tujhko bana kar ke,
Tujhko bana kar ke,
Tujhko bana kar ke le jayenge, Badri ki dulhania
(I'm going to make you mine, and take you away as my wife)
But what happened to asking her what she wants, Badri?
Here's the re-imagined version:
Tujhko request karke
Tujhko request karke
Tujhko request karke poochenge, will you be my dulhania? 
(I will request you to be my dulhania)
Balam pichkaari
In the film Yeh Jawani Hai Deewani, this song comes at a point when the four friends (played by Ranbir Kapoor, Deepika Padukone, Aditya Roy Kapur and Kalki Koechlin) are getting to know each other and having much fun in the process. And so playfulness is the reigning mood in the song.
However there is one line that stands out in terms of crossing the above-stated line. In the second verse, Ranbir Kapoor's character sings:
Kyun 'No-Vacancy' ki, hothon pe gaali hai, jabki tere dil ka, kamra toh khaali hai
(Why do you keep repeating "no vacancy" when there's a room in your heart that's free?)
In the re-imagined version, Ranbir Kapoor's character would ideally say:
Kuch na mein karoonga, Kyon stress hai leti hai, Bahar aa jaana tu, 'gar holi khelni hai
(Don't stress, I won't do anything, come outside if you want to play Holi) — now that's more like it.
Do me a favour.. let's play Holi
Since this song has a request in its hook line (do me a favour...) it can be perceived as one of those rare songs that isn't problematic.
However, if you watch the video, you'll see Akshay Kumar flinging Priyanka Chopra, looking smug at the idea of putting colour on her, and constantly touching her choli, even though she says, "ja re ja don't touch my choli".
It can be argued that these two characters are married in the film, and they should be allowed to do whatever rocks their boat, but in the interest of consent, we think it's important to re-iterate: No means no. Even if you're married.
The only response to ja re ja don't touch my choli should be, okay. 
Ang se ang lagaana
This song from the Shah Rukh Khan starrer-Darr would have been a nightmare to shoot what with the constant ramming against each other (they're supposed to be hugging. Go figure). It's a song in a film that has harassment and stalking at its core, so you would think they would use any excuse they have to reiterate consent. But that is not the case.
One particular line in the verse stands out. Tanvi Azmi's character sings to her husband (Anupam Kher): "Upar upar rang lagaiyo, no kariyo kuch neeche (Apply the colour only on the exterior, do not go beyond that)."
To which, Anupam Kher's character says, "Mooh se kuch na bol, khadi reh chup se aankhiyan meeche (Don't talk, just keep quiet and lower your eyes)." They, then, proceed to corner a woman and claim nobody should be allowed to leave. The woman on whom this scene is picturised looks positively mortified.
This is a tough song to re-imagine, but here's an option:
Tanvi Azmi:  "Upar upar rang lagaiyo, na kariyo kuch neeche"
Anupam Kher: "Upar upar hi rang laaonga, kuch na karunga neeche"
Now was that so hard? And if the neighborhood lady wants to leave, let her go.
This Holi have fun, play safe and remember, no means no.
also read
Entertainment
For Fatima Sana Shaikh suffering from epilepsy was a struggle and it took her 5 years to accept it, but now she is okay and opens up on raising awareness about the same.
Entertainment
In Bloody Daddy trailer Shahid Kapoor is seen fighting drug lords and cops
Entertainment
Haesoo, a 29-year-old Korean trot singer, has died by suicide recently, leaving behind a suicide note. The star- world is not so 'starry' as you think it to be. It has its own set of hurdles