Hold the Dark movie review: Netflix's bone-chilling mystery effectively combines horror with social issues
Netflix's Hold the Dark is a polarising film – some of the creative decisions are going to enrage people while the rest are going to cheer its audacity
For all the evolutionary advantage that they possess, are human beings devolving as a species? What exactly separates man and an animal when a proclivity towards violence is common in both? How far would you go to hunt the one who took away someone you loved? How do you deal with isolation, and would you leave your loved one in an isolated place no matter how important it was to do so? Are you prepared to deal with the consequences of segregation eating away your loved one's mind? Would you forgive them if they acted out in frustration? What exactly is the threshold point that defines that an animal, and not a man committed a horrific act?
Hold the Dark rolls into themes like these with icy, bone-chilling austerity and creepy, metaphorical diversions, taking you on a very bleak journey with an ending that can only be described as pyrrhic. This is, of course, the new film from a renegade team of writer Macon Blair and director Jeremy Saulnier (Blue Ruin, Green Room) who treat cinematic rules like hungry wolves treat juicy prey. There is nothing that you can predict in this film as it keeps popping up murky surprises, balancing its fairly high shock value with deeply meaningful commentary to keep the narrative from federalising into schlock. As a result, there is nothing linear or mainstream in what is ultimately a brutal psychological exploration that belongs in the same sub-genre as Denis Villeneuve's Enemy.
The less you know about the story, the more you'll enjoy the shady revelations that it offers. It's 2004, the time before cellphones. A writer and wolf expert named Core (Jeffery Wright) makes a journey to a remote town in Alaska at the behest of a local resident named Medora (Riley Keough). Her husband Vernon (Alexander Skarsgard) is away serving in the Iraq war and her child has been taken by the wolves. It's up to Core to find the pack of wolves and hope the kid is still alive.
The most interesting aspect of Hold the Dark is its ambiguity and its ability to challenge the audience into paying more attention. This is absolutely not a film for those who want information spoon-fed to them, so props to Netflix for having the courage to back such an unusual thriller and believe in Saulnier's creative freedom. More than a film, it works as a puzzle, one that doesn't solve easily, leaving ultimate interpretation to the viewer. We're faced with the understanding that not everything that's happening is literal, as Core's predicament becomes murkier, and the introduction of some new characters with machine guns ensure the noxious hits dangerous levels. It is, ultimately, also a diatribe against dehumanisation and the ease with which any life can be taken once you mix up toxic emotions like wrath and mercy, compassion and the volcanic drive to protect the ones who matter to you the most.
This is also a fantastic looking picture – DOP Magnus Nordenhof Jønck's cold, dreary atmosphere juxtaposed with animalistic gore and unexpected violence makes your skin crawl. There is a sequence where someone wears a wolf mask and emerges from a dark, cavernous room, and looks right at you. It's an indelible scene, only made more powerful by a moment much earlier in the film that is cleverly placed as foreshadowing. It's clear that Saulnier and Blair worked extremely hard to register horror with an undercurrent of social issues, focusing on the interpretational qualities of the greys rather than the abject blacks.
Hold the Dark is also a rare film that is ripe for discussion and arguments – some of the creative decisions are going to enrage people while the rest are going to cheer its audacity. The tone of the film almost feels like Saulnier's pitch for his upcoming True Detective Season 3; let's hope he can maintain quality crossing over to TV. But for now do yourselves a favor and watch this film – it's an artsy, high quality one, bathed in shadows, creating a remarkable world of society imposed quarantine that adds to the mystery at hand. And if this is the route Netflix is going to take in bringing in prestige pictures, we're in for a very snug,  cinephile-friendly future.
Hold The Dark is streaming on Netflix worldwide.
Find latest and upcoming tech gadgets online on Tech2 Gadgets. Get technology news, gadgets reviews & ratings. Popular gadgets including laptop, tablet and mobile specifications, features, prices, comparison.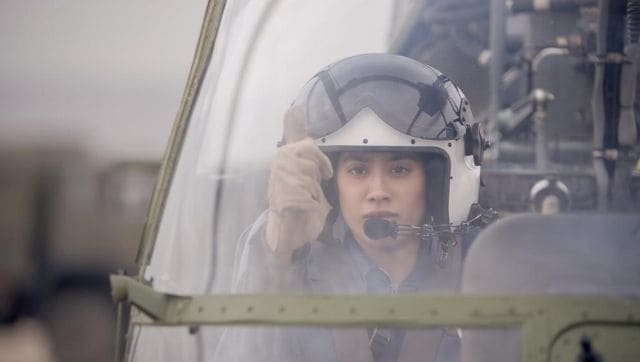 Entertainment
Gunjan Saxena: The Kargil Girl is based on the life of IAF officer Gunjan Saxena who became the first woman pilot to take part in the 1999 Kargil war.
Entertainment
Chamm establishes a truth about today's Punjab with every frame: that this Punjab is not "grand" anymore, it is organically deprived.
Entertainment
Pareeksha is a heart-rending account of a poor rickshaw puller determined to help his son escape poverty by giving him the best education available in the city