Hichki is no sob story: Rani Mukerji is sassy, spirited in this inspiring underdog tale
In Hichki (which has been made at an impressively restrained budget of Rs 20 crore), Rani Mukerji plays a school teacher with Tourette Syndrome, a neuro-psychiatric disorder that results in multiple motor tics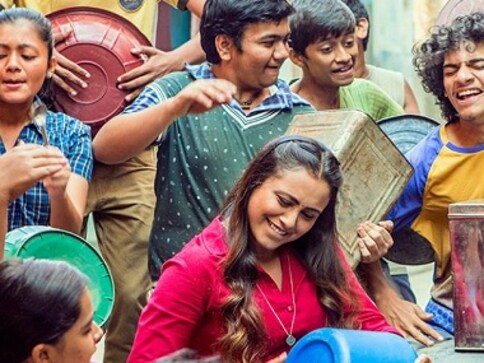 Thankfully, nobody is calling Rani Mukerji's Hichki a "comeback". It could be because she never really left or it could also be that we're opening up to the idea that a maternity break is not really the end of an actor's career. Either way, Rani is back on the big screens and it suddenly feels like the early 2000s again.
In Hichki (which has been made at an impressively restrained budget of Rs 20 crore), Rani Mukerji plays a school teacher with Tourette Syndrome, a neuro-psychiatric disorder that results in multiple motor tics. The plot of the film is not only focused on the rise of an underdog (namely Rani) but how she overcomes being a teacher to difficult, rebellious students.
That Rani is a naturally gifted actor is well known. However, in a time when we are still referring to films where the female character takes centrestage as 'women-centric' (a case of maximum otherisation), it is a pleasant change to have a breezy film like Hichki hit theatre screens without the romp and rattle of being unique for centering around a woman. It's giving me Tumhari Sulu vibes, and that can only be a good thing.
Unlike a Taare Zameen Par, or other films that deal with sensitive topics like neurological or psychological setbacks, Hichki sets a light tone right from the beginning. The opening sequence establishes her condition (Tourette Syndrome) and shows no signs of emotional manipulation or sympathy. Rani is effervescent as an aspiring teacher who tries to land a job in spite of having Tourette. Positivity can be seen in her face even when she's not saying anything. Watching Rani play Naina Mathur can only bring about a deep sense of nostalgia. This is a talented face we've seen since the '90s. Supriya and Sachin Pilgaonkar play her parents, and words like "normal" and "this condition" are throw around but without any judgment. Rani tries her best to practice "normalcy", but as the first few moments unfold, we are shown how exactly it feels to live with Tourette.
After many rejections as a child and as an adult, she finally gets a job in the same school that she studied in. This is a school that gave her a chance at "normalcy" as a kid. However, as a teacher, she's given the task of handling the most notorious bunch of 14 kids in the school. As the principal of the school says, "There's nothing normal about them."
It is Rani's sass as Naina Mathur that takes Hichki forward even in the sympathetic moments. When one of the board members of the school asks her how she'll manage as a teacher with a speech defect she says, "It's a speech defect not an intellectual one".
The vibe of the film is inconsistent, and this glaring 'hichki' can be felt throughout the film. In parts, it is funny and in parts it gets very dramatic. Naina Mathur's main aim, by mid point, becomes to prove to the school that her kids are not miscreants and can be eligible to be prefects or model students. She takes it as a challenge to make sure her children score a 90 percent in the final exams.
What we're missing in this brave, sporadically engaging film is a childlike innocence that films like Dead Poets Society or even Rockford had. Instead, Hichki is Rani's baby. The entire burden of the film is put on her shoulders — from the sassy bits, to the dramatic ones. It would have been nice to add some sub plots and regular intervals of comic relief. However, Hichki is shot well, and the background score adds a certain charm to the film.
Hichki would be incomplete without the talented performance of Neeraj Kabi. He starts off by playing the antagonist and ends up teaching us all a thing or two. Speaking of which, performances are the strong suit of this film. One can sense the careful deliberation with which each actor has played their part, and added to the endearing charm of Hichki.
True to its name, there are some flaws in the film: it could have been a tighter story, and by the end of the second half the plot points seem to drag, and feel forced; the tonality of the film is confusing — does it want to be a drama or a slice-of-life, or an inspiring black sheep story? However, ultimately you will walk out of Hichki with a smile on your face. Because everything else apart — Rani Mukerji is back in our lives.
also read
Entertainment
In Bloody Daddy trailer Shahid Kapoor is seen fighting drug lords and cops
Entertainment
Just after her wedding Swara Bhasker completes the filming for her next 'Mrs. Falani' Mrs. Falani is real special film.
Entertainment
Kangana Ranaut claims that she is the only Bollywood actress who has demanded and got equal pay. Other actresses were ready to work for free.