Hey Jude teaser: Trisha, Nivin Pauly star in this feel-good, slice of life film
Hey Jude stars Nivin Pauly as a happy-go-lucky guy with the goofy Trisha cast as her neighbour-cum-best friend-cum-prospective girlfriend.
The Hey Jude teaser, starring Nivin Pauly and Trisha, is now out and Trisha's much awaited Malayalam debut gives the feels of a super cute drama.
In the first glimpse of the film, we are introduced to Jude, played by Nivin Pauly, and the all the various people of his life. Among the many family members and weird neighbors is Trisha, who plays the role of Crystal Ann Chakraparambu, Jude's best friend.
Nivin Pauly seems to play the role of a fun yet nerdy boy whose life revolves around his pet Figo and his best friend Crystal, apart from his darling of a mother and confused sister Andrea. With Ousepachan's breezy background score, Hey Jude seems to be one of those feel good Malayalam stories with a lighthearted take on life and relationships.
Trisha, on the other hand, plays the goofy best friend, and stars opposite Nivin Pauly's role of Jude.
After 15 years in the Tamil and Telugu industry, Trisha finally takes on Malyalam with Hey Jude and the actress claims this one to be one of her most special films.
#HEYJUDE❤️ #teaser #oneofmymostspecialfilms #lovedosentneeddefinition pic.twitter.com/uRljK3uzMq

— Trisha Krishnan (@trishtrashers) December 20, 2017
Now, will Jude and Crystal remain just best friends? Or will love blossom between the two? We can't wait to watch. But for now, Hey Jude manages to give the audience a preview of something super fun loving.
Directed by Shyamaprasad Rajagopal, Hey Jude will hit the screens early next year.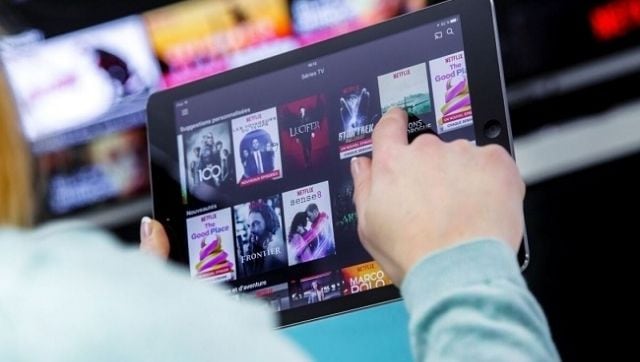 Entertainment
The recently-formed Digital Publisher Content Grievances Council currently has 14 publishers of online curated content as members, which include Amazon Prime Video, Hoichoi, Hungama, Lionsgate Play and Netflix, among others.
Entertainment
Based on The New York Times' best-selling novel. Nine Perfect Strangers will premiere exclusively on 20 August.
Entertainment
The Hong Kong government now have the power to ban films from exhibition to "prevent or suppress any act or activity endangering national security," it said in a statement.