Hellboy trailer: David Harbour's red-skinned half-demon gets ready to take down Milla Jovovich's Blood Queen
The Hellboy trailer teases a more light-hearted version of the Dark Horse Comics hero but also promises plenty of otherworldly action.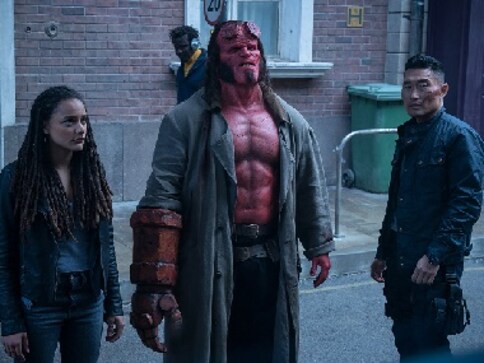 The red-skinned, gun-wielding, cigar-chomping half-demon is back in the new Hellboy reboot. The first trailer for the film based on the Dark Horse Comics character of the same name was released on Wednesday.
The third film in the comic adaptation franchise previously helmed by Guillermo del Toro finds Stranger Things star David Harbour taking over the titular role from Ron Perlman. The trailer teases a more light-hearted version of Hellboy but also promises plenty of otherworldly action.
Hellboy and the US Bureau for Paranormal Research and Defense, comprising agents Alice Monaghan (The Miseducation of Cameron Post's Sasha Lane) and Ben Daimio (Lost's Daniel Dae Kim) and led by Trevor Bruttenholm (Ian McShane of Deadwood fame) get ready to save the world from the resurrected sorceress Nimue aka The Blood Queen aka Lady of The Lake (Milla Jovovich), who seeks to bring the apocalypse to Earth and destroy all mankind.
Created by artist Mike Mignola, Hellboy was first published in 1993 by Dark Horse Comics and quickly gained attention in Hollywood when Oscar-winning Mexican filmmaker Del Toro adaptated the books into a film series — Hellboy (2004) and Hellboy II: The Golden Army (2008).
Slated to hit theatres on 12 April next year, Hellboy has been directed by Neil Marshall.
Watch the trailer here
Photos
Chris Pratt, along with Constance Wu, Riley Keough, and Patrick Schwarzenegger attended the premiere of the upcoming Amazon Orginal The Terminal List in LA.
Entertainment
'I made a lot of mistakes. But I've always told the truth," said Amber Heard in her first post-verdict interview about Johnny Depp.
Entertainment
Sony Pictures Entertainment India releases Bullet Train on August 5th in English, Hindi, Tamil and Telugu.