Heathers trailer: TV reboot of Winona Ryder's 1988 cult dark comedy gets a millennial spin
In the 1988 film Heathers, Winona Ryder played a teenage girl whose feud with an elite high-school clique takes a tragic turn.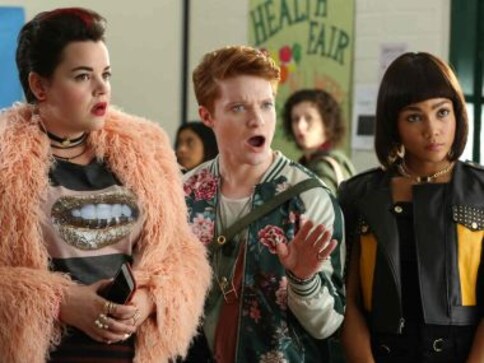 The 1988 cult movie Heathers and its title characters have gotten interesting makeovers in a new TV series. In the big-screen dark comedy, Winona Ryder played a teenage girl whose feud with an elite high-school clique takes a tragic turn. The clique comprised queen bees who shared the name Heather were three white high school students by played by Shannen Doherty, Lisanne Falk and Kim Walker.
The TV show gets a contemporary update as the sassy clique now comprises a gender-queer male (Brendan Scannell), a black lesbian (Jasmine Mathews), and the "body positive" fashionista (Melanie Field). The red band trailer reveals that they are, of course, still vain and brutal enough to drive Veronica Sawyer (Grace Victoria Cox) and her boyfriend JD (James Scully) to murder. The show retains the dark humour of the film but it does feel like it may be trying too hard to be edgy and relevant in this millenial era.
Created by Jason Micallef, the show also features Selma Blair, Casey Wilson and original cast member Shannen Doherty, who played Heather Duke in the movie. Doherty will have cameo roles in three episodes, including the pilot.
Heathers premieres on 7 March on the Paramount Network.
Watch the trailer below:
Find latest and upcoming tech gadgets online on Tech2 Gadgets. Get technology news, gadgets reviews & ratings. Popular gadgets including laptop, tablet and mobile specifications, features, prices, comparison.
Entertainment
Directed by Ricky Staub, Concrete Cowboys had its world premiere at the Toronto International Film Festival in September.
Entertainment
Netflix has announced the fourth and final season of the supernatural horror series Chilling Adventures of Sabrina is set to start streaming from 31 December
Entertainment
Aftab Shivadasani joins a long list of Bollywood actors to shift to the streaming space, with his debut series Poison 2, on Zee5.