Hawaa Hawaai review: Predictable underdog story yet works like magic
Amol Gupte's grip over how children think, behave and feel is far beyond any other director in the film industry. Which is why his films, though about children, are never actually childish.
We assume that a child's life is one of ease and worldly wonder but we often forget that such children are far too few in a country like ours. Gupte's films remind us that there is darkness in a child's life too — dealing with dyslexia, depression and parental abandonment in Taare Zameen Par, and exploring child labor and poverty in Stanley Ka Dabba.
With his second directorial venture Hawaa Hawaai, Gupte returns to the theme of economic disadvantage and child labor, telling the story of Arjun Waghmare (Partho Gupte), a cotton farmer's son who is forced to move to Mumbai with his mother and grandmother after his father dies tragically — his crops having failed year after year.
In the big city, Arjun is forced to work at a small tea shop where he is paid a meager sum of Rs. 50 per day. He slogs all day serving tea to office goers, but much to his amazement, at night the road in front of his tea shop transforms into a skating rink where rich kids come to practice the sport.
Sunny Sir (Saqib Salim), their coach trains them, as little Arjun watches from a distance as children on tiny wheels seem to actually fly. He becomes obsessed with learning skating and his four friends from the street — Gochi (Ashfaque Bismillah Khan), Bhura (Salman Chhote Khan), Abdul (Maaman Memon) and Bindaas Murugan (Thirupathi Kushnapelli), build him a beautiful pair of skates from scrap.
In Arjun's resolve, Sunny sees the making of a true champion and he agrees to coach him for the state championship.
The film is saturated with a lot of love, tenderness and melodrama and for most part it works to bring the script alive. Partho Gupte, who seems to have become a much better actor since Stanley ka Dabba, gives a very mature performance and keeps you hooked on Arjun's struggles throughout.
However, the film wastes a lot of time on the coach, his own family problems and love interest, which was quite frustrating since it is Arjun's story that is far, far more interesting. The film too realizes this and turns the lens on to Arjun in the second half. "Maine socha ki main inn bachchon ki zindagi badal raha hoon. Par zindagi toh meri badal di hai inn bachchon ne," says Sunny once he understands that his motives behind coaching Arjun were completely selfish  — to produce a champion.
The relationship between Arjun and Sunny isn't developed much either, a thorn that starts to pinch towards the end of the film.
Despite these flaws, the film works like magic. It has such a big heart that all of your cynicism seems to disappear within this spark of goodness. There are no evil or conniving kids here, only those dis/advantaged by their circumstances.
Saqib Salim shells out a lovely performance as an inspired teacher, who loves his students and skating more than anything else in the world. Neha Joshi as Arjun's mother is terrific too. The real heroes of the film are the four friends, all actors from Gupte's acting workshop Aseema. They're such great finds, each equally brilliant in front of the camera.
As is his forte, Gupte leaves you wiping tears off your cheek or blinking those tears back at several points in the film.
I did feel that he did go a little over the top, sticking to a predictable underdog story line. Stanley ka Dabba, was in many ways a far more restrained, nuanced and subtle film that really shocks and pains you. Hawaa Hawaai doesn't quite have the same effect but it's still a film that plays to win and has its audience firmly on it's side, laughing, crying, cheering and praying for the boy to finally fly.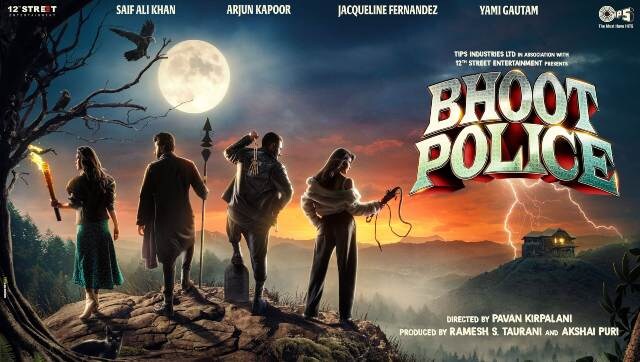 Entertainment
While Bhoot Police is likely to release digitally in September or October, KirtiKulhari's Shaadisthan will premiere on Disney+ Hotstar Multiplex
Entertainment
Pan Nalin's Gujarati film is an ode as much to movie-going as to movie-making. He romanticises the 35mm experience but stops short of decrying digitisation as the death of cinema.
Entertainment
Chaos Walking misses a chance to tell a compelling and resonant story in spite of having all the ingredients to do so.